By Courtney Klaus, Editor-In-Chief
A total of 37 reports to campus security were made throughout the year of 2018, nine less than were made in 2017 and 14 less than were made in 2016, according to a spreadsheet shared by Director of Security Morris Floyd.
"Crime is down," Floyd said, "unless I have students not reporting it."  
Floyd said reasons for the lower crime rate could be the improved lighting in parking lots C and F combined with Newman's purchase of the scrapyard next to Fugate.
In a typical month, Floyd said, campus security might get three or four reports. Of those reports, Floyd said, the most common reports usually involve people breaking into vehicles, or suspicious characters.
There were a total of seven suspicious character reports last year, and a total of 11 incidents that involved vehicles either being broken into, having parts stolen or being scoped out.
"At the end of last year, we had a license plate taken off a vehicle… and we've had a window broken into," Floyd said. "We have a lot of people on this campus, so there's a lot of opportunities for someone who's looking to steal something."
Suspicious character reports from last year  include someone who was found asking for money in Fugate gymnasium and another person who was pretending to be a repo man.
Other reports include an auto theft in June, the burglary of the Scooter's in August, and a report of a threat of violence that closed the school in November and was later found non-credible.
Floyd said his biggest piece of advice for students to keep campus safe is to "pay attention."
"I can't tell you how many students I see…. not paying attention to things around them, so they're not seeing a suspicious person or a crime take place," he said.
Most criminal activity comes from off-campus, Floyd said, so students who don't recognize someone who may seem a bit strange are encouraged to call campus security just in case.
Floyd said even if someone isn't sure if a person counts as a suspicious character or not, they should call security anyway so that they know about it, and even if it turns out the person is supposed to be on campus, it's "no harm no foul" for the student who reports it.
"I'd rather go over and find out it's nothing than have someone say, 'Yeah, I saw that guy yesterday.' That does me no good," he said.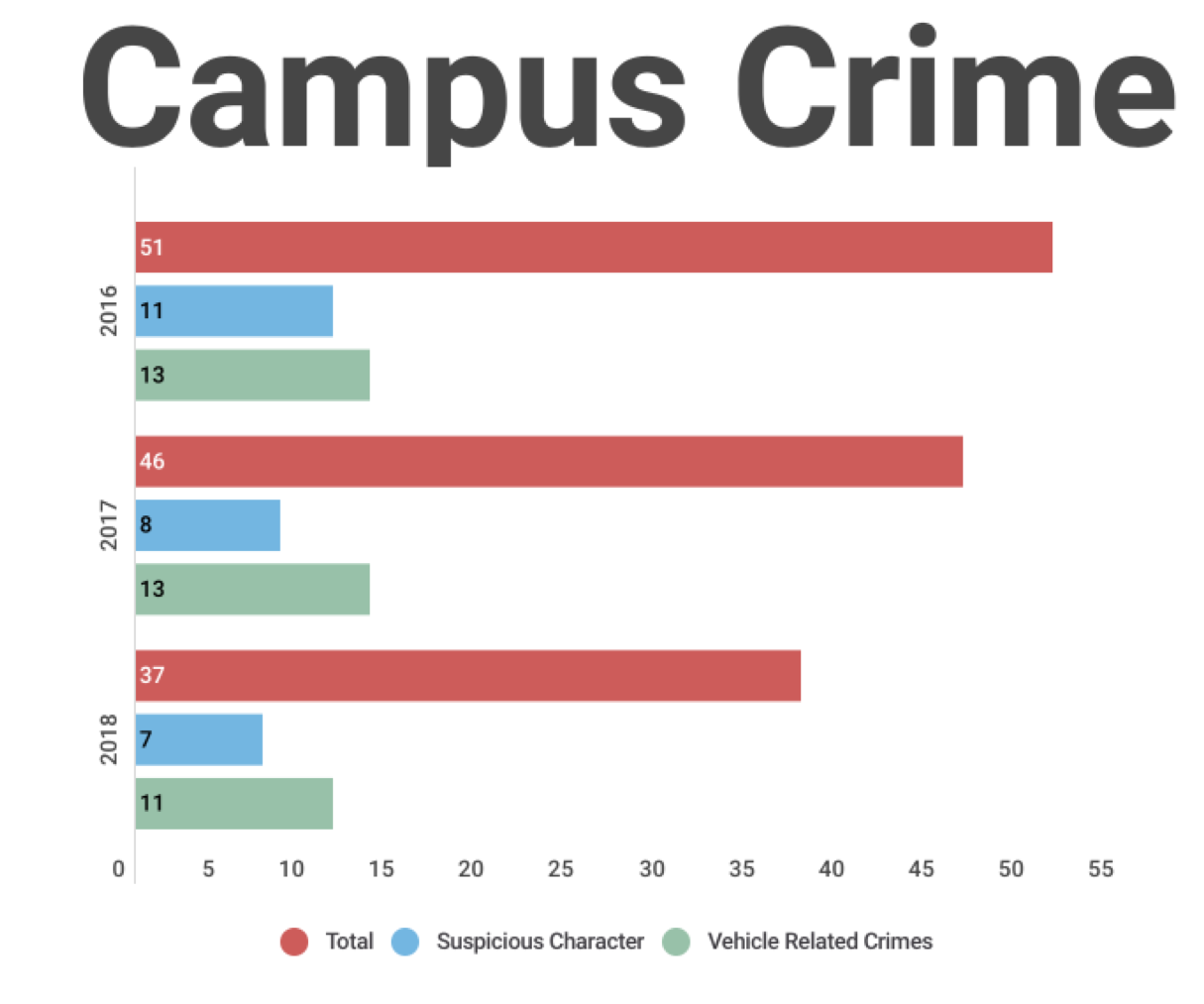 PHOTO: LAST YEAR, 37 reports were made to campus security, with 11 of them involving vehicles being scoped out or looked into and seven involving a suspicious person on campus.  Courtney Klaus, Editor-In-Chief