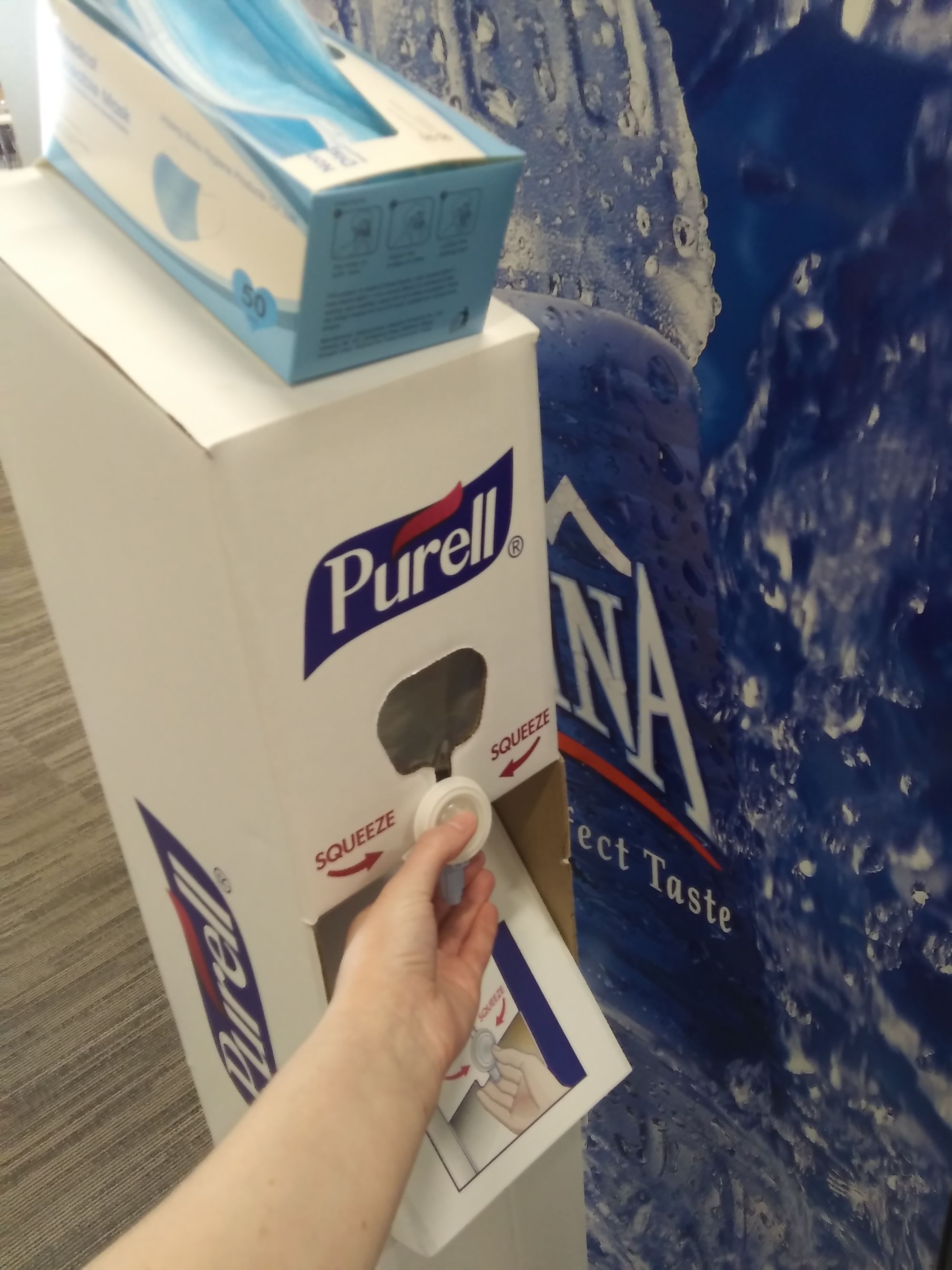 By Murphy Obershaw, A&E Editor
Because of the coronavirus pandemic, Newman University is entering into a school year like no other. Before you come back to campus and start classes on Monday, there are a few things you need to know about how the university will operate under new safety guidelines.
Entrances and Exits
In the past, people could enter and exit out of whichever door they wanted. This year, there are certain marked entrances for each building to make social distancing easier.
Associate Professor of English Susan Crane-Laracuente said the marking of the doors is supposed to cut the two-way traffic into one-way traffic. She learned from a recent staff meeting that, though the doors designated for exiting are not marked as exits, students should exit out of any doors not marked as entrances.
The entrance for Eck Hall is through the doors under the Eck building sign that face the small tree.
You can enter the Bishop Gerber Science Center through the doors facing the Bishop Gerber statue.
There are two entrances for Sacred Heart Hall: one faces the cafeteria and one faces the St. Newman statue.
The entrance for De Mattias Fine Arts Center faces parking lot C.
The doors facing McCormick Avenue and the doors facing the St. Maria De Mattias statue are both entrances for O'Shaughnessy Hall. The entrance near the locker rooms is for athletes and staff only.
The entrance for the Mabee Dining Center is the one facing Sacred Heart Hall.
The Dugan Library main entrance is open and so is the one on the opposite side of the building leading to the Fugate Student Center.
Masks and Sanitizer
Besides laptops and textbooks, you also need to bring a mask with you to school. As outlined in the social contract, Newman is requiring all students to wear masks when they are in any of the buildings on campus or when they cannot social distance outside.
Director of Nursing Teresa Vetter said that Newman has students covered if they leave their masks at home.
"If they forget, there are disposable masks available on campus. I usually find my own masks to be more comfortable to wear for extended periods of time. Do remember to wash your mask routinely," she said.
Though there are mask and sanitizer stations in the buildings around campus, Vetter said she keeps a bottle of sanitizer with her.
"The ability to clean my hands frequently without relying upon sanitizer being available is convenient," she said.
Parking Permit
In an email sent out to students, Director of Security Morris Floyd explained that parking permits will be a little different this year.
"…We are using the unused portion of parking permits from last year, so they will say that they expire on 7-31-20. Don't even worry about that. For returning students who still have their permit from last year we are asking that you reuse them to help us save some money," he said.
Floyd added that if you need a new pass, it may not match your on-campus title.
"…You may get a parking permit that says 'Student Parking Permit' even though you live in the dorms or you may get a 'Resident Parking Permit' even though you live off campus. Some of you will end up with funky little 'VIP Parking Permits.' Life is short, go with whatever you get," Floyd said.
You can pick up your parking permit at the Welcome Back Bash from 1:30 to 3:30 p.m. today at Founders Plaza. You can also pick it up on Monday from 11:30 a.m. to 1:00 p.m. outside the Mabee Dining Center.
Library and Dining Center Hours
The Dugan Library and the Mabee Dining Center have both changed their hours.
The library will be open from 8 a.m. to 10 p.m. Mondays through Thursdays, from 8 a.m. to 5 p.m. on Fridays and from 2 to 10 p.m. on Sundays.
The dining center will be open for breakfast from 7:30 to 8:45 a.m. and will offer a continental breakfast from 8:45 to 9 a.m. It will be open for lunch from 11:30 a.m. to 1:30 p.m. and for dinner from 5 to 7 p.m. on school days. Its weekend and holiday hours will remain the same.
The Grind is not open at this time, Director of Food Services Chris Heck said.
"The Grind is being closed due to Covid and the inability to have social distancing in such a small area. We are trying to keep students as safe as possible," he said.
As for the future, Heck said, he believes the reopening of the Grind would depend upon how the pandemic continues to unfold.
The Vantage will be publishing several stories in advance of the first print issue, which should be distributed on Thursday, Sept. 3. Please watch the Vantage Facebook page for updates.
Photo by Madeline Alvarez, Editor-In-Chief