By Murphy Obershaw, A&E Editor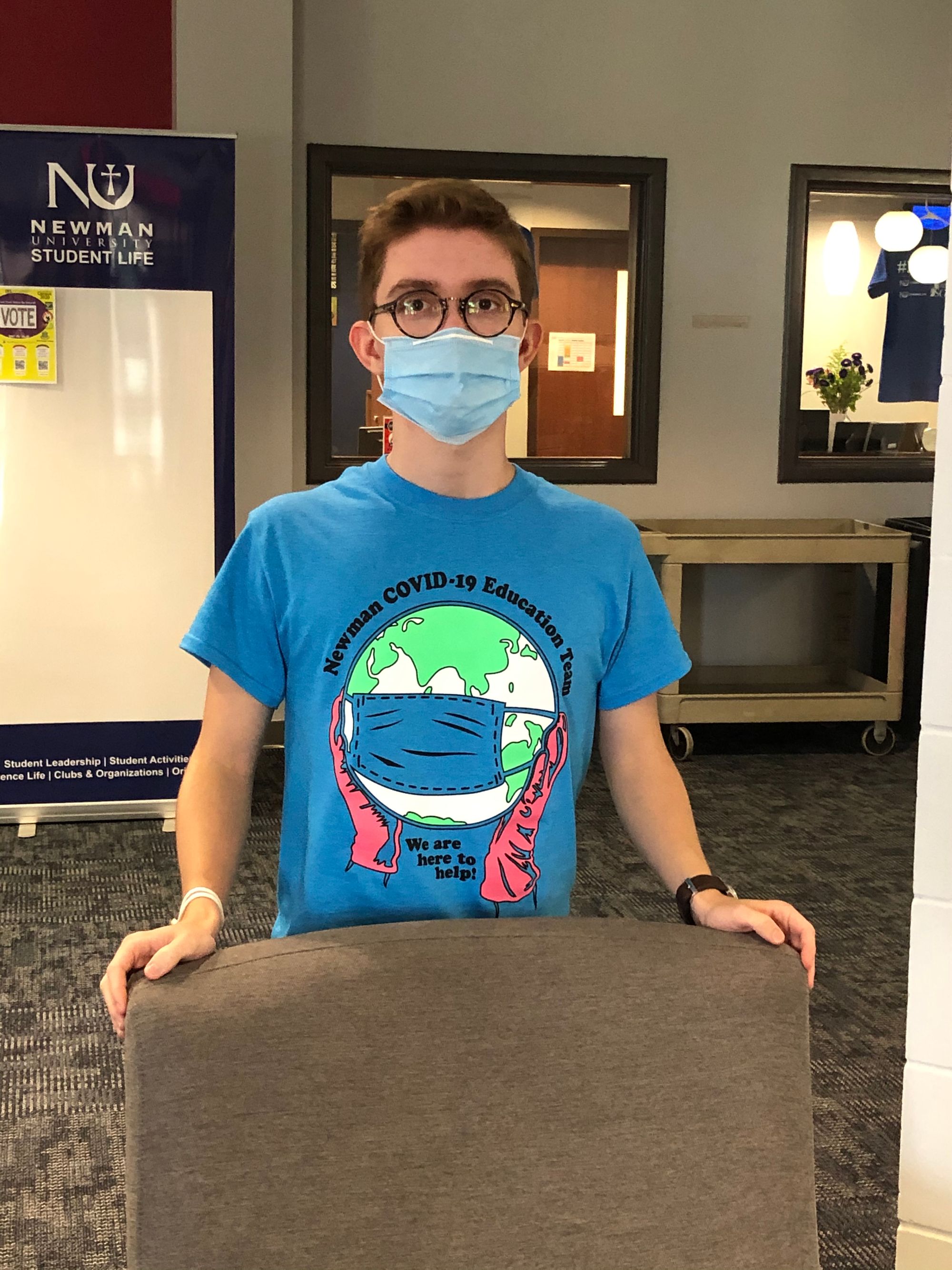 Have you wondered who's been putting masks on all the statues? It's the COVID-19 Education Team.
Over the summer, Student Life sent out an email asking if anyone was interested in joining a COVID-19 Education Team, a group of students that would do things around campus to help promote Newman's COVID-19 protocols.
Dean of Students Christine Schneikart-Luebbe had the idea to form the group.
"I always want to involve students in every possible discussion and decision that we make," she said. "Students are the reason I got into this line of work. Students are the reason I remain. And I just think their voice is very important as we're making decisions and trying to educate their constituents."
Schneikart-Luebbe said that 26 people representing different majors and interests wanted to join and are the ones who have been putting masks on the statues, setting up lawn sign reminders to wear masks and physical distance, and writing reminders in classrooms to fill out the self screening tool.
Schneikart-Luebbe and students like Jordan Ojile have been meeting via Zoom to talk about what's going well on campus and where it can improve.
"So mostly our roles right now comprise of attending meetings, giving feedback, insight, suggestions, asking questions and taking [a] leadership role when it comes to ensuring that Newman is kept COVID clean," Ojile said.
Ojile said he was attracted to join this group because of his passion for health care.
"Everyone can do their part, and as a student, I can't get involved in a healthcare setting in an active role, but this is a great way to get involved in a community that I care about," he said.
Schneikart-Luebbe encourages students to come in and speak with her if they want to talk about anything regarding the COVID-19 protocols.
"Come to student affairs. We are here. We are committed to students' safety. We're committed to their success. We're committed to their education, and I just want this to be a safe place where students can come and have a dialogue," she said.
There was a town hall on Sept. 3 for people to ask questions regarding COVID-19, but no one came with any questions.
Schneikart-Luebbe said that the COVID-19 Education Team is still open to anyone who wants to join.

PHOTO: Murphy Obershaw, A&E Editor