By Hadassah Umbarger, Staff Writer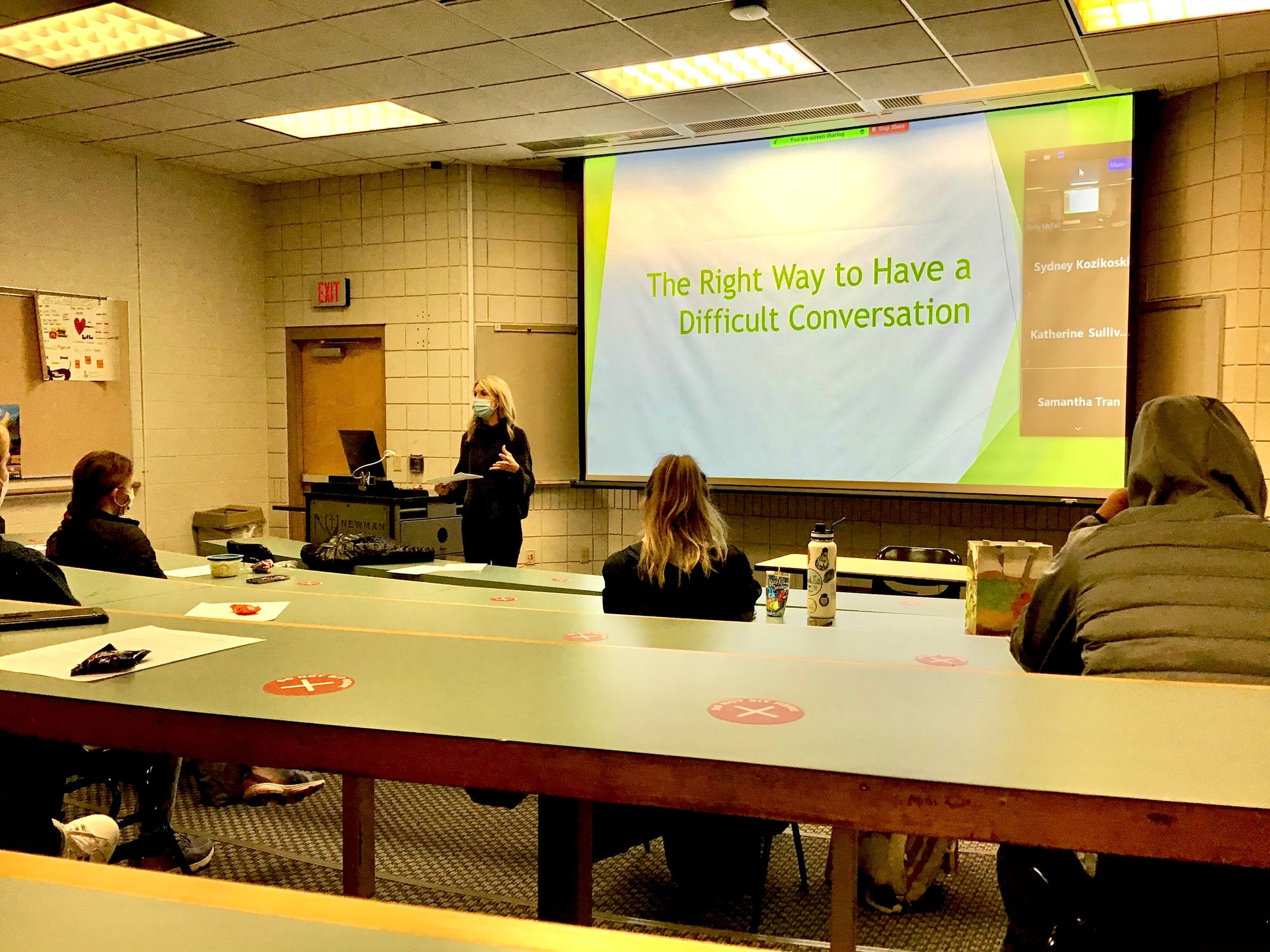 We've all had to have awkward or frustrating conversations with friends and family, whether it's about politics or another issue.
Last week, Dr. Audrey Hane, professor of communication, spoke to students in the Honors Program on one of her areas of expertise: "The Right Way to Have a Difficult Conversation."
Hane said that she and Kelly McFall, who is a history professor and also the head of the Honors Program, said the topic was timely considering the immediacy of the election.
"[McFall] was thinking of the election and hoping students are prepared to have productive conversations around whatever the results of the election are," Hane said. "And for me, I always like giving people strategies that can create healthier relationships. And so I love the idea of talking about how to have more productive conversations around difficult issues."
Hane offered many strategies for having meaningful conversations during the talk, which happened on Oct. 28. Among them:
1) Adopting an attitude of curiosity
2) Focusing on listening to understand rather than listening to respond
3) Avoiding snap judgements
4) Managing yourself
5) Showing respect
6) Preserving the relationship
7) Ending well
Hane said that people should let go of the idea that everyone they love is going to be like them in every way.
"Sometimes we have to focus on what we love about them and what we have in common," Hane said. "[We need to] let go of the idea that we're going to think about issues in the same way. And with that comes the ultimate goal behind all of this, which is to preserve the relationship."
Hane also said that these strategies are in no way limited to discussions about politics.
"I think they're applicable in many different areas, particularly where we have different values," Hane said.
And everyone has different values. Hane said that in the middle of the talk when she invited students to comment, she was struck by one student's reference to her home and family experiences and how those shaped her opinions.
"So many times the way we think about things is grounded in our experiences," Hane said. "And so I think that that's really a key element of this, is trying to understand the other person's context."
PHOTO: Hadassah Umbarger, Staff Writer