By Madeline Alvarez, Editor-In-Chief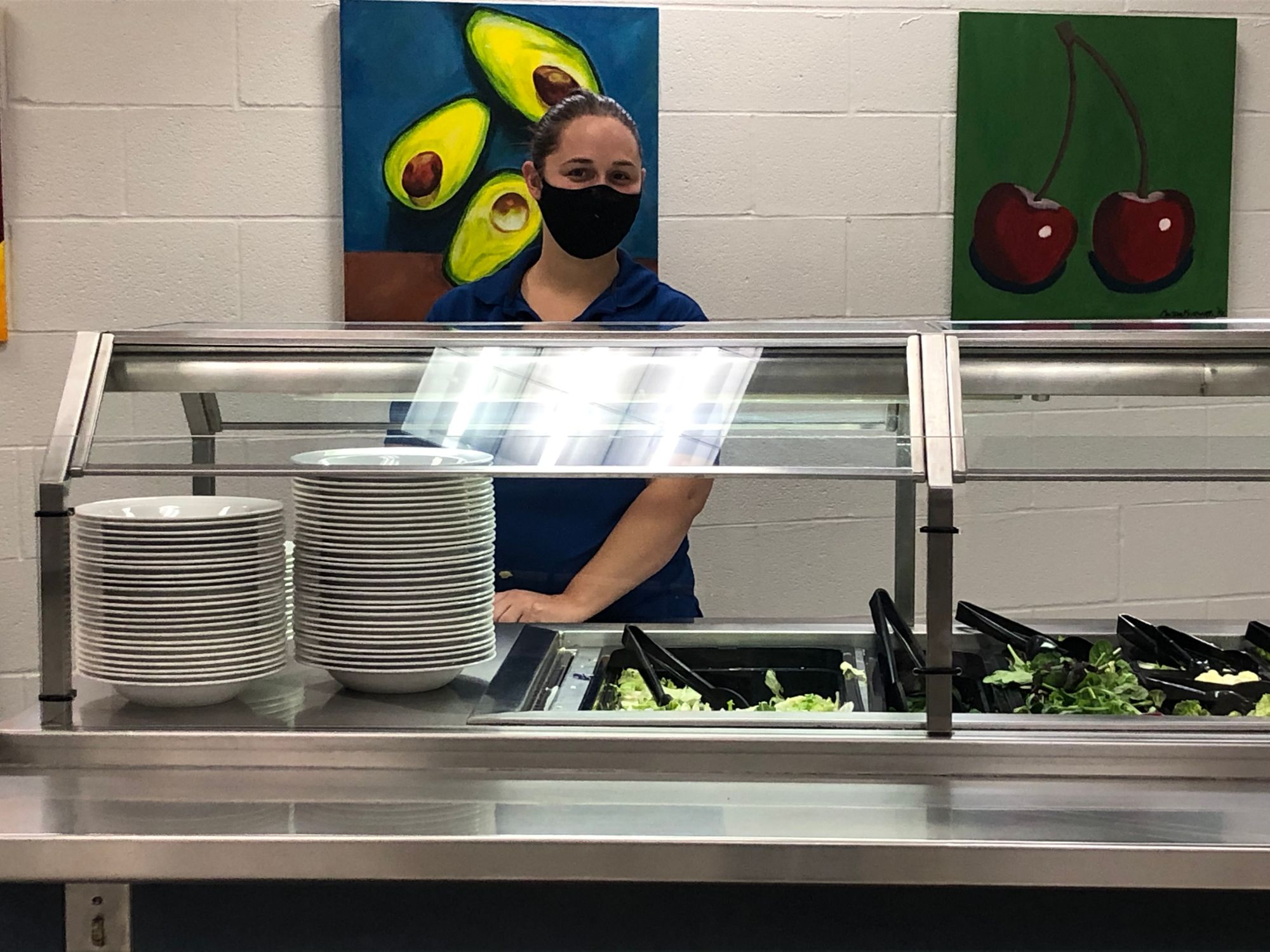 The Mabee Dining Center, or "the caf" as Newman students call it, has had to operate differently this semester to adhere to COVID guidelines. The salad bar, which had been closed since the beginning of the semester, opened Thursday but operates differently than before the pandemic.
In the past, people could self-serve from the salad bar. Now, Food Services Director Chris Heck said, a Great Western Dining employee will build  personalized salads for diners.
"We're trying to go back to normal," he said. "But, normal can't happen. So what we're trying to do is inch our way back into being back to normal."
He said he decided to open the salad bar after researching and getting ideas from his company about how to make it work. Most of the Great Western Dining centers are keeping their salad bars shut down, but some have opened up like normal (self-serve) with permission from the schools that they serve.
Heck said he had originally wanted to wait until a whole week had gone by with no one in quarantine before opening the salad bar and having an employee staff it. However, Newman has gone only three successive days without having anyone in quarantine, he said, so he decided to go ahead and open it with an employee manning it.
Heck said that at the beginning of the COVID pandemic, guidelines said that a person could get infected with the virus through touching contaminated surfaces.
"Now they're saying even if you touch something and touch your mouth, the chances are very small," Heck said.
But he doesn't want to take any chance, he said.
"So it might cost me a little bit more on labor, but I'm willing to spend it to make sure that the students are safe," Heck said.
The salad bar was originally supposed to open again on Oct. 26, but the employee who was supposed to run the station broke her hip. The opening date was then delayed until Thursday, Heck said.
Safety is still top priority, he said.
"Safety has to be number one because the salad bar is not worth somebody going to the hospital because they got COVID," Heck said. "So I'm just trying to be as safe as I can and offer as much to all the different kinds of students that we have here."
Heck said it's important for students to remember to stay six feet apart while eating in the dining hall.
"Students have been great about it. But lately I've had to come out and just remind a few students," he said. "Because sometimes they're around the other people and they want to pull a chair up... And we just can't do that."
Heck said staying six feet apart will make contact tracing easier if someone does get sick.
PHOTO: Murphy Obershaw, A&E Editor