By Spencer Jacobson, Staff Writer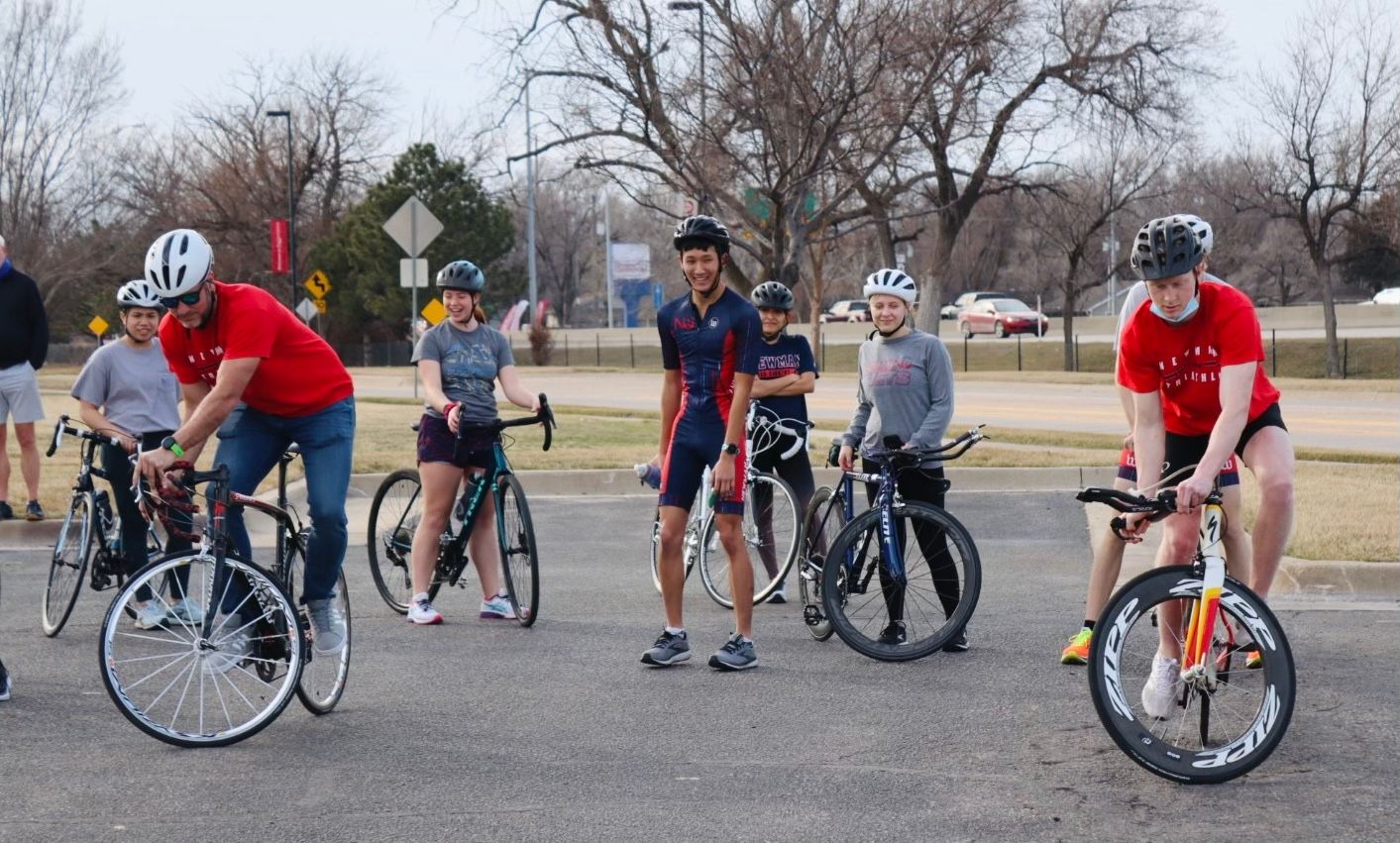 Unlike other sports at the university, the triathlon team has not been able to compete during the 2020-2021 season after all of its races were canceled due to the COVID-19 pandemic.
Head Triathlon Coach Jeff Lovgren said that because triathlon is a club sport, many universities throughout the country were not allowing those teams to compete, and Newman was one.
The team last competed in the spring of 2019, and at the time, Lovgren said, the team was third in its conference and ranked 54th in the nation out of 127 teams.
Junior Triathlete Andrew Nguyen said that he and his teammates were disappointed that this season's events were canceled and that he missed the experiences that come along with competition.
"A lot of us are hungry for an official race and are also looking forward to being able to travel for our races," Nguyen said. "The times that we traveled were the times the best memories were made."
Though unable to compete, Lovgren said the Jets have been allowed to continue to practice and prepare for the 2021-2022 season.
"We are all itching to get back to racing but are taking this time to hone our skills and using it as a much needed release of stress," he said.
To make up for the loss of competition, Lovgren said, the team has been taking part in internal competition where instead of going up against other teams, the Jets compete against each other and their coaches.
Lovgren said that the team put on its own race in September and plans to put on another on Saturday, April 24, at Lake Afton.
"We really enjoy being a team and the fulfillment we get from being together. We plan to keep practicing as a team until the day we can race again," he said.
Nguyen said the team's latest practices have been intense and that he is looking forward to seeing the hard work payoff in a couple weeks at Lake Afton.
"This is the last race for the school year, so all of us want to do really well and hit some insane personal records," Nguyen said. "I'm personally excited to see how my teammates will do and how I will do."
Because of the Jets altered season, Lovgren said, the team's focus has shifted and practices have been more about enjoyment and team building.
"We cannot change what has happened or what is going to happen," he said. "All we can control is how we react to it."
Lovgren said that making sure his athletes have fun has always been important to him, but this season, it has been his main priority.
"We will keep on doing what we do not because we have to but because we love to," Lovgren said. "When the world returns to triathlon, we will be ready. Until then, we will enjoy our time together."
PHOTO: Courtesy Photo, Marlie Wagner