By Spencer Jacobson, Staff Writer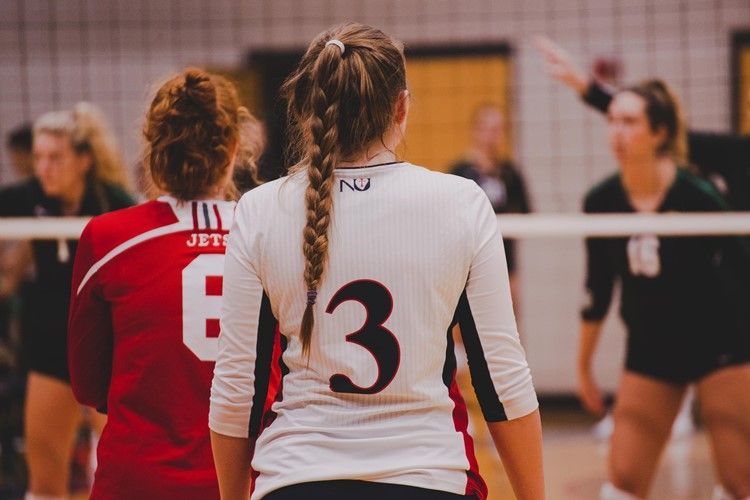 Newman's volleyball team is entering the final stretch of its season as it prepares to compete at the MIAA Conference Tournament starting on Friday, April 16.
With an overall record of 3-14 and a conference record of 2-8, Head Volleyball Coach Jose Lugo said he expects the team to head into the tournament seeded between ninth and eleventh.
Lugo said that despite a unique season, the team has remained dedicated.
"Overall, I think every day we get a little bit better in the gym, which is kind of the idea… We have been doing that all season, and it is paying off," Lugo said. "We are playing better volleyball every weekend and I think that is pretty exciting."
Going into the conference tournament, Lugo said, a couple of areas for improvement are serving and passing.
"Volleyball teams spend a lot of time serving and passing. Yet, it is still one of the areas that every team has to emphasize," he said.
For two volleyball athletes, seniors Reagan Roth and Sophia Helsing, the upcoming conference tournament will be their final games played as Lady Jets.
During their time at Newman, Lugo said, both Roth and Helsing have grown as players and have provided the volleyball program with stability.
"When we talk about impact and our team culture, we like to talk about this idea that we are all striving for these goals together," Lugo said. "We are asking these athletes to be comfortable being uncomfortable, we are asking them to try some things that they may not have tried before, and to think outside the box. If that is the goal and if that is what we are asking for, then those two have done a tremendous job."
Because Roth and Helsing are graduating in May, Lugo said, the team has four women set to join the team in the fall.
Among these new additions are Abby Borough, a middle hitter/blocker from Fort Scott Community College; Riley Daugherty, a left side hitter from Bishop Carroll High School; and two other local athletes who will serve as defensive specialists.
After this unique spring season, Lugo said, the team will have the summer to rest before taking to the courts this fall.
"We keep seeing glimpses of what our program can be," he said. "We have a good blend of young talent and kids that have been around the program for awhile... I think all of that is pushing our program in the right direction."
PHOTO: Courtesy Photo, Newman Athletics