By Marie O'Neal, Staff Writer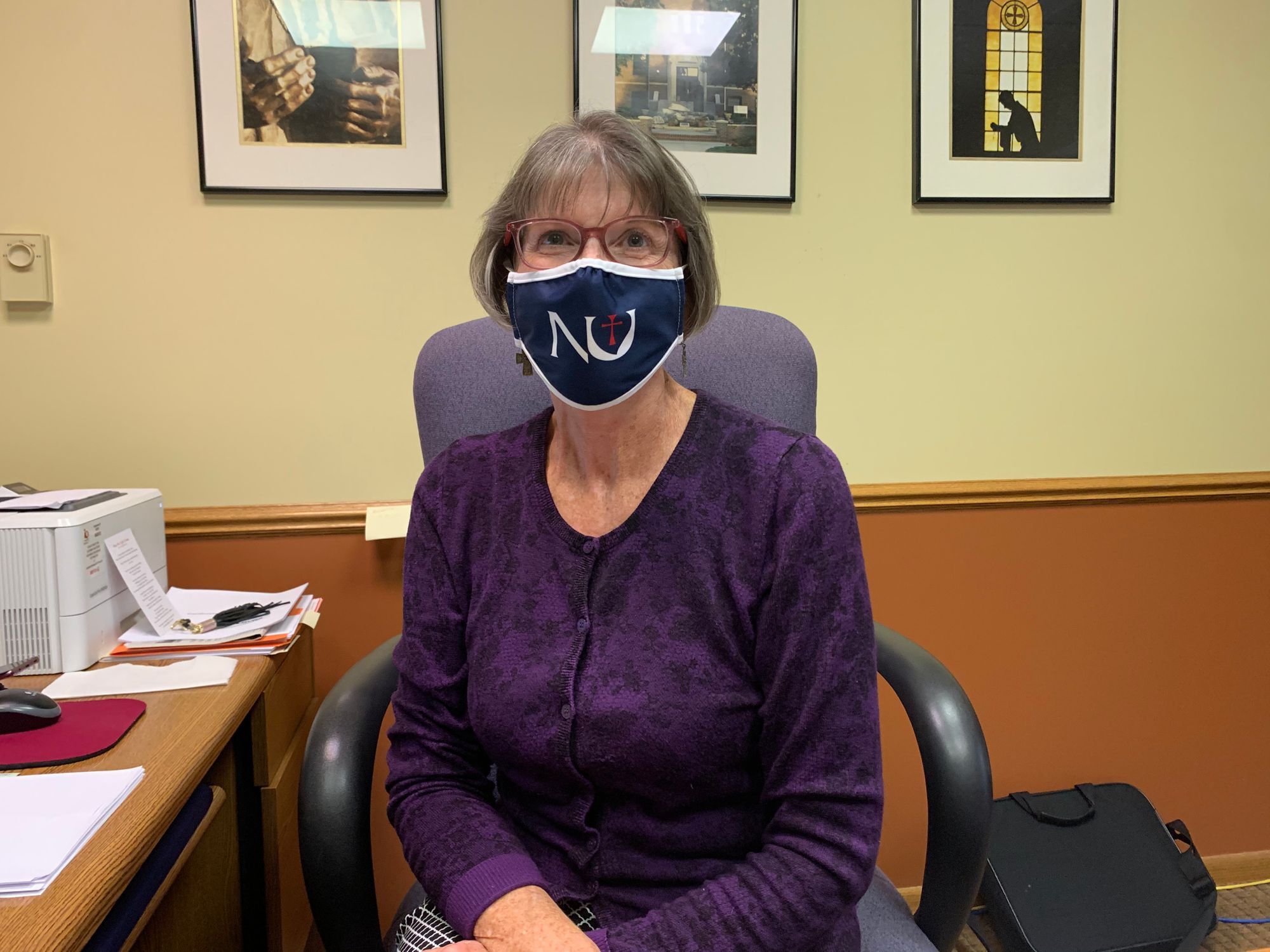 You may have noticed some new faces around campus this semester. Throughout the summer, the Newman community has expanded. Since July, Newman has welcomed 14 new faculty and staff members.
Let's take a closer look at two of our newest community members: Assistant Professor of Biology Jenna Persons and Executive Assistant to the President Gabrielle Dodosh.
Persons was hired to fill a position that had been vacant for one year, replacing Jennifer Lemming and Kylie Hicks who had both resigned from their positions as biology professors.
Dodosh replaced Tracy McGarey after she retired this summer.
Persons is a Newman alumna. She has switched roles and is now a faculty member instead of a student.
As an undergrad from Towanda, Persons said, Newman always felt like home to her.
"I actually have been looking for this position for a really long time," Persons said. "I left here as a student and really valued the educational experience I had as a pre professional or pre graduate school student and I felt like it was unique."
As a student, Persons held a variety of odd jobs. During her undergraduate years, she sold wedding dresses in NewMarket Square. She also worked at an assisted living facility caring for patients with Alzeimers.
Newman was Person's top choice as a professor.
"When I decided I wanted to go into teaching, this is where I first thought of," she said.
After graduating with her bachelor's of science in biology, Persons went to the University of Michigan and graduated with her doctorate's degree in 2019. Following graduation, she completed postdoctoral research at the Stowers Institute in Kansas City, MO.
Persons said she anticipates an unpredictable semester.
"I think I like being on my toes," she said. "I think what's really interesting with this time, particularly with coronavirus, is just the need to be on your toes all the time and adapt."
She said she's looking forward to getting to know students.
"I'm also really excited about my students and the ideas they bring and getting to know them personally," she said.
If you stop by the president's office, you'll also see a new face. Gabrielle Dodosh started as the new executive assistant to the president in July.
Dodosh was looking for a career change, and her husband came across a posting for the job. He encouraged Dodosh to apply, saying it would be a good fit.
For Dodosh, the Newman community has been quite a shift from her previous job, where she had worked for 16 years, she said. Dodosh was the administrative assistant to the senior vice president for industry and defense programs at Wichita State University.
"The faculty and staff total here at Newman is about the same as my previous department total," she said. "I love the fact that I have the opportunity to get to know everyone."
Dodosh said she is enjoying seeing students back on campus and that she has felt welcome.
"Everybody I've met has been super nice. It's such a great environment," Dodosh said.
With assisting a new president and becoming a new faculty member, Dodosh has been adjusting to a new role and schedule.
"It's been a great experience so far. I'm working harder than I've ever worked in my entire life," she said.
In addition to Dodosh, other new faculty members include President Kathleen Jagger, Administrative Coordinator Kendra Barger, Director of Facilities Paco Gonzales, Head Women's Soccer Coach Jay Holmes, Assistant Men's and Women's Golf Coach Darin Looper and Admissions Counselor Hollie Weatherburn.
In addition to Persons, other new staff members include Director of the Master of Social Work Program Roxxi Davis, Clinical Director of Sonography Lindsay Harriss, Assistant Director of the CRNA Program Sarah Kelly, Assistant Professor of Nursing Dana Rose, Assistant Professor of Social Work Brittany Stahnke and Visiting Professor of Social Work Lindsey Stillwell.

PHOTO: Taylor Stevens, Staff Photographer