By Tejay Cleland, Sports Editor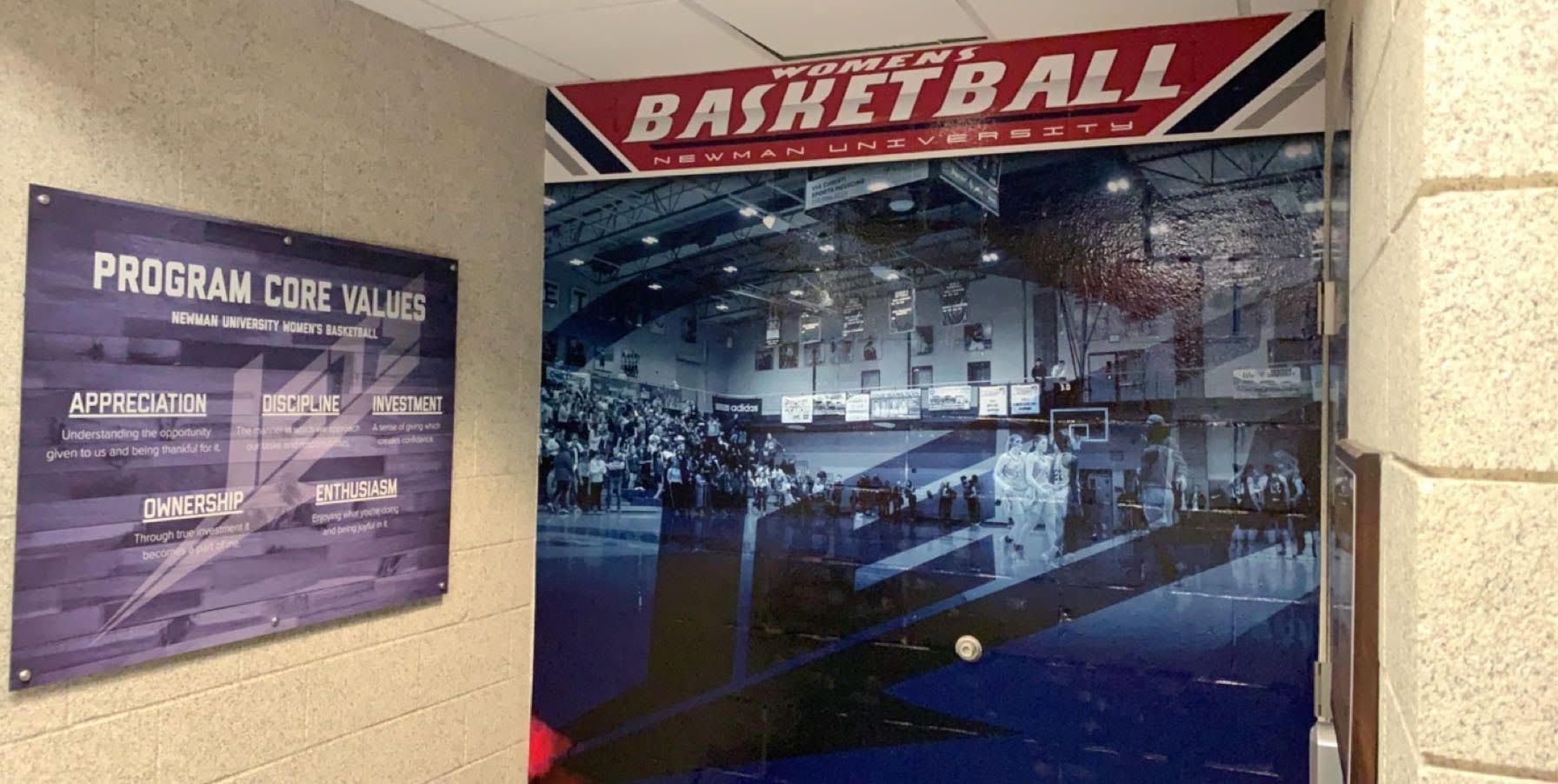 Newman athletics deserves a pat on the back for the upgrades to facilities during the off-season. Many new changes came over the extended break.
The Men's Basketball, Women's Basketball, Volleyball, and Women's Soccer locker rooms received new custom wraps on the outside of their doors, as well as on the glass door entrance to O'Shaughnessy Hall. Newman also has revamped the look of the vans that are taken to away contests with a new red and white design with the Jets logo in the center.
Senior baseball player Devin Beard said he believes the new custom wraps add a nice touch to facilities.
"It adds a little fashion creating a good vibe walking through the doors to go get better," he said
The baseball team's locker rooms were also given a new paint job, new carpet, WiFi, and a total of five new TVs hung around the locker room.
Beard said the new locker room brings needed change.
"I think [the new locker room] makes a big difference," he said. "The returnees are seeing the upgrades, and the newcomers are coming into something that's pretty nice."
Since joining the MIAA last year, and especially this year, Newman has taken the leap to having nicer facilities. Other teams in the conference have some of the best facilities in NCAA Division II, and Newman took a big step towards joining these elite facilities.
Beard also agrees that the upgrades are taking a step.
"Newman is headed in the right direction with all they have been doing," he said.
These changes definitely help with the cosmetic part of the athletic department becoming better and better. Newman soccer, volleyball, baseball, softball, men's basketball, and women's basketball teams will be sporting new jerseys this year as well.
With lots of new recruits as well as solid returning players, the Jets will be not only playing well, but looking good.
PHOTO: Tejay Cleland, Sports Editor