By Katherine Sullivan, Staff Writer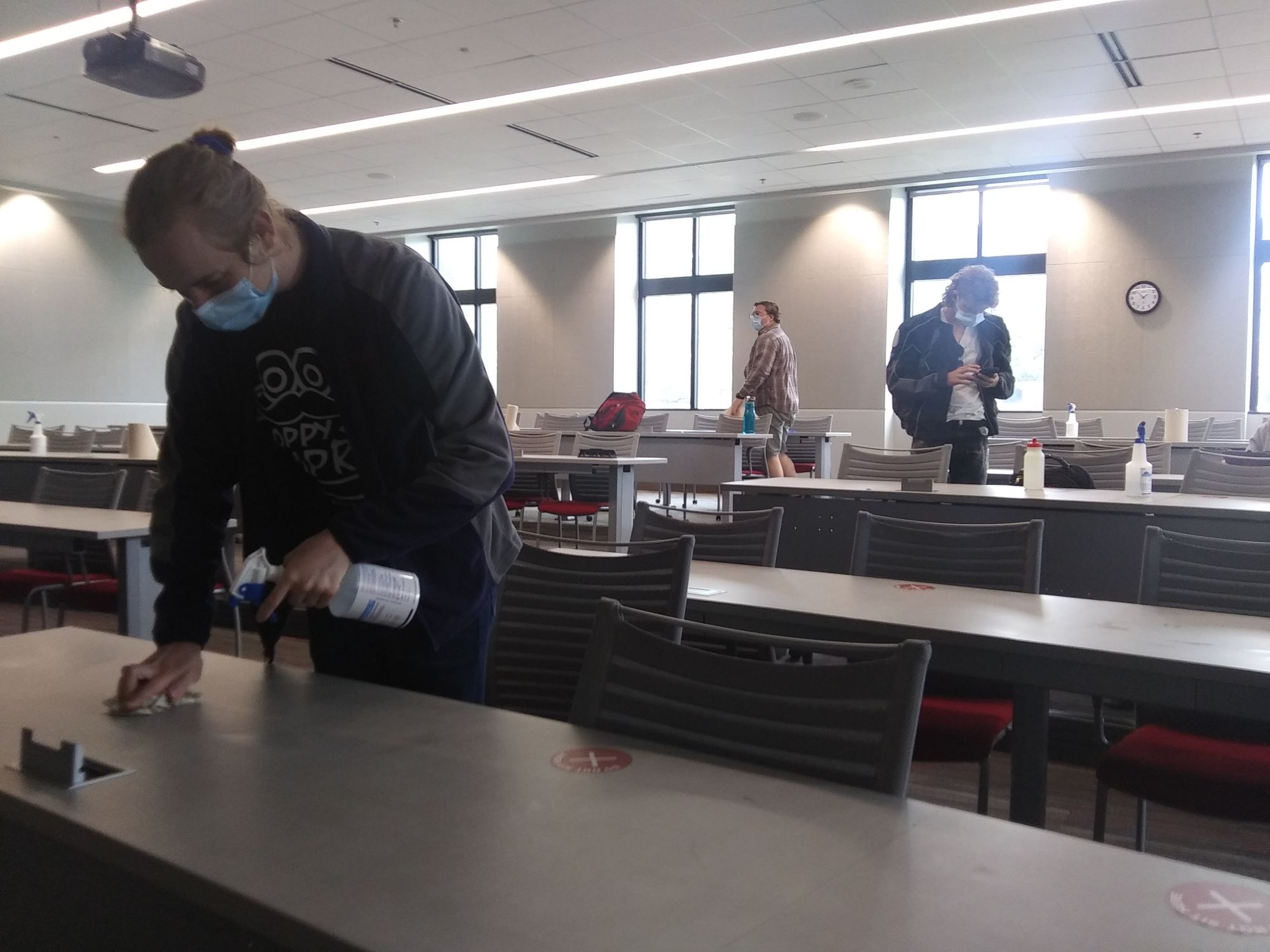 Newman University has been working to ensure a safe learning environment for all students during the COVID-19 pandemic with precautions that include wearing face coverings, physical distancing, cleaning tables and chairs, and frequent hand washing.
In an email sent to everyone on campus on Tuesday afternoon, Newman President Kathleen Jagger said that Newman is doing well containing the virus.
Here's a look at how the COVID-19 virus is affecting Newman as of the fifth week of school:

COVID-19 confirmed cases on campus
There have been a total of 36 tests for COVID-19 reported to Newman University. Of these 36 tests, 13 have come back positive. All of the cases have been students—there have been no positive cases within faculty and staff since the semester started, according to the COVID-19 dashboard that the university updates daily on the Newman website.
Since Sept. 15, there have been no new cases of COVID-19 reported to Newman University, Jagger said in the email.
"We have not been notified of any new positive tests by members of the Newman community," she said. "This is with the backdrop of cases increasing both locally and nationally over the same period."
Turner Middendorf, Interim Director of Residence Life, said that as of 7 p.m. Monday, there are no longer any students isolating on campus following a positive test.

Teams and students in quarantine
So far, several groups of Newman athletes have been required to quarantine after possibly being exposed to the virus.
Ryan Boaz, a pitcher on the baseball team, said his entire team was quarantined after a possible exposure following a meeting in the second week of school. Three COVID-19 tests were administered to members of the baseball organization, all of which came back negative for the virus.
Then, in the third week of classes, nine members of the men's basketball team were required to quarantine after a team member was possibly exposed to COVID-19. A member of the team said these members remained in quarantine until the tests administered came back negative.
Finally, a group of softball players were required to quarantine after a team member started showing symptoms of COVID-19, said sophomore catcher Darissa Buenrostro. The player did test positive, but the team is now out of quarantine. Team members returned to classes and practice on Monday.
Only a few non-athletes have been required to quarantine, and those cases were often connected to possible exposure to symptomatic individuals. At this time, there is only one on-campus resident in quarantine, said Middendorf.

What to do now
Members of the Newman community are still encouraged and expected to follow the protocols outlined in the social contract signed at the beginning of the year, Jagger said in the email.
"I thank you for staying diligent thus far about face covering, physical distancing and hand washing," she said. "I encourage you to continue your efforts to keep the Newman campus and community a safe place to work and learn."
Those looking for updated information regarding COVID-19 cases and protocols on the campus of Newman University can visit the Return to Campus webpage located at newmanu.edu/return-to-campus. The page includes updated schedules and dates, the COVID screening tool, as well as an updated count of cases and tests within the community.

PHOTO: Madeline Alvarez, Editor-In-Chief