By Tejay Cleland, Sports Editor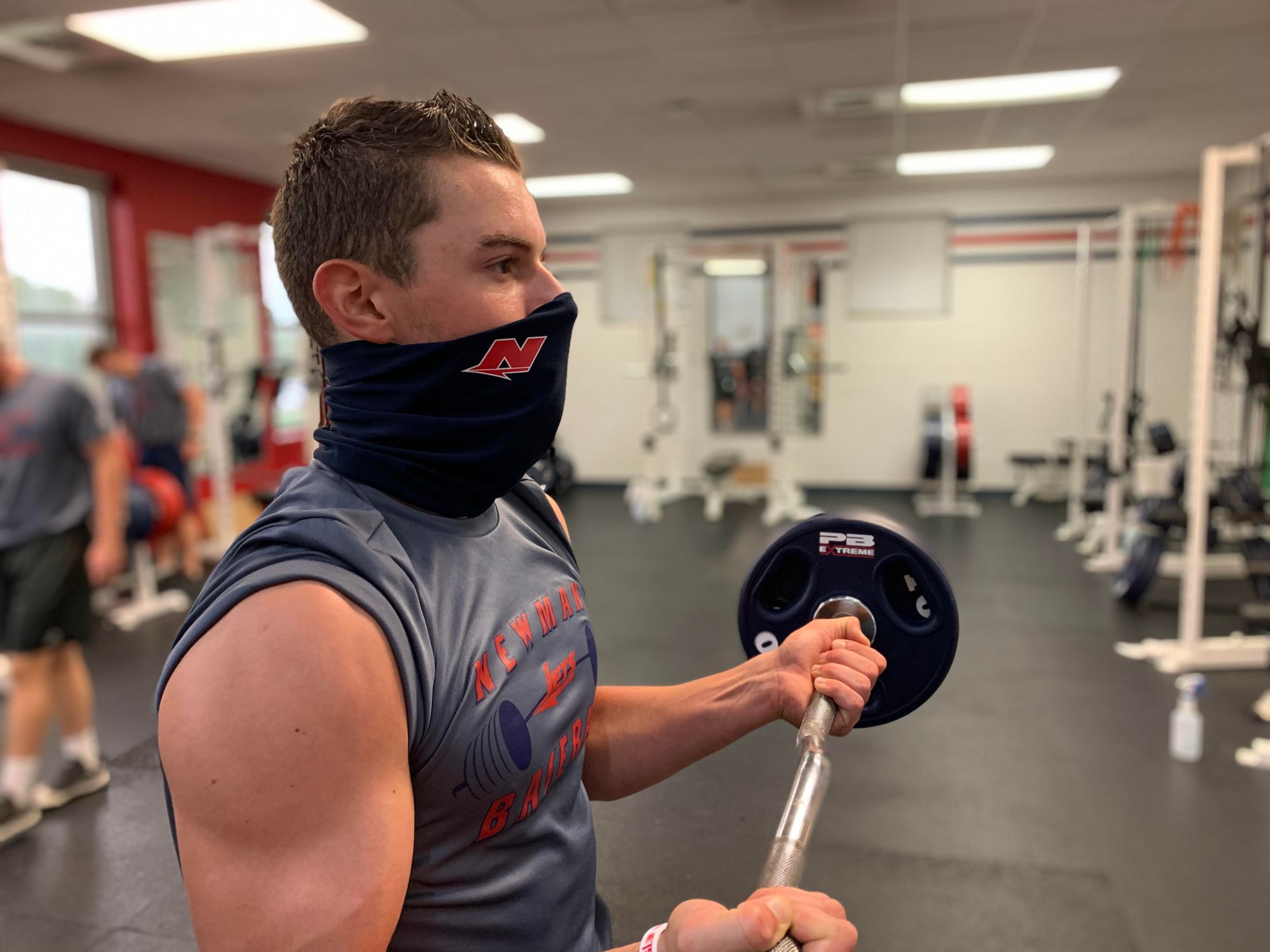 Newman's weight room is not running like it has been in past years. New precautions are being taken because of COVID-19, and new technology is being used to help athletes.
Head strength and conditioning coach Stryder Blackburn said that the new safety regulations in the weight room are not optional.
Blackburn said he has had to ask one athlete to leave the weight room for not following precautions.
"I give everybody kind of a one or two strike rule," he said. "[I] give them a little bit of leeway if they forget, but it's when they forget multiple times, that's when they got to go."
Blackburn said he continually reminds athletes of protocol.
"Maybe once or twice a day I have to tell a kid, 'Hey, put your mask back on,'" he said. "Occasionally you'll have a kid who gets a drink and doesn't understand or forgets."
Blackburn said most athletes using the weight room have been good about following precautions.
"The cleaning and disinfecting has been going really great. A lot of the kids are being very cognizant and aware of what they're touching and making sure everything gets sprayed and wiped down," he said. "They understand why we're doing it. They understand it's not ideal, but it's something we have to do right now if we want to continue to be able to train."
Another addition to the weight room this year is a new app that helps athletes track their workouts.
Athletes now have the app, called TeamBuilder, on their cell phones, and it has the day's workout right at their fingertips. Athletes can record the results from their workout on the app for not only their coaches to see but also for other athletes on their team to compare to.
Blackburn said he is a fan of the app, which has many different uses.
"I am able to distribute the workouts to the athletes, so it's right there in their hands," he said. "But there's also a variety of other things I can do with TeamBuilder. I can send out questionnaires to record and chart bodyweight of athletes, how many hours of sleep athletes are getting and also record temperatures."
Athletes are also now required to report their body temperatures every time they enter the weight room for a session.
Another positive of the app, Blackburn said, is that multiple teams are doing workouts on their own time rather than coming into the weight room. Blackburn used the example of one team that reports to the weight room only once a week but does two other workouts on its own.
"With TeamBuilder, I can go in and check and see who entered their weights, who saved everything, who did the actual workout, and can even have the athletes post videos of themselves performing the lift right to the app," Blackburn said.
Blackburn also had praise for Newman Athletics for how they have handled the COVID-19 situation so far.
"I think not only just in the weight room but the athletic department as a whole is doing a pretty decent job given the circumstances," he said. "There's some universities in our conference that have had athletics shut down. So for us to still be basically a full go here [for training] … means we're doing the right stuff."
PHOTO: Tejay Cleland, Sports Editor