By Hadassah Umbarger, Staff Writer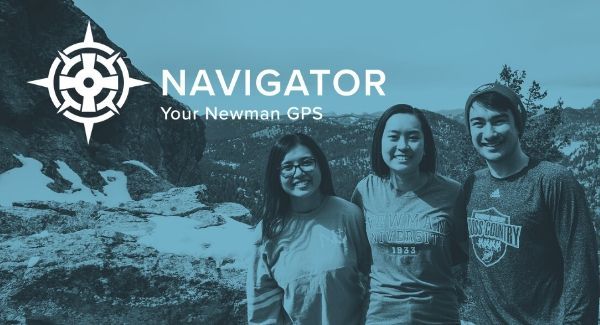 Coming to Newman this year is a brand-new program called Navigator. Navigator is a "student support and success program designed to let students shape their future and their impact on others." The Navigator classes will help students build leadership skills and determine how to use Newman to their greatest advantage.
The program, which was designed by Professor of Communication Audrey Hane, is starting this semester by offering classes for transfer students and will offer classes for freshmen in the spring.
The response from students has been good, Hane said.
"When we initially opened that up, we thought we would do it face to face, so we were sort of limited in the number of students' spots that we had available," Hane said. "And then there was such great interest in it that we ended up getting over 20 students enrolled in it, so we had to move it online…to accommodate everybody [because of] COVID."
Ian Lecki, a transfer student who is a junior majoring in business, is one of the students enrolled in Flight Planning, the first of the three classes in the Navigator program.
"Navigator is a great class, and the professors that work hard to ensure that it runs smoothly are phenomenal," Lecki said. "Being new here on campus, I don't really know a lot of [professors], but every week we're doing a different project with a different professor."
The different views and areas of expertise that each professor is able to bring to the table are enlightening and helpful too, Lecki said.
"They are all able to contribute different abilities and different knowledge from different areas and their respective fields in order to maximize my potential with the Navigator project," Lecki said.
Hane said she's excited for all the aspects of the new program, but one of the things she's most excited about is the opportunity that students are being given to talk with Fr. Adam Grelinger, the university chaplain.
"We're having Fr. Adam Grelinger…talk to them about…the process for discerning their vocation. Not just a religious vocation, but a way in which...they can utilize their strengths and talents in the world," Hane said.
That's just one of Navigator's hands-on and interactive approaches.
"We help them create a digital portfolio, which is a really robust way to highlight their skills and their accomplishments, to share those with prospective employers and graduate schools," Hane said. "That's a reflection of that path [that] they've discerned and designed for themselves…One element of it is helping them chart that path forward. We talked about…Navigator being their guide to personal success. And so that's sort of what we mean by that."
Hane said the program was created with the university's tag line, "A Degree of Difference," in mind.
"We wanted to be able to articulate exactly what was unique or distinct about an educational experience at Newman [so that] we could tell prospective students about that, and also ensure that our current students…at Newman were getting the best experience possible," Hane said.
PHOTO: Courtesy Photo, Newman Advancement.