By Madeline Alvarez, Editor-In-Chief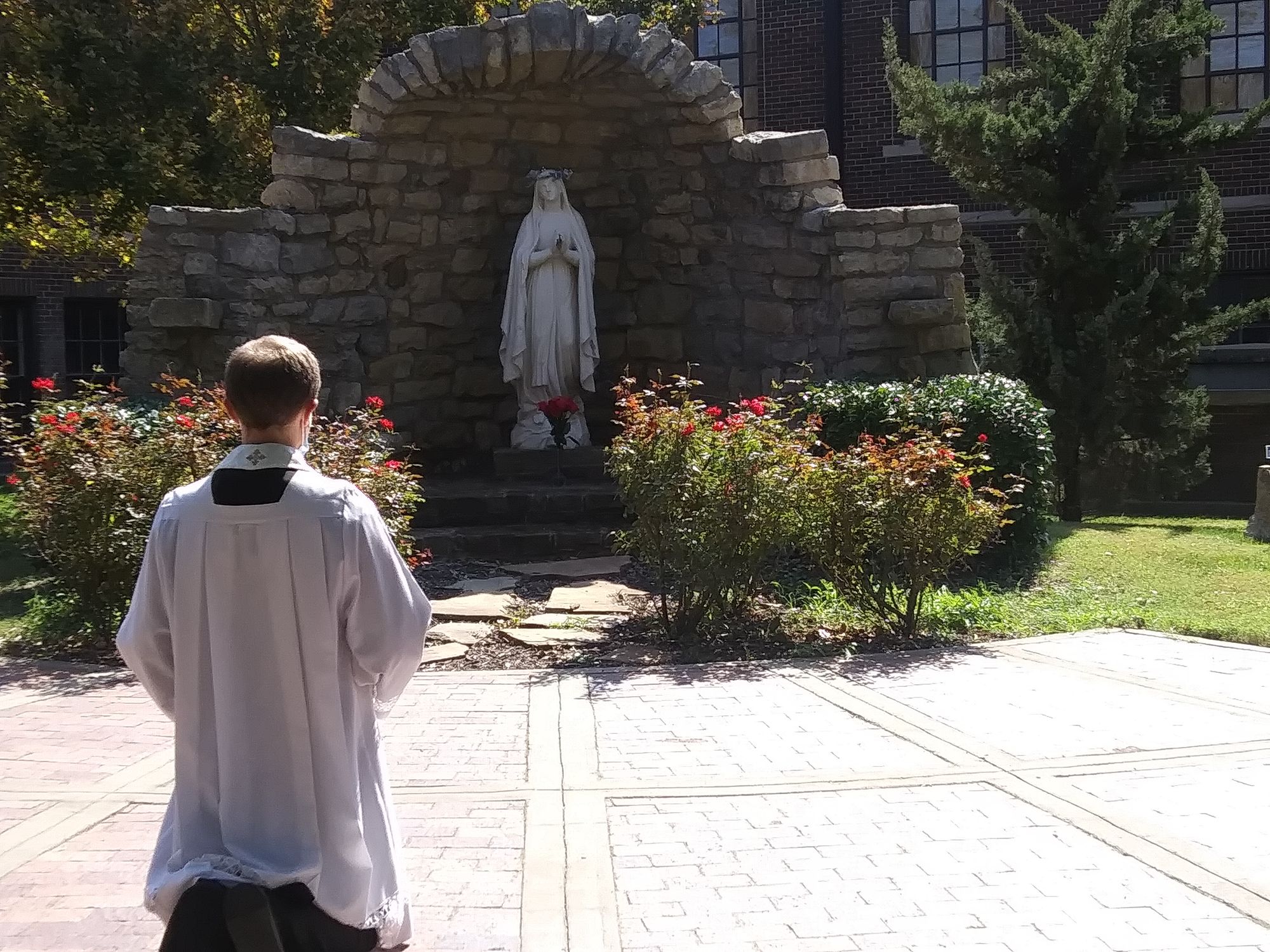 The Feast of Our Lady of the Holy Rosary was on Oct. 7, and Campus Ministry celebrated by consecrating, or dedicating, Newman University to Mary, the mother of Jesus.
The consecration ceremony was held outside Sacred Heart Hall on the southwest side of the building at the Marian Grotto.
It began with a seminarian of the St. Joseph House of Formation placing flowers by the statue of Mary. University Chaplain Fr. Adam Grelinger then invited those gathered to pray some specific prayers with him, and then a decade of the rosary was offered. The dedication ended with the singing of the Catholic Latin hymn "Salve Regina."
Grelinger said that consecration to Mary is common among Catholics.
"Priests will consecrate their parish to Mary, or...the bishops will consecrate the country to Mary," Grelinger said.
He explained that the tradition is connected to the Gospel narrative of Jesus entrusting Mary to the apostle John, both of whom were standing at the foot of the cross where Jesus hung and died. He said that Jesus also entrusted the Church to Mary at that moment.
"So we ask the same then for our university," Grelinger said. "We accept Mary as our mother [through these prayers] as John did."
Devotion to Mary is common among Catholics, Grelinger said, because Mary loves Jesus perfectly since she is his mother.
"Mary loves Jesus more than anybody, probably…We also know Jesus was totally dependent on her...especially as a baby. So she cared for him and she, as our spiritual mother, cares for us as well with the same love," he said.
Grelinger said Catholics ask Mary for her prayers just as they would ask a holy person in their lives to pray for them.
"Mary in heaven, loving perfectly there, is a great person to reach out to for prayers. And so that's what we're doing, is we entrust ourselves to her intercession. So she speaks to God the Father and her son for us as our mother, as intercessor. As other people pray for us as intercessors as well, Mary is maybe the best," he said.
Grelinger said he does not know for sure if Newman has been consecrated to Mary before, but he said he believes that it has since it is an old Catholic institution.
Consecration to Mary should take place annually, he said.
"I was chaplain last year and we didn't do it last year, so I figured we should do it just to put the university under Mary's intercession," he said.
Grelinger said he hopes to renew the consecration to Mary every year on Oct. 7, the Feast of Our Lady of the Holy Rosary.
There were around 30 people in attendance at the consecration.
Sophomore John Suffield, a seminarian at St. Joseph's House of Formation, said he believes all of the seminarians from the formation house attended. Some even dressed up in suits for the occasion, he said.
PHOTO: Madeline Alvarez, Editor-In-Chief