By Taylor Stevens, Staff Writer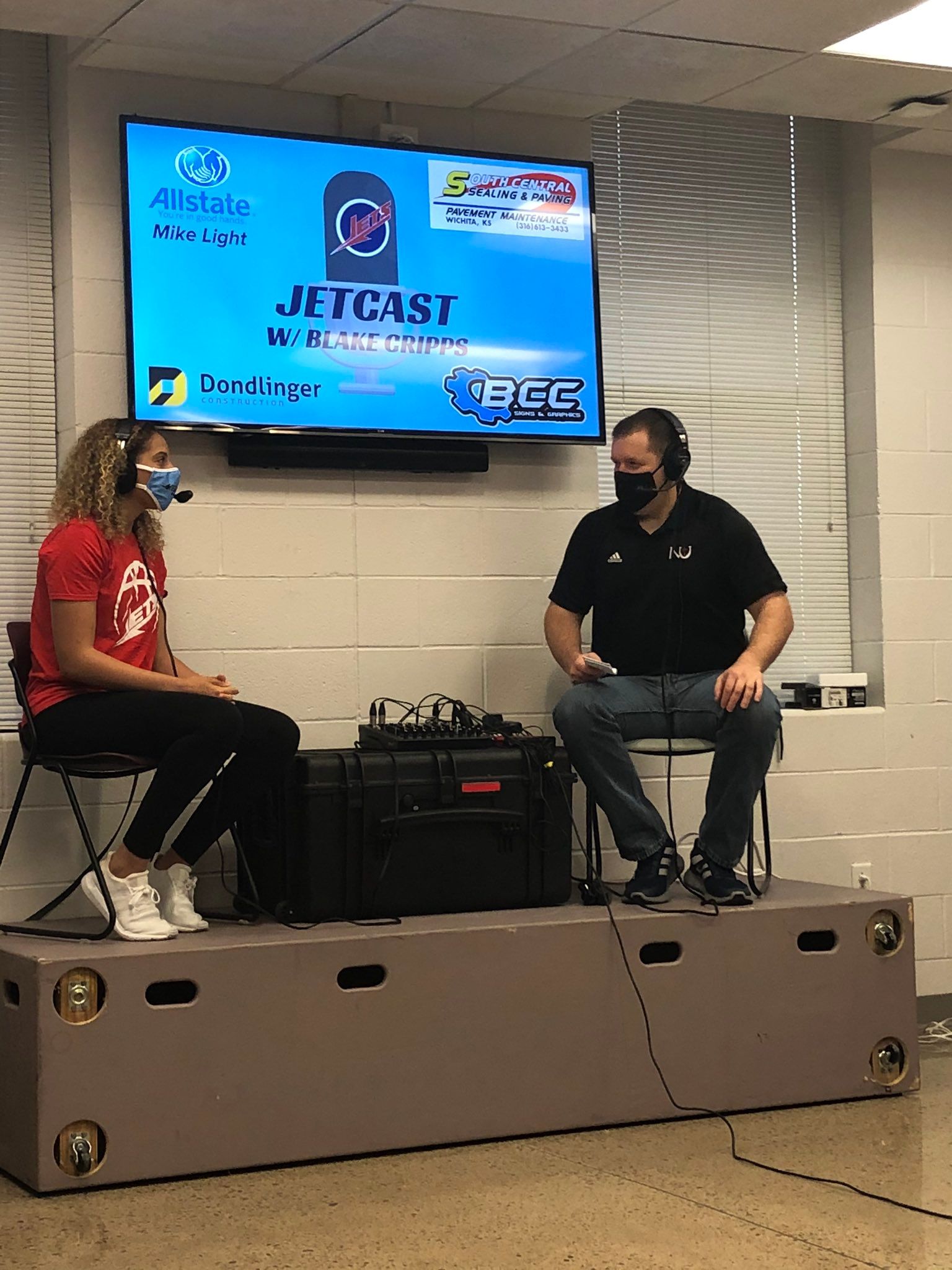 Newman sports are at a halt for the fall semester, but Blake Cripps, the host of "The Jetcast," is still pushing out episodes.
Cripps, better known as the "Voice of the Jets," has been giving play-by-plays of basketball games for about eight years and is the host of a weekly podcast called "The Jetcast." The podcast started last year as a way to give further insight into all things Newman athletics through coach and athlete interviews.
Cripps said he wanted to continue the podcast for a second season, but COVID made that difficult. The MIAA decided to suspend sports competitions for the fall semester through at least Jan. 1.
Cripps, who produces the podcast each week and uploads it every Wednesday, said that the  podcast is an easy way to access the sports world of Newman during COVID. As of Oct. 7, he'd uploaded six Season 2 episodes that talk about the current sports situation at Newman.
"Until I am told we are not doing it, I am planning on doing one until the first week of May, and I am going whether or not we are playing or delayed," he said.
Instead of the usual reporting on how seasons are going and what the next game is going to be, Cripps has started asking coaches and athletes  how they are dealing with the virus. He also asks if they have experienced quarantine. He also reports on practices and how teams are preparing for a possibility of playing.
On Episode 17 of the podcast, for example, Cripps asks junior volleyball player Trinity Conley about the team mood when members found out they were not going to have a season like usual.
"What has been the team mood like when you guys found out that the volleyball season was not going on as scheduled without any interruptions in September?" he asked her.
Conley said, "We kind of had an idea that it probably was going to get cancelled, but we just tried to remain hopeful. Then of course when it did get cancelled we were all devastated, but we just tried to keep happy spirits."
The main difference between this year's podcast and last year's podcast is the inclusion of YouTube videos, Cripps said. This year, Cripps has started filming his interviews and uploading them so that his listeners have the option of seeing the faces of the coaches and athletes as they talk.
Another difference with this year is the inclusion of face masks. Cripps said it makes doing the podcast more complicated because the voices are muffled over the audio. This is one thing they are trying to overcome.
Cripps said he would also like to bring back former players who have made a big impact in Newman sports and interview them for the podcast
"Getting in touch with the history of Newman athletics is really important," Cripps said.
"The Jetcast" is uploaded at 6 p.m. every Wednesday during the school year except for breaks and can be found at newmanjets.com/podcasts or on Spotify, iTunes, Apple Podcasts and YouTube.
PHOTO: Courtesy Photo, Newman Athletics