By Murphy Obershaw, A&E Editor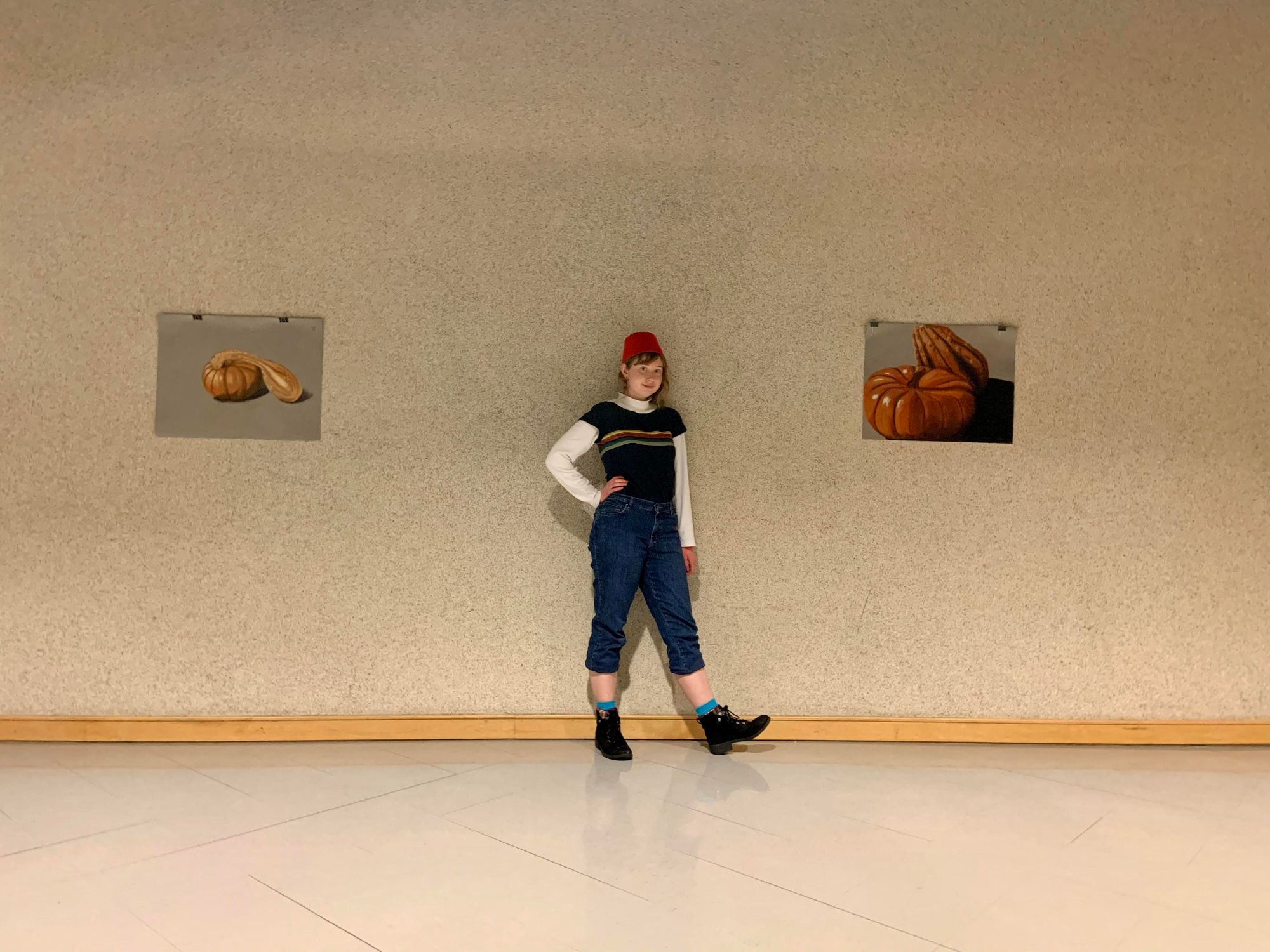 One of the quarantine hobbies I picked up was making cosplay (costumes of fictional characters typically worn at conventions) and cosplay related accessories.
So when I was asked if I would dress up every day for a week leading up to Halloween and write about it like I did with my Christmas outfits in December, I said yes.
But as any seasoned cosplayer would know, things do not always work out the way you plan.
For example, I was going to have my week run from Monday to Friday since people would be able to see my outfits during the school day. However, the snow day made me change my week to Tuesday-Saturday. No one will be in classes on Saturday, but at least that is Halloween, so it'll be good to dress up then.
I kicked off my week of cosplays on Tuesday by dressing up as Kara Danvers, aka Supergirl.
I wore black pants and a white blouse. Under the blouse was a shirt with the Supergirl insignia on it, so I left the blouse unbuttoned. This gave off the effect of Kara changing into Supergirl. I did not wear glasses to capture the same effect. My hair was half up half down, one of the hair styles Kara typically wears to work.
I was going to wear black flats with this outfit, but it was really icy outside, so I wore my light blue Converse shoes instead. They might not have been what I was going for originally, but Kara does wear Converse-like shoes. My plan B for shoes still fit her typical wardrobe aesthetic.
On Wednesday, I dressed up as the thirteenth Doctor from "Doctor Who." The thirteenth Doctor usually wears a navy blue shirt with a horizontal rainbow running through it, a long white sleeved shirt underneath, blue capri pants, yellow suspenders and ankle high brown boots.
I wore the shirt and undershirt, but I did not have the suspenders. The pants I wore were blue jeans that I rolled up a little, so they would look like capri pants. I wore ankle high boots, but they were black not brown.
This outfit may not have been the closest thing to what the thirteenth Doctor wears, but it was close enough that someone familiar with the show would be able to tell who I was. Besides, the real point of cosplay is to have fun dressing up as your favorite characters.
I also wore a fez with this outfit even though she only wore a fez for part of an episode because, as the eleventh Doctor would say, "Fezzes are cool."
I stuck with the Doctor Who theme and wore my fourth Doctor cosplay today. I wore gray plaid pants, a white blouse, a red cardigan and the fourth Doctor's multicolored scarf. The fourth Doctor also wears a brown hat, but I decided not to wear it because I thought it might be a little overkill to wear that to class.
Tomorrow I will dress as Adora from "She-Ra and the Princesses of Power." Adora wears a white long sleeve shirt under a red blazer which is fastened by two belts. She also wears gray leggings and red and white boots.
This was the main cosplay I worked on over quarantine, but somehow it is the most incomplete.
I cut the blazer I got from Turnstyles to match the cuts in Adora's blazer and had to sew and fabric glue the ends so they wouldn't fray. There are a couple of cuts I still need to make, which probably won't get done in time.
Adora wears her hair in a high ponytail with her bangs pulled back, creating a little poof on her head. My bangs aren't very long, so we will see how much of a poof I can attain.
My Halloween cosplay will be the one I was supposed to start the week with, Spider-Gwen.
I have a sweatshirt that looks just like the top of Spider-Gwen's outfit and black joggers for the bottom half of her outfit. I accidentally left my blue flats back home, so I will have to wear my light blue Converse as a substitute.
I will not, however, be wearing her spider mask nor will I be putting on my silly string web shooter.
No matter what you dress up as or how many times you dress up, make sure to make your costume your own and have fun with it like I have this week. It might not have been a week of perfect cosplays, but I had fun making or assembling them and wearing them around.
PHOTO: Leanne Vastbinder, Opinion and Online Editor