By Madeline Alvarez, Editor-In-Chief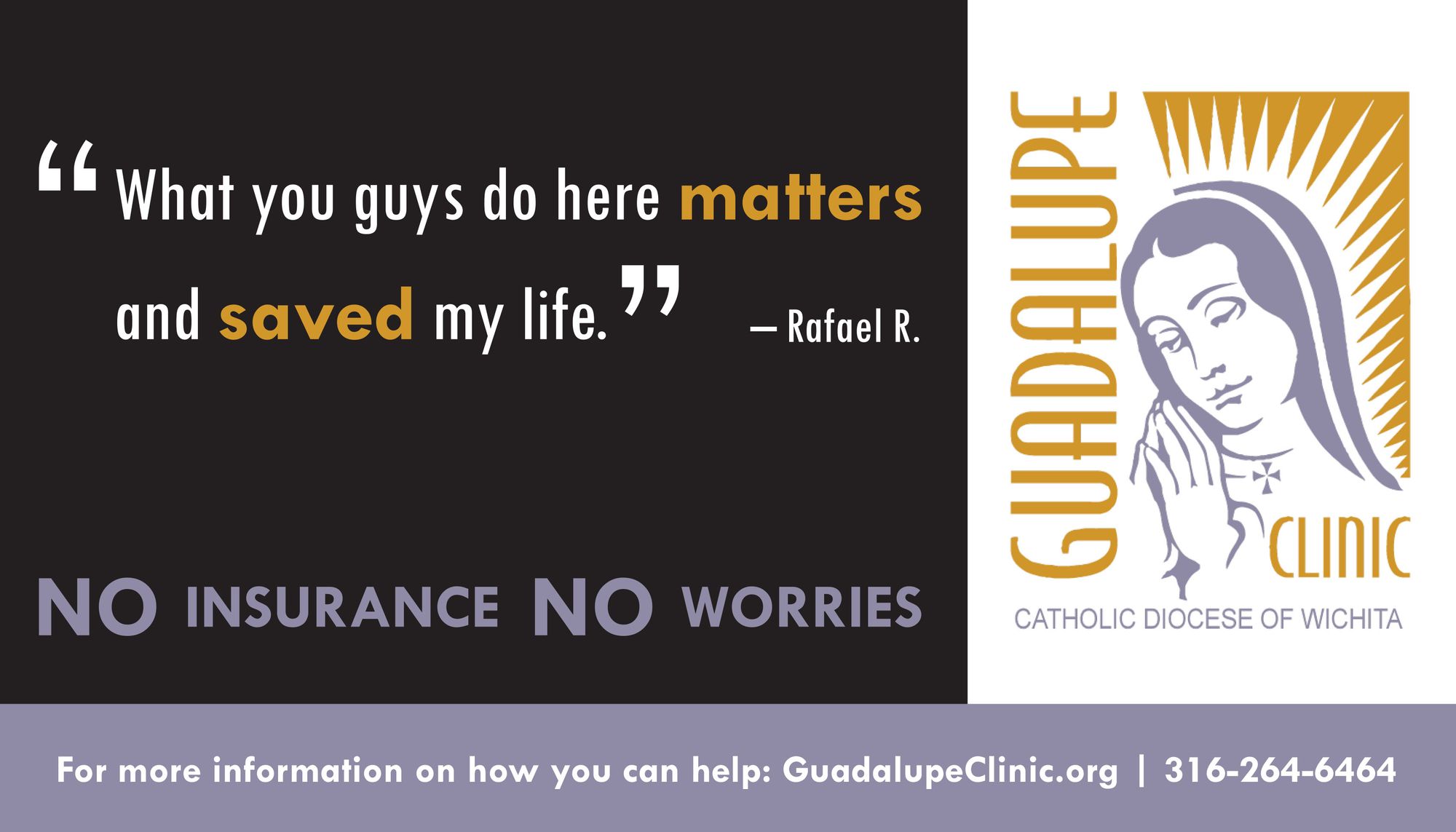 Although the Guadalupe Clinic is not an official part of Newman University, it has a lot of Newman ties. Some of Newman's nursing students go to the clinic as part of their clinical assignments, and associate Professor of Spanish Sonja Bontrager also helps refer students to the clinic to volunteer as translators.
The Guadalupe Clinic serves those who fall below the poverty line in Wichita. It is the only completely free health clinic in the city.
Nursing student Clare Morgan said that third-semester nursing students at Newman are assigned three different clinical rotations in their third semester of nursing school: One is at St. Joseph Hospital in the new life department. Another is at Wesley Hospital in the pediatrics department. And the other is at an organization in the community which can include home health, hospice and clinic agencies. Morgan will start her clinicals at the Guadalupe Clinic next week as part of her community rotation.
Morgan said that students who do their clinicals at the Guadalupe Clinic help with patient intake, which includes taking health histories and vitals. The students shadow the nurses and techs, who are also volunteers.
Mackenzie Wright, a third-semester nursing student, said the clinic was one of the choices at the top of her list of clinical settings she hoped she would be assigned to. She was happy to have been able to complete her clinicals there, she said.
"It was really rewarding," Wright said.
She shadowed the volunteer nurse on duty.
"It's really cool. I learned a lot," she said. "The nurses were very, very good at showing me new things and letting me do things myself."
Wright said she has also done clinicals at a hospital and the care between there and at the Guadalupe Clinic differs a lot.
"It's a lot more patient focused...because all you see is those patients," she said. "You're not having to take care of six different patients at the same time."
Wright wants to be a labor and delivery nurse when she graduates and said that helping with the well-woman days, which are offered every Wednesday at the clinic, was a good experience.
On the well-woman days, a volunteer OBGYN offers care to clients. Sonograms are also offered then.
Wright said that since most of the clients she served at the Guadalupe Clinic were homeless, it gave her the chance to work with a different population than she was used to.
In this way, the clinic offers a unique experience to Newman nursing students, she said.
"I think it helps to show us that not everyone is how we picture them," Wright said. "Everyone there is really desperately in need…We don't look down on them."
Senior pre-med student Stephania Lopez said she heard about the opportunity to volunteer as a translator at the Guadalupe Clinic through the volunteer fair that Newman hosted last year. She now volunteers every Tuesday afternoon, acting as a Spanish translator for a behavioral counselor at the clinic.
"Therapy is something that's so taboo in Hispanic culture, and it's even more difficult when there's a lack of access to Spanish therapists," Lopez said. "So to be able to help translate for a therapist I think is really special."
Executive Director J.V. Johnston used to work at Newman as the vice president of advancement but left last year for the job at the Guadalupe Clinic.
"It's been very good. It's just a great mission," he said.
The Guadalupe Clinic has two locations: one at 2825 S. Hillside St. and the other at 940 St. Francis.

PHOTO: Courtesy Photo, The Guadalupe Clinic