By Leanne Vastbinder, Opinion and Online Editor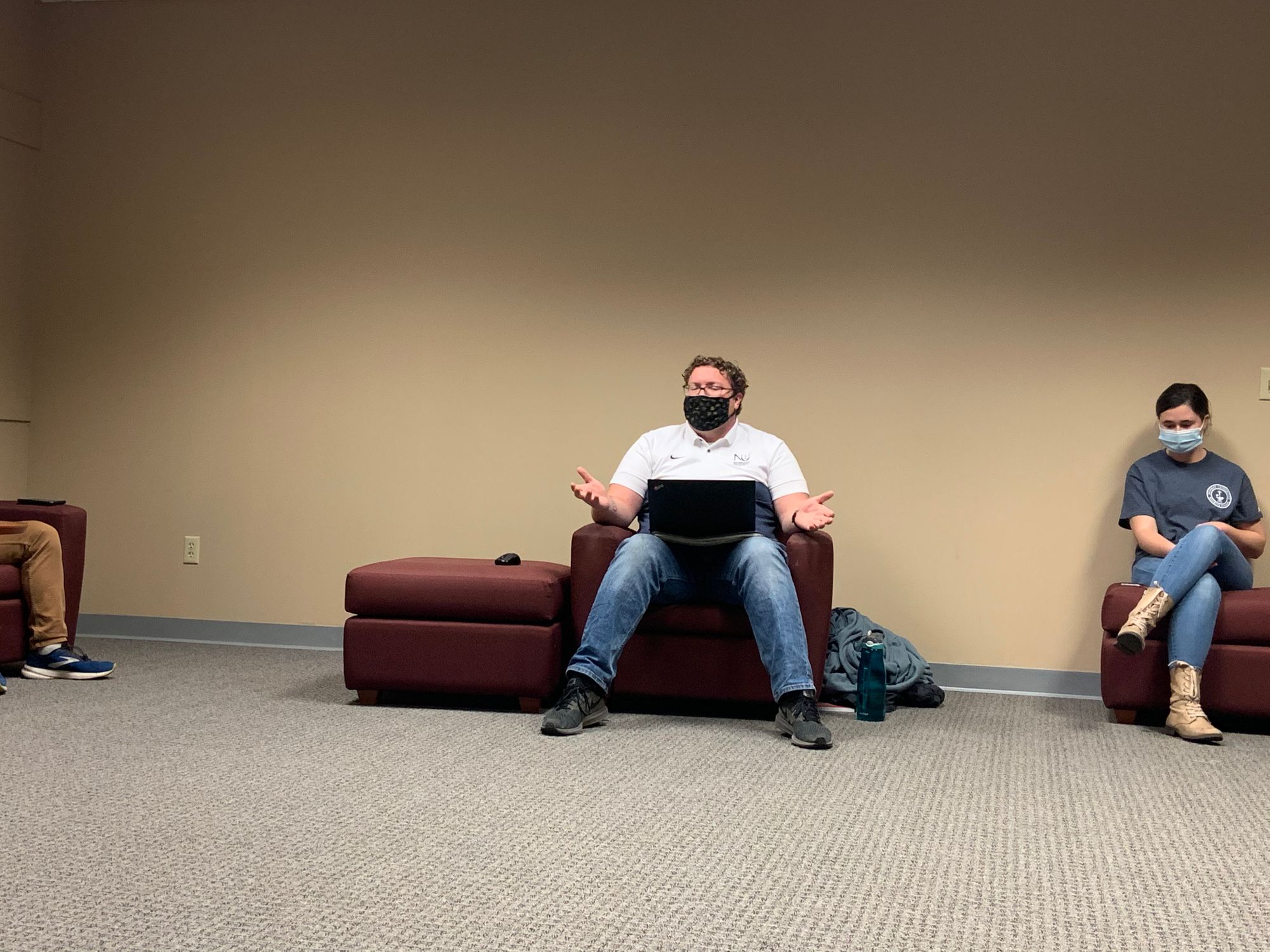 No matter what is happening in the world, senior Cole Schnieders said at the new Student Speaker Series last week, there is a place to find hope, and that place is with Jesus.
Campus Ministry launched its Student Speaker Series last week to give students an opportunity to listen to a faith testimony from a fellow student. The pilot event was on Friday, and Schnieders was the speaker.
The event was held in the basement of Sacred Heart, and Campus Ministry provided tacos and sides for students. There were 11 students in attendance.
University Chaplain Fr. Adam Grelinger kicked off the night with introductions and led students in prayer. Schnieders then spoke about his life experiences, growing up Catholic, and his journey with God and the Church.
"There's still something within the Catholic faith or any faith of Jesus that is worth clinging to,"  Schnieders said. "It may not give you a million dollars, it may not help you deal with all of the work crises you have on top of the family crises, or on top of trying to make sure you are mentally sane, but it will help with the very small potato chip that is you and keep it sustained so that you can bear all of that."
Schnieders was briefly in the St. Joseph House of Formation, the Diocese of Wichita seminary program, and is now involved with Campus Ministry.
Toward the end of his testimony, Schnieders explained why he recently got a tattoo on his right forearm. The tattoo is a circle, with the first three letters of the name "Jesus" in Greek inside the circle.
"I got it partly as an act of defiance, but also partly to symbolize the journey I had gone through up to that point, of making a clear indication that I choose to be Catholic and this is who I am," Schnieders said.
After Schnieders shared his testimony, Grelinger closed the time in prayer, and the event finished with dinner.
Steven Nguyen, a student worker in Campus Ministry, chose Schnieders as the speaker for the event and said he learned a lot from listening to Schnieder's testimony.
"I learned that sometimes the happiest people have the harshest obstacles to overcome and that the people that are trying to make everyone happy around them sometimes are going through things themselves," Nguyen said. "Those people are the ones winning in a way and obviously we have to try to imitate that."
Grelinger said he hopes to continue these events and have more speakers next semester.
"If we could do three or four more in the spring, that would be great. It's a way to encourage one another through the difficulties and just show how the Lord has been at work," he said.
Grelinger said he looks forward to future events and the way that it could impact students.
"I think it would be great if it could open that space for students to feel free and comfortable to share their faith with their peers," he said. "You can go through challenges and things like that and it's okay to have difficulties and doubts. Hopefully it would build up the community to feel comfortable to share those things."
Grelinger said it's beneficial to hear from students with either different beliefs or different experiences.
"It's a great time if you are kind of curious about spiritual things or curious about what it is to live a Catholic life, to just hear it from a peer, from a fellow Newman student. It's not going to be highly academic," Grelinger said. "It might be a good time to just understand the life of one of your peers, even though maybe you don't share the same faith."
PHOTO: Leanne Vastbinder, Opinion and Online Editor