By Madeline Alvarez, Editor-In-Chief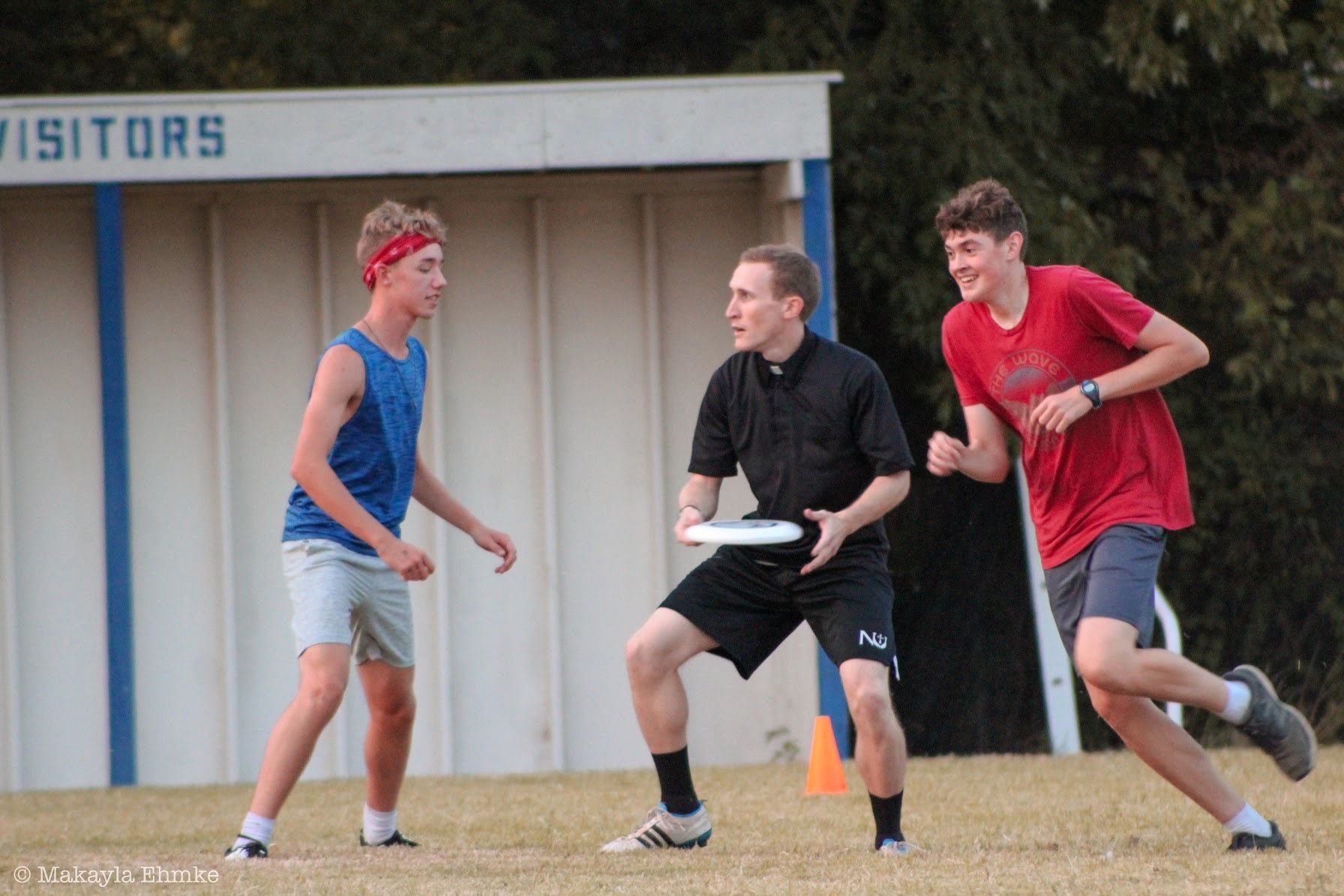 Campus minister Steven Nguyen and University Chaplain Fr. Adam Grelinger have started a new initiative designed to reach out to high school students in the community in which they gather a group of students from Newman and play ultimate frisbee with high schoolers from youth groups or high schools in town.
Grelinger said the idea started after he and a group of Newman students got together this summer to play ultimate frisbee.
"We wanted to keep that going," he said.
Grelinger said that the idea to challenge youth groups to play came about because they did not have enough students for two teams.
"So, kind of a desire for fun but also a desire for reaching out to high schoolers — you know, potential Newman students — to kind of do a bit of outreach that way so that they could meet our students, learn a little about Newman," Grelinger said.
Grelinger said the group prays together as well.
The Newman group has played with three youth groups from the community: a young men's group from Kapaun Mt. Carmel, the youth group from St. Thomas Parish and the youth group from St. Elizabeth Ann Seton Parish.
Nguyen said that he made connections to these groups when he was a Totus Tuus retreat leader over the past two summers.
Nguyen said COVID made it difficult to find groups that were willing to engage.
"But many of them saw the opportunity as one that they couldn't pass up," Nguyen said.
Nguyen said that the Newman group takes precautions, like social distancing, to keep others safe from COVID-19
"We try our best, and God's blessed us with beautiful weather, so ultimate [frisbee] is always outside and we've only had to have one event inside," he said.
Nguyen and Grelinger said that some high school students they have ministered to have expressed interest in attending Newman after having played with the Newman group.
Grelinger and Nguyen said a number of students have asked questions about Newman's sports teams, such as triathlon and cross country.
Nguyen said he hopes the ministry will be a long-term effort. He believes that the group will be able to play against many youth groups, and then to play against them multiple times, "and hopefully push past just the competitive nature but be able to maybe host a retreat with them or do other events that really allow us to sit down and talk to them and get to know them," he said.
Nguyen said he believes the outreach ministry has provided many high school students an opportunity to learn about Newman in a real way.
"I think something like this where you get to be yourself, be competitive, be kind of almost childlike and run around with someone that is slightly older than you with more experience in the world, but is willing to just spend their free time with you is…in my opinion, a golden opportunity," he said.
There are students who have never heard of Newman University before playing with the group, he said, but after playing, they want to know more about Newman and also about how they can become involved in campus ministry, wherever they decide to go to college.
They also ask about Nguyen's career path, he said. He is studying secondary education and plans to be a high school English teacher.
Nguyen, a junior, said he hopes the ministry continues even after he graduates.
If anyone wants to get involved with the ministry, Nguyen said, they can come by the Campus Ministry Office, located in Sacred Heart Hall, room 219, and talk to him or Grelinger about getting involved.
As of now, there are no events planned for the rest of the semester, but they will start back up in the spring.
PHOTO: Courtesy Photo, Steven Nguyen