By Tyler Push, Staff Writer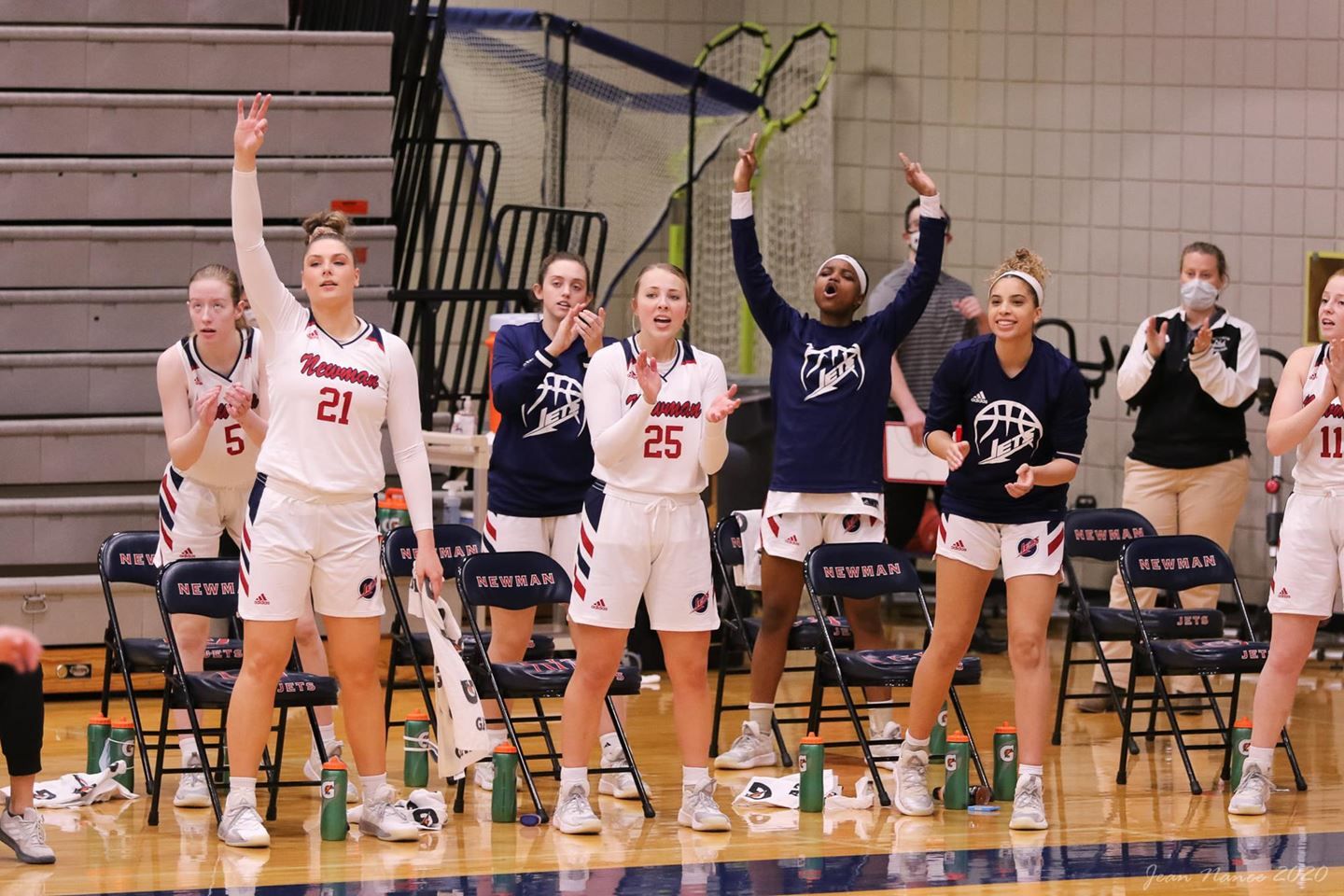 Coach R.J. Allen has been with the Newman Jets for 10 years, with this season marking his fourth as head coach. Allen led the Jets to a 20-win season back in 2018-2019, which tied a school record for most wins in a single season, but achieving that feat has been a bit more challenging this year.

The men's team currently holds a record of 2-9 and are in the midst of a five-game skid, but Allen said he sees good things out of his team.

"The team continues to show improvements daily," Allen said.

The team has faced several challenges amid COVID-19, Allen said, including getting tested almost weekly and having to wear masks. During games, there isn't much of a fan section because Fugate Gymnasium can host no more than 100 people at a time, and players tend to feed off of the fans energy, he said.

Allen said these COVID protocols have been a challenge to deal with but his players have done a nice job of being flexible and understanding the circumstances needed to be made in order to get to play.

The short Christmas break that the team had allowed members to release some of this stress and clear their heads so they could refocus on winning when they returned.

"The team has stayed busy with two practices a day. This is a young group with only one senior so the team is learning and growing on the fly," Allen said. Players like juniors Joel Boyce, Branden Bunn, DeAndre Johnson, and sophomore Ian Lee have really stepped up this season and have started to come around as of late, he said.

With only nine games remaining on the team's regular season schedule, the team looks to upset a difficult opponent in the Ichabods of Washburn today at home. Washburn currently holds a record of 10-2 but each of those losses has come in an away game.

The Jet's women's basketball team has similar aspirations in mind as head coach Darin Spence looks to turn a 3-9 record around. Spence is entering his ninth season as the head coach of the Newman women's basketball program. Under his tenure with Newman, Spence has compiled a winning record of 106-90.

COVID-19 has created quite a few complications for the team, but it has managed to deal with the situation to the best of its ability, he said.

Postponements and rescheduling of games has been quite difficult for the team because oftentimes it forces them into playing three games in a week, Spence said. This can be very hard on an athlete's body so the team was sure to use the Christmas break as a time to rest and recover.

During this time, the team was still able to get in some good practices where improvements were seen on the team's connection as basketball players, Spence said.

"I honestly don't believe there is one way to deal with it and at times it feels like we are making it up as we go along," he said of the COVID-19 pandemic. "We have learned to be flexible and adapt to situations that come our way."

One of those situations is the atmosphere that the team plays in. Spence describes the fan section as "big time" and not having quite as large of a crowd at each game is something that the team has had to adjust to.

Senior Rylee Meloy, junior Faith Mason-Vestal, and sophomore Madison Birnbaum have been noticed as players who have stood out for the Jets this season, Spence said.

Improvements are continually being made to the team's offense, which has been a particular area of challenge for them. "We do good things, but we just don't sustain it or show much consistency even after experiencing success and made baskets. Many of our shooters are tending to shy away from shooting the ball after they miss a shot or two, which finds them turning down good shots and ultimately becoming easy to guard."

The women's team looked to surge as an offense but fell short as they faced the Rogers State Hillcats in Claremore, Oklahoma, on January the 25th losing 37-62. The loss puts the Jets at a record of 3-9. They will try again at home against Washburn on the 28th who hold a record of 5-6.
PHOTO: Courtesy Photo, Newman Athletics