By Cole Schnieders, Copy Editor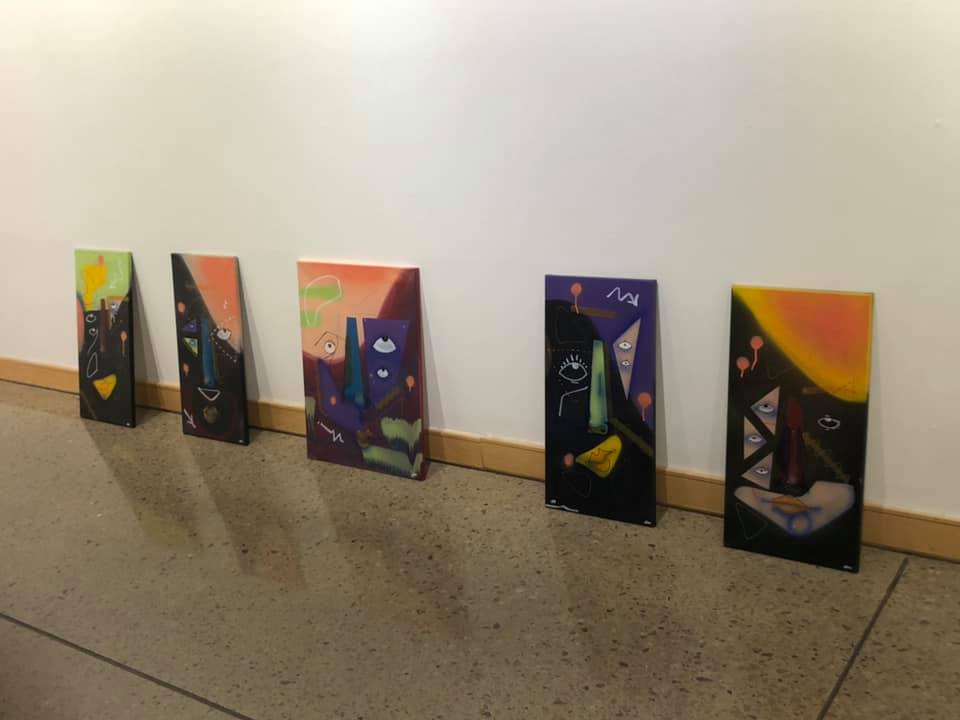 The Steckline Art Gallery's first show this semester will be "What's a Crown to a Clown?" created by Juanta Wolfe, a Wichita-native and artist from the south side.
Wolfe said the title for the show was inspired by lyrics from the song "Kids See Ghosts" by Kid Kudi and by his own personality.
"I've always been a class clown...People always tell me to be more mature," Wolfe said. "I just like to be myself."
Shannon Johnston, director of the Steckline Art Gallery, said that she's especially excited for this show because of how different Wolfe's style is.
"There is a combination of acrylic and spray paint and Sharpie marker, putting it on a canvas rather than walls or train cars," Johnston said. "For our seasoned gallery-goers who are used to seeing high art...it's going to be a challenge."
Wolfe said his work is inspired by a mix of his favorite cartoons as a kid, by hip hop ranging from MF Doom to NWA, and by his early forays into public art when he'd "tag," or paint illegally on public and private property.
"I really liked how they drew the eyes and just the human form on 'Scooby-Doo.' That's where I take a lot of my inspiration from, just like the simplicity of the eye shape," he said.
As an adult, Wolfe said he has stepped away from tagging, instead contributing to murals around town, such as the purple octopus outside Nortons Brewing Company. He also teaches the history of graffiti to Wichita-area students through Arts Partners.
He said he believes that tagging as an art form goes back to  cave painting and stems from man's desire to just mark something, to let other people know they were here.
"It's an aesthetic to a city, and I don't think anything will deter me from still appreciating and supporting it," he said.
All of the pieces in this show were created in the span of two weeks, Wolfe said, except a tribute to the late rapper MF Doom. The flurry of activity came after he practiced different techniques for months, he said.
"I have to almost multitask to stay sane," Wolfe said. "I wanted to do something different and be able to work on it piece by piece and build them all at the same time...I had [the canvases] circling me in my studio, and then I'd maybe do some spray paint here and draw shapes, and then grab another one."
Wolfe said his focus on the process of making art, rather than finished product, comes from his main work, Brazillian jiu jitsu, in which he is a purple belt.
"It's a martial art, so there is art, and I'm developing my own style and I want to keep pursuing that."
Wolfe's show will be the first of four this semester and part of Wichita's First Friday Gallery Crawl, where local artists display their work at various venues around Wichita on the first Friday of the month.
Johnston said all shows this semester will be featuring local artists, including the final show in May that will feature four graduating seniors.
"We have an acrylic painter, a watercolor painter, photographer and a graphic designer. They're all very different, and it'll be really fun," she said.
"What is a Crown to a Clown" will open at 5 p.m. Feb. 5 in the Steckline Art Gallery. It will close for the evening at 8 p.m. Only 10 people at a time will be permitted in the gallery. Wolfe will present an artist talk at noon on Feb. 4 via Zoom. Newman community members can join at http://bit.ly/3qW47hy or by contacting Johnston at johnstons@newmanu.edu.
PHOTO: Courtesy Photo, NU Steckline Gallery Facebook