By Marie O'Neal, Staff Writer
Students come to Newman University to receive a quality education, but the college experience can come with some more romantic perks.
At Newman, students meet a variety of people through classes, sports and social gatherings. You never know when love is just around the corner, or sitting in the row in front of you during your 8 a.m. class.
In honor of Valentine's Day, which is on Sunday, The Vantage decided to tell the sweet love stories of some of Newman's most iconic couples.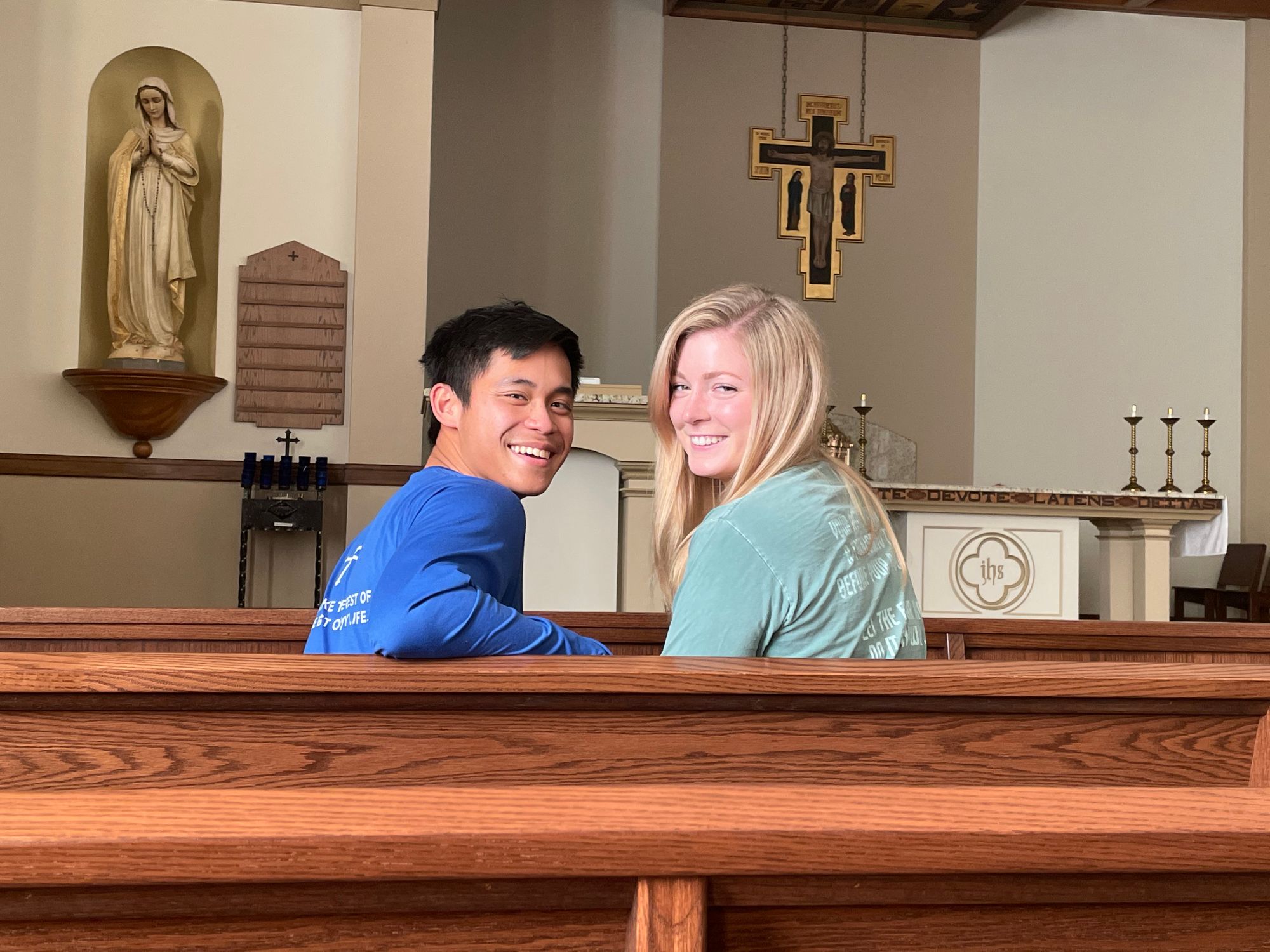 PHOTO: Courtesy Photo, Clare Morgan
Love and war
Juniors Makayla Ehmke and Steven Nguyen met during freshmen orientation at the Luke Spehar concert held in the chapel in August 2018.
Nguyen had graduated from Kapaun Mount Carmel, and Ehmke from Bishop Carroll. If you know anything about Wichita, you have probably heard about the longstanding rivalry between the two Catholic high schools. But even an age-old holy war couldn't stop their love from sparking right in Saint John's Chapel.
"Makayla was sitting on my right, and a friend of mine was sitting to her right," Nguyen said. "I thought she was really pretty, and I didn't want to make a fool of myself. So naturally, I proceeded to make a fool of myself, talk around her, and not acknowledge that she was there."
Nguyen was afraid he blew it with Ehmke, but she introduced herself to him after the concert. But it wasn't love at first sight for Ehmke.
"I'm a friendly person, so I said hi to everybody," she said.
Director of Theatre Mark Mannette and his Introduction To Theatre class unexpectedly sparked Ehmke and Nguyen's relationship.
"We probably would have never talked again, but she sat in front of me in that class on the first day of freshman year, and I was like, 'Dang this is like one of the movies where the really cute girl happens to be in one of your classes,'" he said. "So yeah, required classes maybe aren't the worst."
Ehmke and Nguyen didn't begin dating right away but built a solid friendship through class. Nguyen thinks Mannette may have caught on during the semester because Nguyen and Ehmke spent so much time together. They even did their shop hours at the same time, thanks to Nguyen's planning.
"We were really good friends at that point, and then it was just like our friendship became a relationship," she said.
Nguyen finally took his shot and asked Ehmke on a date after realizing other boys may have been interested in her, too.
"One day, another guy in the classroom asked her if she wanted to go to lunch, and I realized I needed to do something about it," he said.
Nguyen said he had his knight in shining armor moment when he realized Ehmke didn't want to go with the other guy.
"So, like a knight in shining armor, I squeezed in between them and asked her if she wanted to walk to Mass with me," he said.
If you have your eye on someone special, Nguyen would advise you to take Nike's advice and "Just to it."
"Don't drag it on. If I waited any longer, she could have gone for some other guy," he said.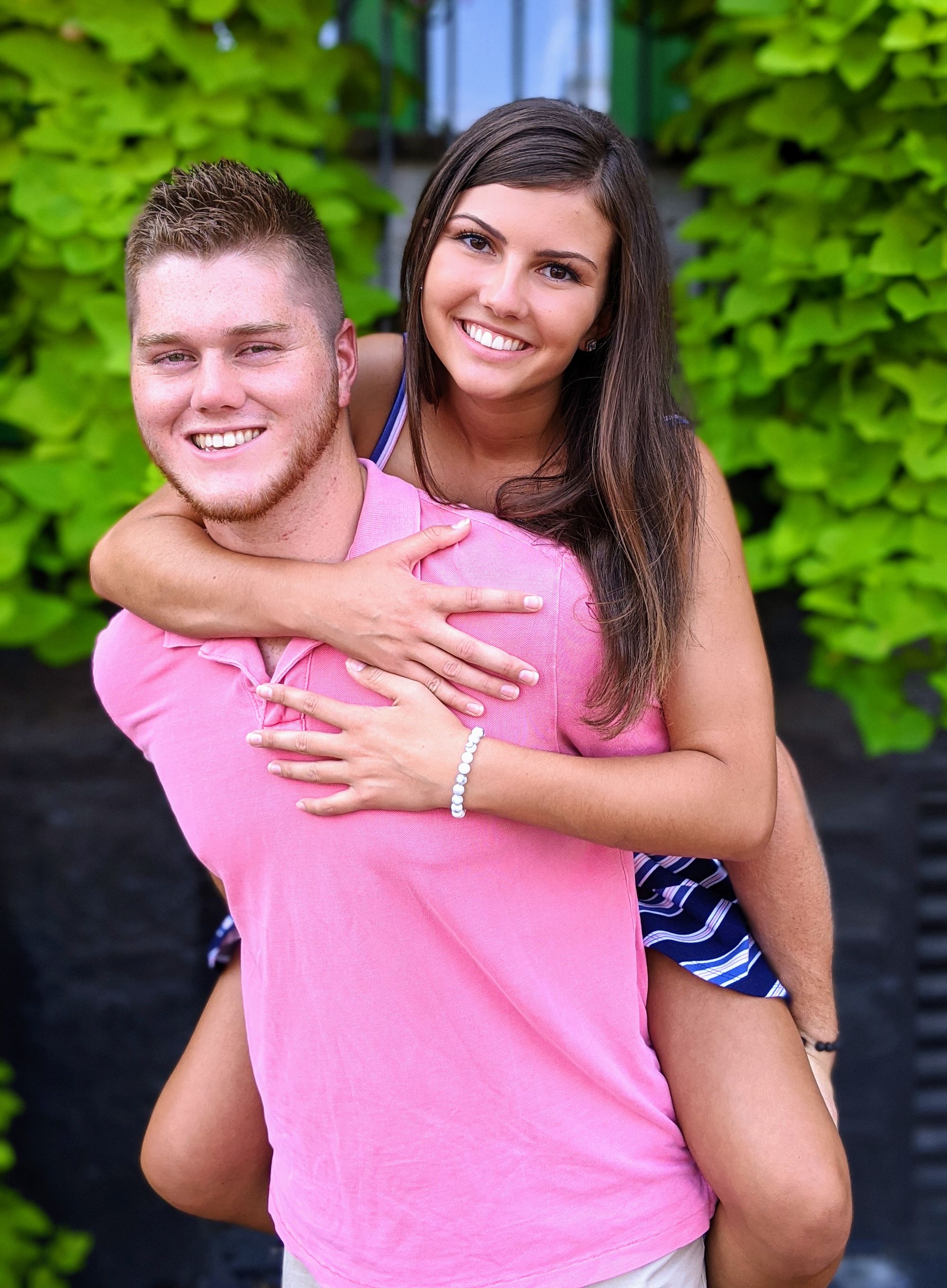 PHOTO: Courtesy Photo, Jon Coufal
Love is like a (baseball) game
Bishop Carroll also plays a role in another long-term Newman relationship. Sophomore Rebecca Hageman and first-semester graduate student Jon Coufal's paths first crossed on the Bishop Carroll baseball field.
Hageman suggested Coufal tell the story, because he was the first one interested.
"I was playing in a baseball tournament over the summer in Wichita when I got recruited to go to Newman," he said. "The tournament was at Bishop Carroll Catholic High School, where Rebecca went to school, but I didn't even know who she was, so that is pretty crazy."
Two years later, Hageman was at Newman University for registration day and went to a baseball game to talk with her sister's boyfriend, who was a graduate assistant at the time.
"She came to a game, and I thought she was gorgeous, so naturally I called dibs on her in front of my teammates. One of my teammates also called dibs, so it became a joke, and I kind of forgot about it," he said.
But his love story did not end on the baseball field.
"In the fall of my junior year there was a freshmen orientation event, and I was a resident assistant, so I was at the event," he said. "There was water pong going on, and Rebecca was complaining that her teammate wasn't very good. I told her that I was pretty good and that I could be her partner for the next game."
Coufal finally connected the dots when Hageman mentioned that her sister was dating their baseball graduate assistant.
"It finally came full circle and smacked me in the face. She was the girl from the year before and bang, it was love at first sight," he said. "Within the next couple of days, I tried to get her number three or four times but kept chickening out."
Coufal wanted to be creative when asking Hageman to officially be his girlfriend, but Hageman found out about Coufal's plan ahead of schedule.
"He was giving me a tour of his room and there was this bright orange Ping-Pong ball with, 'Rebecca, will you be my girlfriend?' written on it," she said.
Coufal thought this was a great idea, since they met playing water pong.
"I thought I could play Ping-Pong with her and give it to her, but naturally she was snooping through my stuff and found it," he said.
"He pulled it out of his pocket later that night and asked me," she said.
If you're looking to meet new people, Hageman has some advice for you.
"Just be confident, and don't be afraid to go up and talk to a random stranger," she said.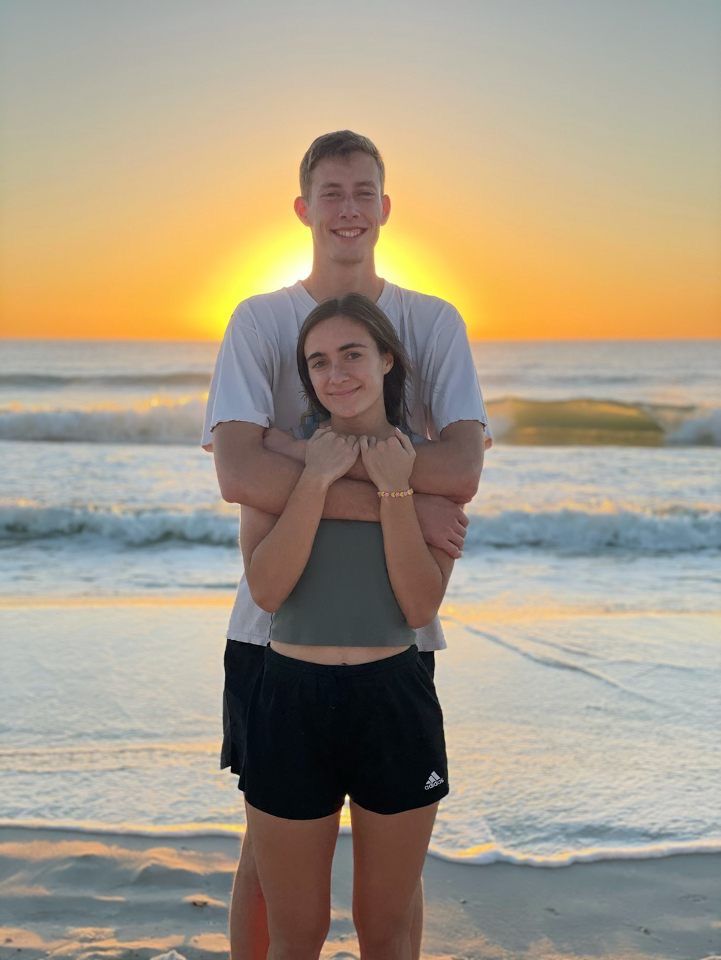 PHOTO: Courtesy Photo, Kenny Wright
Summer (camp) lovin'
Sophomore Kenny Wright and junior Jordan Ashworth met before coming to Newman, but were in a long distance relationship until they both came to campus.
Wright and Ashworth went to the same summer camp as kids, but didn't meet until they were 16 and 17. They are from different towns in Oklahoma, so they dated long-distance for a year and a half until coming to Newman.
Wright said getting an offer to play tennis at Newman helped make his college decision easy.
"I knew I wanted to be a science major, so Newman was already a good choice, and Jordan was already here to play soccer, so when I got the offer to play tennis, all of the pieces just fell into place," he said.
Wright and Ashworth really like playing Ping-Pong, and you can find them around campus in an intense game.
Since Wright and Ashworth are finally in the same city, they get to see each other more often, so he hangs out in her dorm room almost every night.
"Being in the same place was a first for us. Last year was interesting because I lived in Carocci and Jordan lived in Beata, so every night at like 10 or 11 I was walking back to my dorm, even in the middle of winter," he said.