By Cole Schnieders, Copy Editor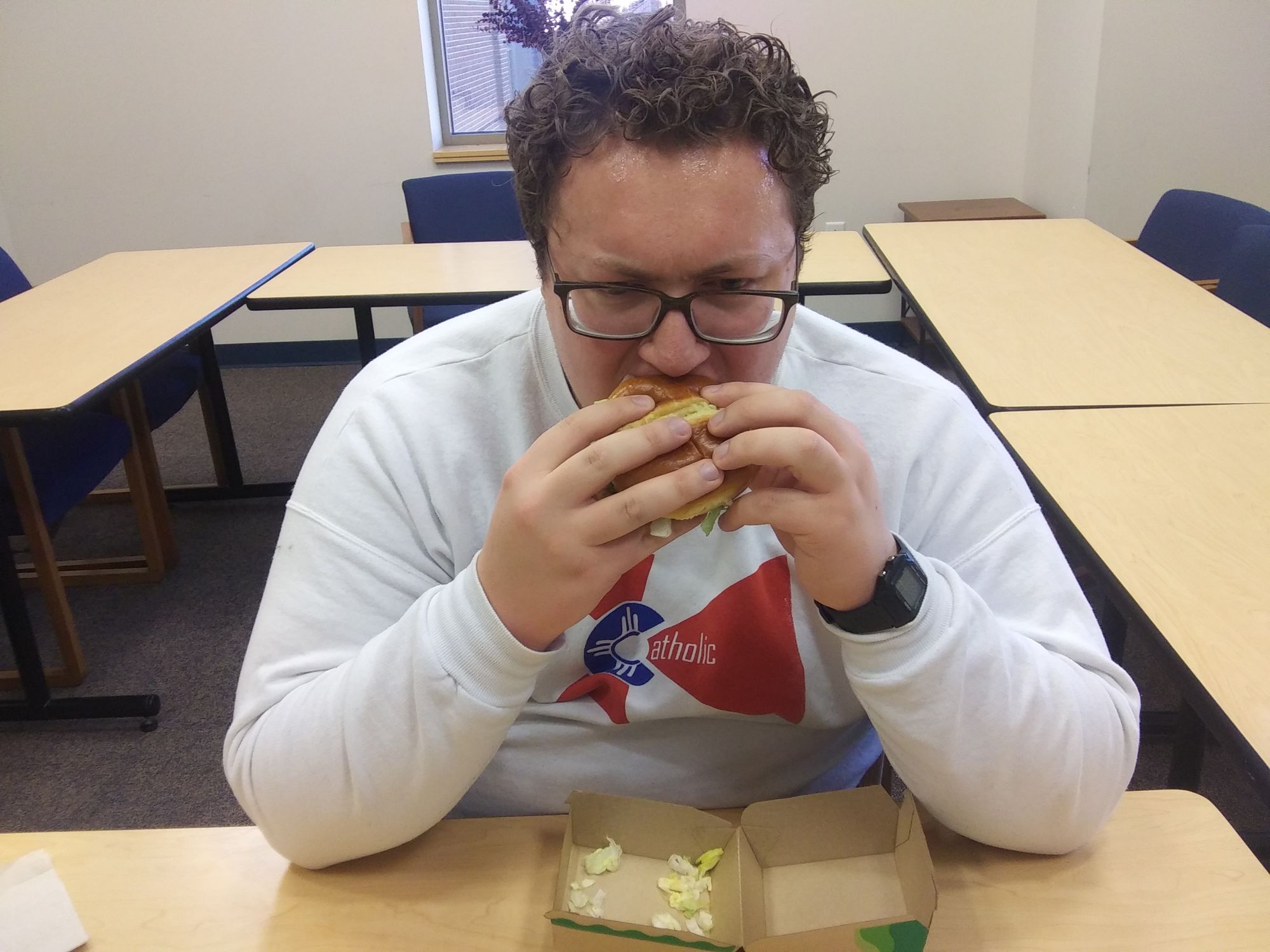 I remember a time when people would travel to Kansas City just to eat a Chick-fil-A chicken sandwich dipped into the ambrosia that is Chick-fil-A sauce. My family took part in those chicken pilgrimages, making excuses about why we needed to be in KC right at lunch time.
Now, fast food restaurants are trying to capitalize on the chicken craze with their own takes on the crispy chicken sandwich, the latest being McDonald's drumming up hype  for their new sandwich with a limited edition merch drop. Marketing antics aside, how do these new chicken sandwiches stack up to the king, Chick-fil-A? I decided to give them a try and find out. Here are my results:

Popeye's Classic Chicken Sandwich
The Sandwich: A hand breaded chicken filet, served on a buttery, toasted brioche bun with two pickles and mayo or spicy Cajun spread.
The Experience: The sandwich caused a media firestorm when it launched nationally in August 2019. Even the Vantage covered it then, back during simpler days when you were waiting in an hour-long line for some chicken, not a vaccine. Two years later, I fail to see what the hype was about. It's definitely the most unique sandwich I tried, with the breading having the same Cajun spices as the rest of their fried chicken. Despite Popeye's promise of crispiness, my chicken was soggy. I'm not sure if it was a symptom of the seven-minute wait or just the standard, but if I'm getting something from Popeye's, I think I'll stick to the fried chicken.

KFC Chicken Sandwich
The Sandwich: A quarter pound of all-white meat, double breaded for "extra crispiness" served on a buttered, toasted brioche bun with thick crinkle-cut pickles and the Colonel's "real mayo."
The Experience: Not even the Colonel's 11 herbs and spices, or his mayo, could save this chicken travesty. Before I even dove into the sandwich, it smelled odd, almost fruity.  The chicken was shriveled, dry and tough to chew. No 21st century sandwich should have meat so tough you have to pull to get it off like some caveman. Of the competitors, it was the smallest-feeling patty, and the pickles gagged me with a wallop of acidity that I was not expecting. Overall, it's not a sandwich worth trying.

McDonald's Deluxe Crispy Chicken Sandwich
The Sandwich: All-white meat chicken breast filet, fried with a light breading, served with crinkle cut pickles, shredded lettuce, Roma tomatoes, and mayo on a lightly toasted, buttered potato roll.
The Experience: The chicken was juicy yet crispy and the bun was soft and delicious, even by itself. The flavor profile was very reminiscent of the Chick-fil-A Chicken Sandwich; in fact, it was nearly identical. I don't think this is a bad thing. The wait at McDonald's was three minutes during the dinner rush hour, while Chick-fil-A is notorious for having the longest fast-food wait time. The major disappointments were no Chick-fil-A sauce and the forgettable iceberg lettuce that seemed to be added as garnish rather than a key ingredient.  

Chick N Max Original Fried Chicken Sandwich
The Sandwich: Hand-breaded tenders, served on a toasted brioche bun with crispy dill pickles.
The Experience: This was the messiest sandwich to eat. It wasn't that it had too much sauce; in fact, there was no sauce. The problem was that rather than a single cut of chicken, Chick N Max expects you to juggle two chicken tenders that desperately want to escape from their brioche prison. The chicken itself was actually my favorite out of all the other restaurants, full of flavor and juicy. The pickles were surprisingly good, the dill adding a freshness to a heavier, fried meat ordeal. Chick N Max has some of the best quick-service chicken in town but that can't save a sandwich that doesn't want to be a sandwich.  

The Verdict
I think the knockout winner that I sampled is the McDonald's sandwich. For a fast-food joint that's been doing burgers since the '50s, they've definitely done their homework to break into the chicken game. Unfortunately, they've only eked out a tie with the Chick-fil-A sandwich, without surpassing it.  At least now there's an option that's a little closer to Newman that's open on Sundays.
PHOTO: Madeline Alvarez, Editor-In-Chief