By Spencer Jacobson, Staff Writer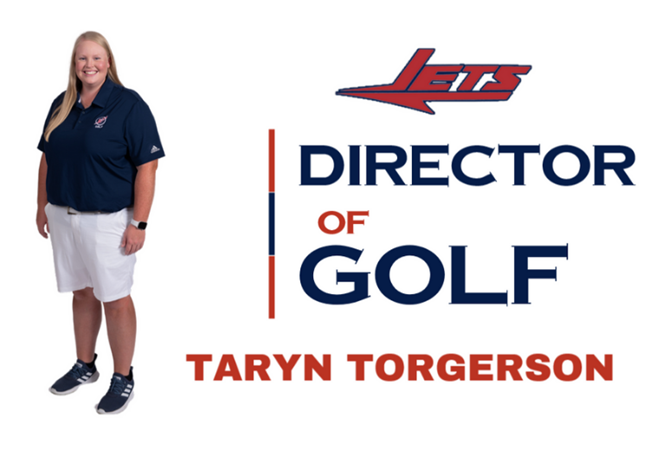 The men's golf team has a new head coach, and she is no stranger to Newman golf.
Taryn Torgerson joined the Jets in 2019 as the head coach of the women's golf team. This season, however, Torgerson has doubled her duties and is now coaching both the men's and women's teams, taking on the role of Director of Golf.
Torgerson replaces coach Kent Notestine who retired after 15 years as head coach.
Now that she is the coach of both teams, Torgerson said, she is looking forward to spending more time on the golf course with her athletes.
"It has been really fun building relationships with the guys and then continuing to build the ones that I already had with the girls' team from last year," she said. "They also can come together and support each other as well now that they are merged together, in a sense, under one coach. It has been really fun."
Torgerson, who has been playing golf since she was just 4 years old, said she always wanted to be a golf coach.
"I have been around the game for a long time. My brother and I played and my dad was a coach, so I always knew that someday I would want to coach," she said. "My coach at Wichita State had a big impact on me as well so that just solidified that I wanted to pursue this career path and become a golf coach."
Torgerson, a native of Buhler, Kansas played golf for four years at Wichita State University, claiming two individual conference titles. She then went on to work as an assistant coach for the Wichita State Women's Golf team just before being hired at Newman.
Torgerson said her experiences through playing and working under such a great coach at Wichita State along with a lifetime of learning and listening to her dad coach over the years has influenced her coaching and allowed her to relate to her athletes.
"I have been in their shoes. I have been through the recruiting process and I have been through college golf. I have been the worst on the team and I have also had success so I can relate to all of them and the place that they are in their life and use those personal experiences to hopefully give them the best possible experience here at Newman," she said.
Torgerson said what she has enjoyed most about coaching at Newman is building relationships with her athletes and watching them grow and develop as golfers.
"I love those lightbulbs moments when you are working with somebody and the lightbulb goes off and they get it. They see results and they see success and they see that the hard work that they are putting in is paying off, and I see that they are buying into me and my process. Seeing that smile on their face and that look of improvement and progress is really cool," she said.
Going into her first season as the Director of Golf and having not seen her team compete in almost an entire calendar year, Torgerson said, her excitement is at an all-time high.
"Just to be able to get back on the course and relish the opportunity to get out there and compete again and wear Newman on our chest and go out and represent our university is exciting," she said.
PHOTO: Courtesy Photo, Newman Athletics