By Ty Wilson, Staff Writer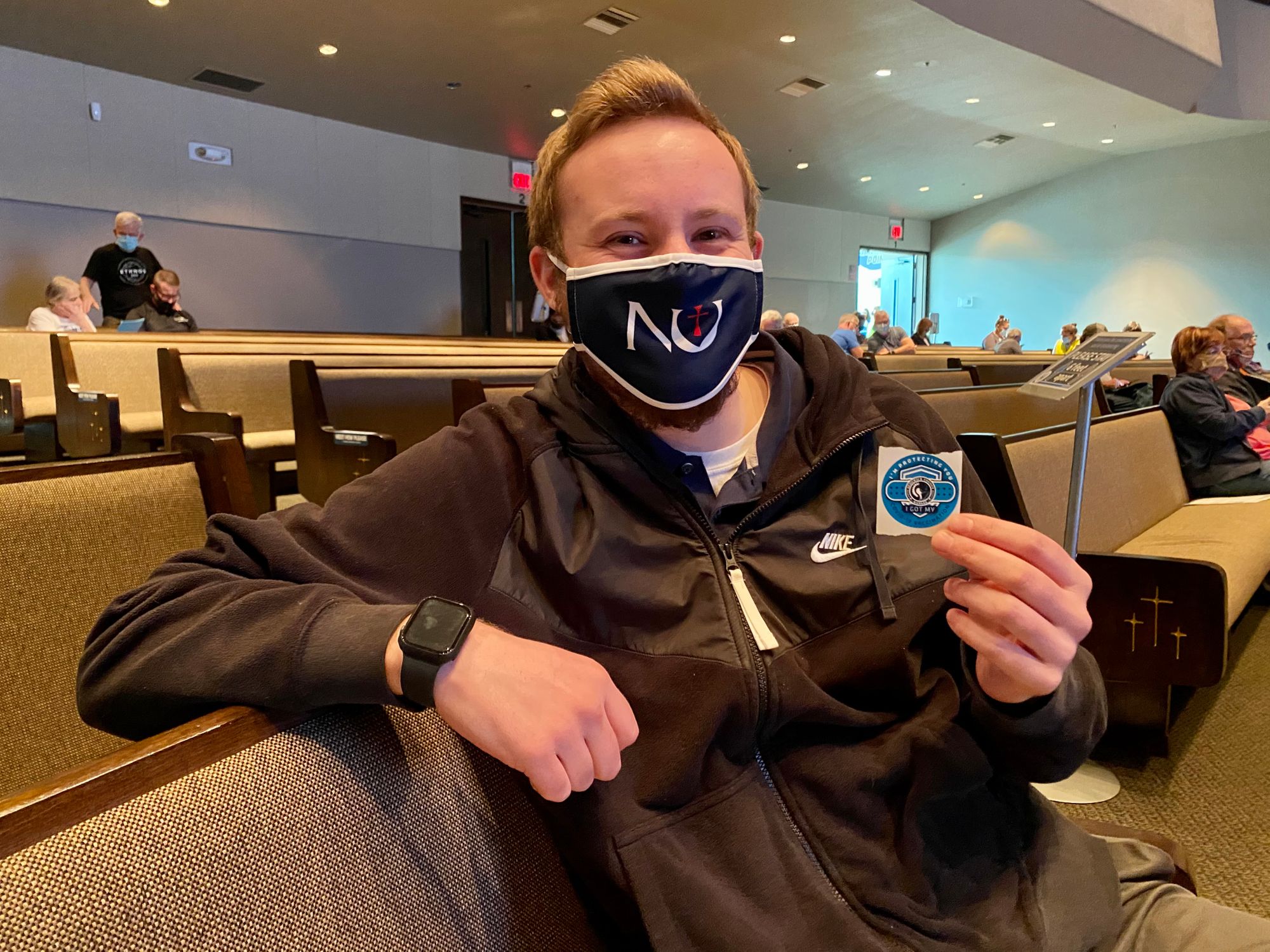 Last week, all Newman faculty and staff members, including student workers and part-time workers, became  eligible to receive the COVID-19 vaccine from Sedgwick County, and many wasted no time making appointments.
Newman Presiden Kathleen Jagger sent an email to faculty and staff on the morning of Thursday, March 11, letting them know that university workers were eligible to receive the vaccine, as they were considered "critical workers" under Phase II of the state's plan. Many Newman employees were able to get immediate appointments and were getting vaccinated by that afternoon.
Among them was Interim Director of Residence Life Turner Middendorf, who got his first dose of the Pfizer vaccine by 2 p.m. that day at a vaccination site set up at Central Christian Community Church, 6100 W. Maple.
"I am travelling internationally this summer for my honeymoon, so being able to get my vaccine out of the way before that will be extremely helpful for many reasons," Middendorf said. "I think this is a huge step forward for Newman. Although I believe Student Life, as well as Resident Assistants, have done a fantastic job of creating programs and events that follow the social contract, it will be nice to to start slowly shifting away from that."
Newman employees, including student workers, can still sign up to get the vaccine. An email was sent out to all student workers and staff with a link to follow and sign up for an appointment.
The vaccines this week are being distributed at the Sedgwick County Extension Office, 7001 W. 21st St., and at the former Wichita Public Library building downtown, 223 S. Main St.Any workers still needing the vaccine will be excused from work duties as long as they notify their supervisors, Jagger said in her email.
After choosing an appointment time, those signing up will have to fill out and print a form and take it with them along with either a Newman ID badge, a current pay stub or a letter on letterhead indicating employment.
Those who get the doses from Sedgwick County will need to return for a second shot. They'll make their appointments to get their second doses after they get the first one.Anyone with questions about vaccines can visit https://www.sedgwickcounty.org/covid-19/vaccine/.
PHOTO: Denise Neil, Advisor