By Tejay Cleland, Sports Editor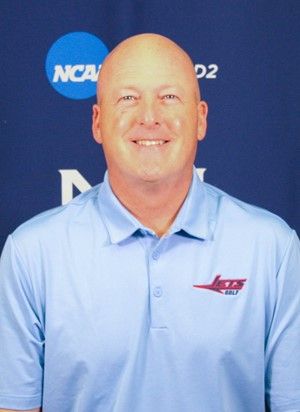 In August, Newman Director of Golf Taryn Torgerson hired former Newman golfer Darin Looper as an assistant coach to help with both the men's and women's programs.
On April 1, Looper passed away after a multiple-year battle with colon cancer. Torgerson said that, throughout the Fall semester, Looper was handling his illness well and that it was under control. When the spring  season started, Looper took a leave of absence from the team to take care of declining health.
Torgerson said the news of his passing was bittersweet, as Looper is no longer suffering from his sickness.
"It was a gut punch," she said. "I just know how much pain he's been in and just how hard that he was fighting. To know that he went peacefully and now has eternal life is comforting to us."
Looper's son Justin Looper is a junior on the Newman golf team.
Torgerson said that the team has been playing with heavy hearts and doing what it can to be there for Justin.
"We've just been trying to rally around [Justin] and be there for him as he goes through a really tough time," Torgerson said.
Justin competed in his first tournament since his father's death on Monday and Tuesday in Muskogee, Oklahoma. Justin shot a 79 in round one of the tournament, followed by an 80 and 85 in rounds two and three, respectively.
Looper competed at Newman on the men's golf team from 1989 to 1991. Prior to coaching at Newman, Looper served as an assistant manager at Echo Hills Golf Club.
Torgerson said that although Looper's tenure as a coach at Newman was short, he was great for the program.
"He just brought really great passion and energy for the kids," she said. "He wasn't a part of our program for too long, but he made a definitely lasting impact."
PHOTO: Courtesy Photo, Newman Athletics