By Madeline Alvarez, Editor-In-Chief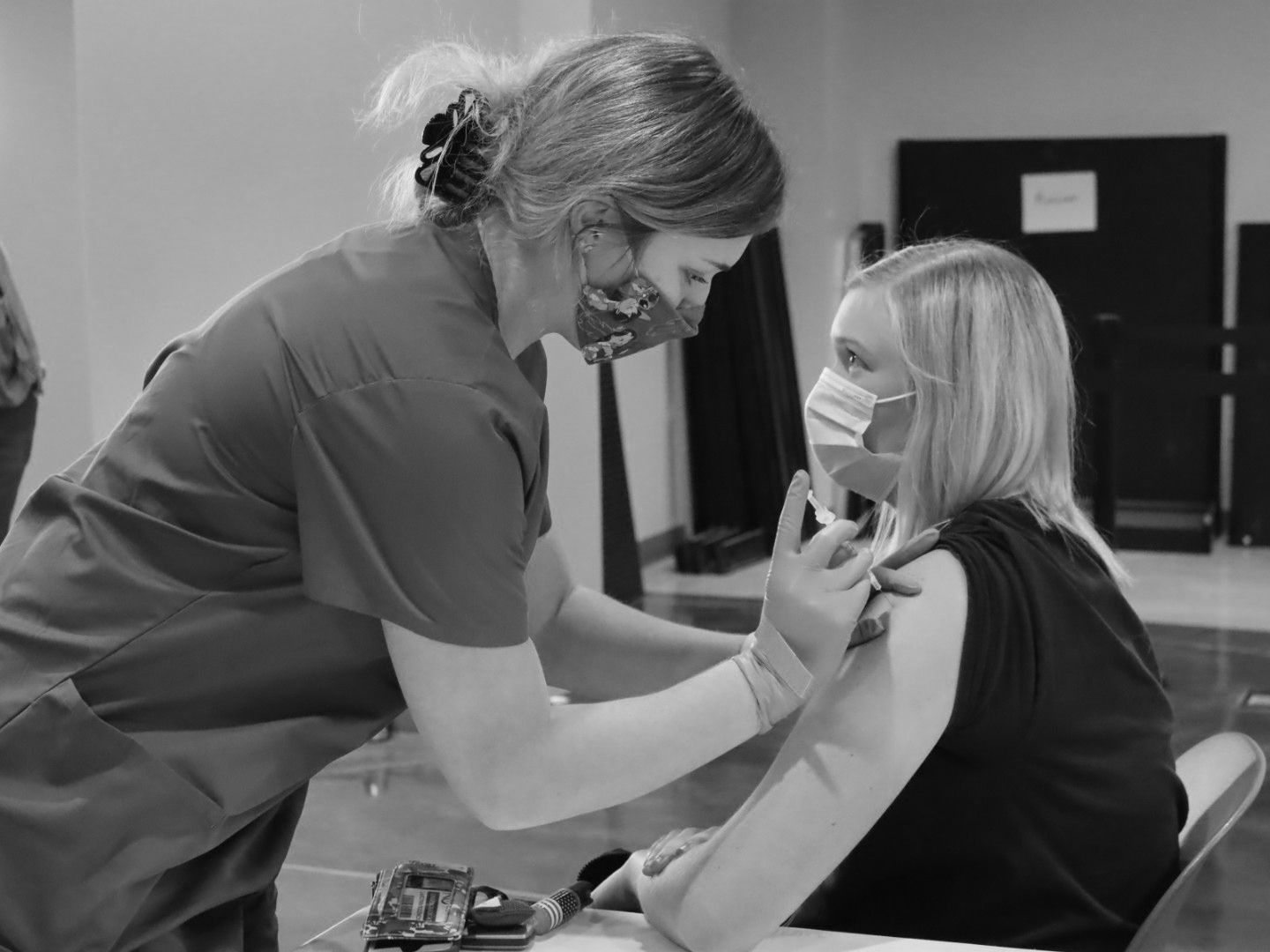 Three people won iPads on Wednesday in a raffle meant to incentivize students to receive their COVID-19 vaccine.
But the behind-the-scenes discussion that led up to the giveaway showed that members of the Newman community aren't in complete agreement about how to handle vaccine messages on campus.
Students who had received their COVID-19 vaccinations were eligible to enter the raffle for the iPads at the vaccination clinic Newman held on campus, which 109 people attended, on April 8.
The raffle was sponsored by the Campus Activities Board and the Multicultural Engagement Department, and 87 students entered it. The winners were Michelle Tong, Alondra Torres and Madison Shay.
Originally CAB bought the iPads and then reached out to SGA, asking the association to sponsor one of the iPads for the raffle via reimbursement. The bill to reimburse CAB was presented at the SGA weekly senate meeting on April 7 but failed to pass by a vote of 13-7.
Some SGA senators who voted against the bill said that they felt that Newman offering the free COVID-19 vaccine was incentive enough to get it and that they felt helping CAB pay for an iPad would have been an unnecessary use of SGA's funds.
Senator Elise Helfrich, a freshman, said that she voted against the bill because Newman offers an annual flu vaccination clinic and does not provide prizes for those who get their flu vaccine, and she felt the COVID-19 vaccine should be treated no differently.
"I know that some people are hesitant to get the...COVID vaccine anyways because it's so new, and there's not a lot of research about the long term effects. So giving iPads isn't going to convince those people, necessarily," Helfrich said. "So the people who are wanting to get the vaccine, I think having the clinic was a great opportunity for those people, and we didn't really need to add any extra things."
Senator Jonathan Liu, a senior, said that he voted against the bill because he also believed that Newman offering the COVID-19 vaccine for free to students was incentive enough.
"I just think it's a bit ridiculous how SGA is trying to reward them with an iPad just for getting vaccinated," Liu said. "And the second reason being that if CAB is getting their funding from student tuition dollars and SGA is as well, we don't need to be helping CAB, and they should be able to help themselves."
Senator Andres Garcia, a junior, said he voted for the bill because he wanted to give students a nudge to get vaccinated so that Newman could get closer to not requiring masks on campus.
"I just thought it would be a good initiative to...give them the extra push of coming and getting the vaccine because it's our demographic that's really struggling on getting the vaccine or not," Garcia said. "So I just thought that the initiative that CAB put out of the iPad prizes...was a good idea to get more students to get the vaccine."
Garcia said he was sorry to see the bill fail, especially considering that many SGA senators are biology majors.
"We all know how herd immunity works, so I just was really disappointed in my colleagues," he said.
Joseph Shepard, director of Multicultural Engagement and Campus Life, organized the raffle and said that he was also disappointed when the bill was not passed.
"But that's what democracy looks like," he said.
Because SGA voted to not sponsor one of the three iPads, it was instead sponsored by the Department of Multicultural Engagement.
Shepard said that the department decided to sponsor it because Black and Brown communities have been disproportionately affected by the COVID-19 pandemic.
"I felt like it was extremely important and in alignment with...our commitment to diversity and inclusion, that we're doing everything that we can to get young people out to get the vaccine, and, more importantly, to get young people of color out to get the vaccine," he said.
Shepard said that, historically, there has been distrust about vaccines from communities of color.
"I do think that historical context, from a diversity, equity and inclusion lens, matters. And...I think if some students had that lens in context, perhaps they wouldn't have voted the way they did," Shepard said.
To be eligible for the raffle, students either had to show that they had just received the COVID-19 vaccine at the Newman clinic or that they had already received it elsewhere.
Shepard said that it was a matter of minutes after the email informing students about the raffle was sent out before Student Life received responses from students showing their COVID-19 vaccination cards or expressing interest in entering the raffle.
"I don't know if we had any students explicitly say, 'Because of this iPad, I got the COVID-19 vaccine.' But it was a very clear indication, given the amount of raffle tickets we received, that a lot of students were clearly interested and invested in it," he said.
Shepard said he wants to make sure that SGA understands the importance of the situation.
"We're talking about a matter-of-life-and-death situation. We're talking about getting our university back open again. We're talking about getting our local economy back open again," he said. "And if an iPad can help that, then absolutely, let's spend the $400 to do it."

PHOTO: Michael Alvarez, Staff Photographer