By: Brenden Schwartz, Staff Writer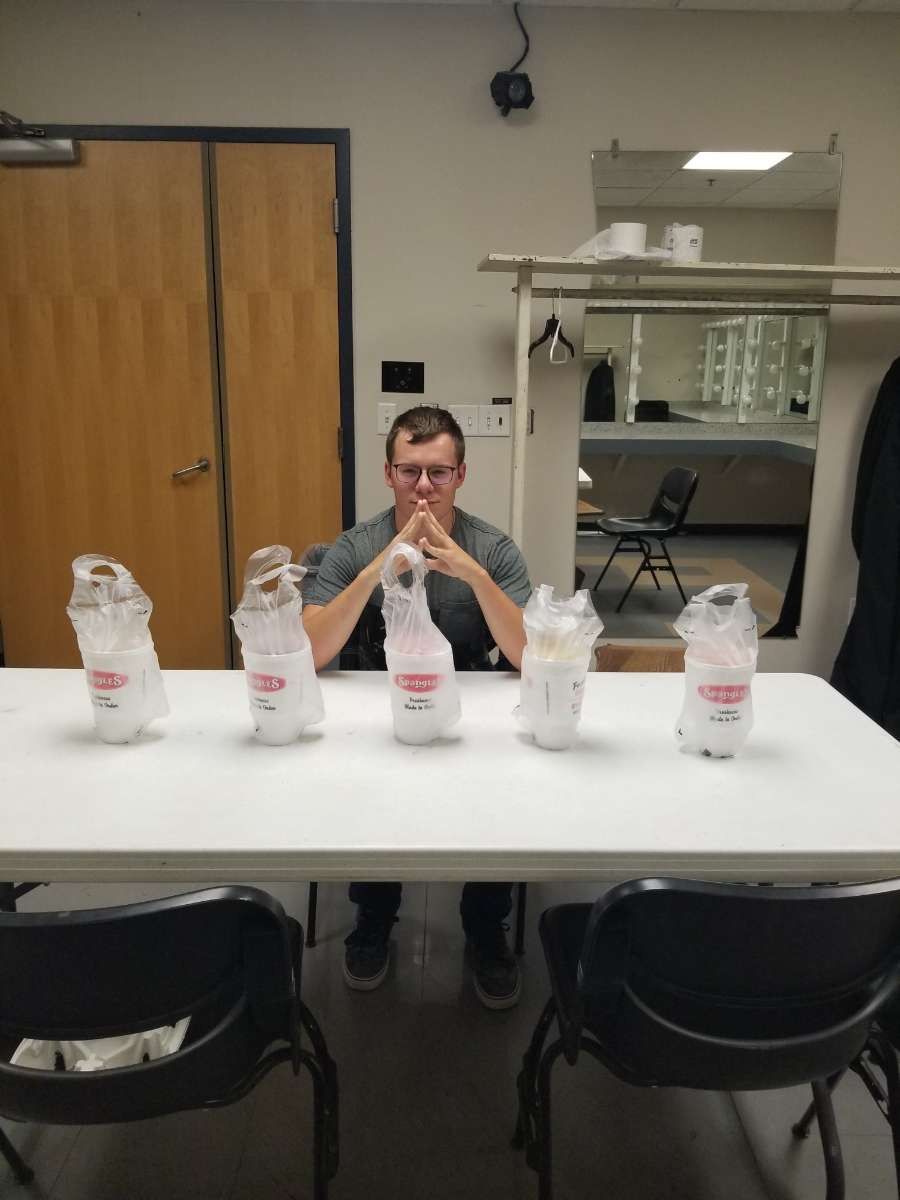 Are you ever driving down the street and see something blatantly out in the open and wonder, "Is that legal?"
That's the very first thought I had when I first saw that Spangles was serving margaritas. To-go alcoholic beverages are unheard of yet somehow Spangles did it. During the height of the COVID-19 pandemic Governor Laura Kelly passed an order that allows the sale of carry-out alcoholic beverages by any establishment that holds a class A club license, class B club license, or drinking establishment license. Kelly did so because she saw how much the pandemic was hurting Wichita businesses that made most of their money off alcohol sales. Spangles is now serving six different alcoholic beverages: an original margarita, a strawberry margarita, a tequila sunrise, a Red Bull vodka, a screwdriver slush, and a Zing Zang bloody mary. Here's my take on the cocktails they have to offer with the best listed first.
Spangles, it turns out, is a great place to get an adult beverage. When I go through the drive through, they have my drinks out in a matter of seconds. On a recent visit, I pulled up and put in my order following the usual call, "Welcome to Spangles, what can I make hot and ready for you today?" I ordered an original and strawberry margarita and a small fry. When the lady asked me if I'd like an extra shot, I said,  "Yes please," and she told me to have my ID ready as I pulled up to the window. When I pulled up, they checked my ID, gave me my fries, ran my card, and gave me the margaritas in a sealed bag before a minute could pass. My next few trips went the same almost like clockwork. Drinks, fry, ID, and go.
Spangles' Original Margarita is the perfect blend of sweet and sour mix and tequila (if you get a double shot). I could taste the alcohol, but it wasn't too overpowering. Now, I get one of these almost every time I go to Spangles. It is perfectly blended and consistently has a prominent tequila taste that isn't overpowering but strong enough to let you know it's there. The Spangles original margarita is by no means a top-shelf margarita so don't expect the fine taste of Patron, but it's great for casual drinking and will satisfy your margarita cravings. If you're wanting to try something different, they also have strawberry margarita. It's good for a mix-up every once in a while, but the mix is syrupy, and the sugar can become too much after a while.
Spangles' Tequila Sunrise can be a hit or-miss beverage. It can be good every once and a while but not my primary drink of choice. It has a well-crafted flavor palette if well mixed. The orange juice flavor is pronounced and pairs well with the tequila and grenadine. The drink is a little syrupy but that can be overlooked due to its slush consistency.
Spangles' screwdriver slush is a decent drink, a perfect balance of vodka and orange juice. It's nothing special but it tastes good, has a good alcohol ratio, and overall is pretty drinkable. This is a great starter drink if you're looking to try out Spangles' adult beverages.
Spangles' Red Bull Vodka is not quite what I was expecting. Many have told me they are powerful, but to me it just tasted like a watered-down Red Bull with the tiniest hint of vodka. Contrary to what one would expect, the longer it sat out, the better it tasted. A friend of mine, Allison Williams, suggested that it would be better as a slush, and I think this is an accurate assessment. It's not really my cup of tea but if someone is looking for some extra energy and a slight buzz, they should get behind this drink.
Spangles' bloody mary was surprisingly okay. I will be the first to admit that I don't like bloody marys but I strangely enjoyed this. They make their bloody marys with a Zing Zang mix, and instead of using hot sauce, they use their seasoning salt, so the drink almost reminds you of their french fries. If you are a bloody mary fan, it is my opinion that you won't like it but if you don't like bloody marys, you may find yourself picking up the drink again after trying it even though you were taken aback by the tomato flavor.
Spangles drinks all come Grande. Online it will say you can get a regular for 99 cents, but they will only serve you Grande drinks. Every drink is $2.99 except for the Red Bull and vodka, which is $5.99. If you want a little extra bang for your buck, you can get an extra shot for only 99 cents. Company policy states that they will only serve you two drinks per of-age customer in the car. When you order, they will always ask how many people are in the car and they will always ask to see your ID. The drinks come sealed in clear plastic bags and are to remain sealed until you reach your destination.
If you ever find yourself in need of a quick drink, stop by your nearest Spangles. There are 16 Spangles around the Wichita area, so you're bound to drive by one at some point during the day. Try some drinks and let me know what you think.