By: Brenden Schwartz, Staff Writer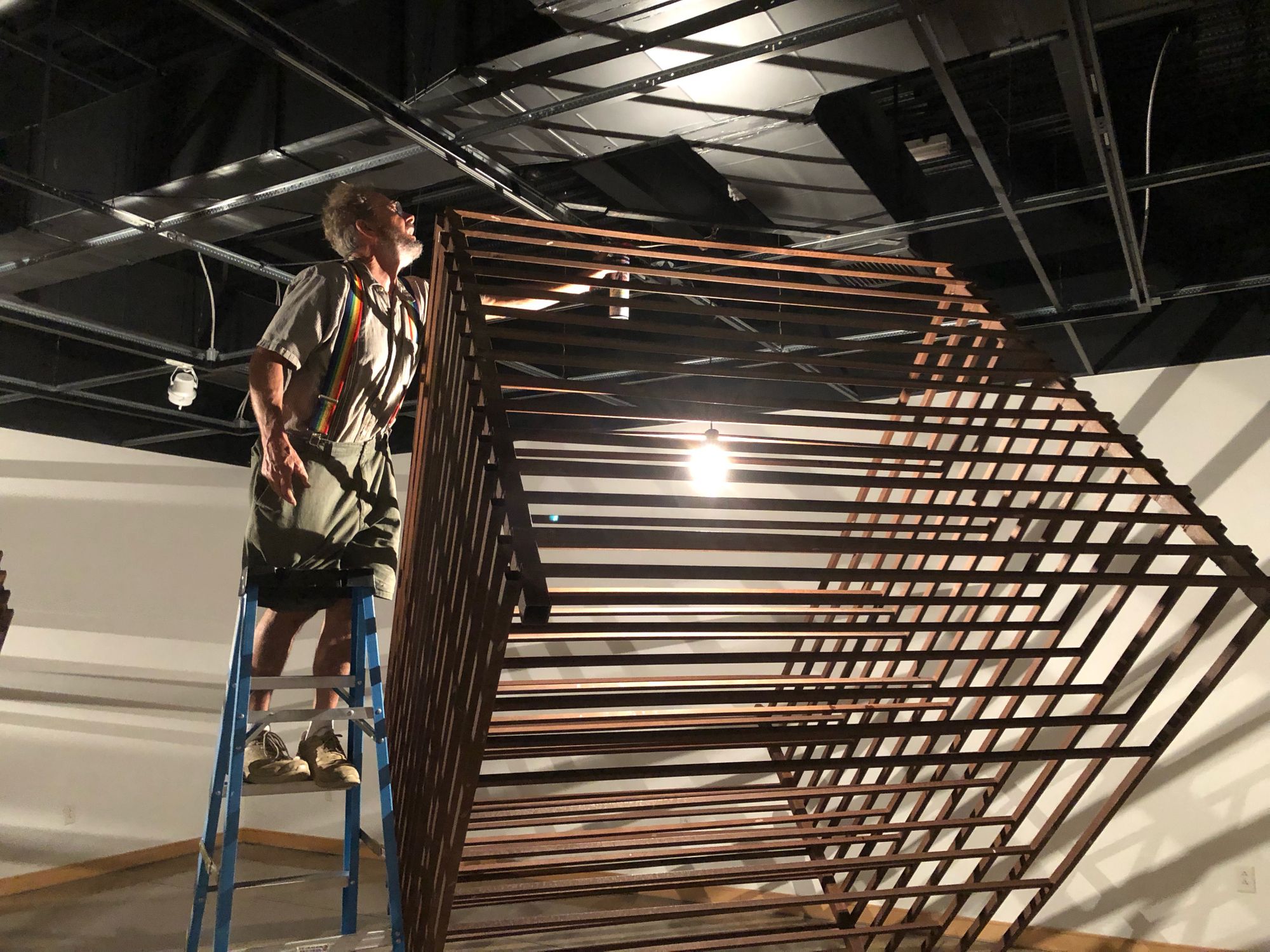 Those who frequent Newman are likely familiar with the two giant square metal sculptures on display outside of DeMattias' west doors. They might also have noticed that the sculptures disappeared earlier this week.
The artist responsible for the sculptures, Mike Miller, has taken them down and temporarily moved them into the Steckline Gallery for a new show called "Machine-Nature Interface #131 Shadows." The show opens with a Final Friday exhibition from 5 to 8 p.m. Friday.
Miller originally designed the exhibit at Wichita State University in 2007. Newman's Assistant Art Professor Shannon Johnston taught Miller when he attended WSU. When he was originally designing this work, he said, he and some colleagues were shining a light on the pieces when they noticed the shadow patterns that were created on the wall. Now, creating a moving pattern of shadows has become a primary objective of the art, Miller said, making it more of an installation piece than a sculpture.
This isn't the first time Miller has had art on display at Newman. In 2012, Miller presented some of his work before graduating from WSU, and he also taught as an adjunct professor of sculpture and printmaking at Newman from 2015 to 2018. It was while Miller worked at Newman that Mary Werner, the previous Steckline Gallery director, had him bring his "Mechanism" sculptures to Newman for display in 2017.
Miller first got the idea to create his sculptures when he worked at a John Deere lawn mower store. He said the lawn mowers would come in large crates with metal lids, which he used to construct his sculptures. He experimented and made various pieces out of them before making the final iteration that will be on display in the Steckline Gallery.
Miller said he has made 131 sculptures where he combines natural and man-made elements. In "Machine-Nature Interface #131 Shadows," the nature element is the viewer's shadow on the wall.
"Layers are the most important part to not only sculptures but art in general," he said.
Miller will be returning the sculptures to their spot outside of DeMattias when the exhibit ends. The sculptures will be displayed in the gallery through Oct. 28. The Steckline Gallery is open from 9 a.m. to 4 p.m. Mondays through Fridays.
An artist talk will happen from noon to 1 p.m. today in the gallery, and people are free to bring their own lunches. The exhibit will have its debut on Friday from 5-8 p.m. as part of the First Friday Event.
PHOTO: Brenden Schwartz, Staff Writer