By: Tyler Push, Sports Editor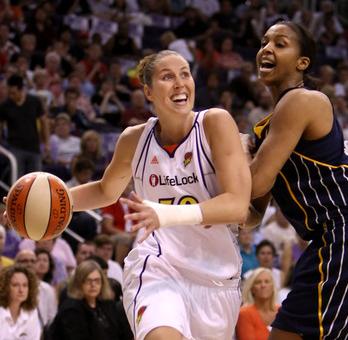 Former two-time first-team All-American at Kansas State and sixth overall pick in the 2004 WNBA draft, Nicole Ohlde-Johnson joins the Jets for the 2021 women's basketball season as co-head coach.
Ohlde-Johnson's professional journey didn't start at a very young age like many professional athletes today.
"When I was growing up, we didn't have any youth basketball programs or teams that I could play on, so my first official basketball game wasn't until seventh grade," she said.
Ohlde-Johnson said she made several sacrifices on her journey to the WNBA.
"To be really successful at whatever you love, it takes time and dedication, which means that you may miss out on other things," she said. "It means early mornings and late nights, but I believe that if you're doing something you truly love, then the sacrifice doesn't really feel like a sacrifice. It's just fun, hard work."
Ohlde-Johnson attended Kansas State University from 2000 to 2004, where she left a lasting impression before being drafted in the 2004 WNBA draft to the Minnesota Lynx. Ohlde-Johnson still holds the school's all-time records in points, rebounds, and blocked shots.
Playing basketball in college and playing professionally are much different, Ohlde-Johnson said. "The WNBA is much more business-like, meaning you have to perform or you get traded," she said. "In college, you are around your teammates all day every day, and they become your best friends. In the WNBA, you go to practice and do what you need to do to prepare for your game, and then you go home."
During her WNBA career, Ohlde-Johnson spent time with three different teams: the Minnesota Lynx (five years), the Phoenix Mercury (one season), and the Tulsa Shock (half of a season).
"I loved playing for the Lynx because it was comfortable for me and felt like home," she said. "Playing for the Mercury was great because we won a championship while I was there, and I played with some of the best players that will ever play the sport of basketball."
Prior to the 2011 season, Ohlde-Johnson announced her retirement from the WNBA after seven seasons but went on to play nine seasons in Europe after that.
"The two leagues are so different and deserve their own praise," she said. "The WNBA was amazing because it allows female basketball players to play at the highest level in front of their family and friends and the Euroleague allows you to develop your game while visiting and learning about different cultures."
Ohlde-Johnson said that both leagues have helped shape her into the person she is today.
All of her professional basketball experiences will help her coach at Newman, she said.
"I think just playing for so many different coaches and under so many different coaching styles will help me relate to the players and just having a wide range of basketball knowledge," Ohlde-Johnson said. "Each player is a different person and how they handle things will be different so this knowledge will be very beneficial."
Freshman guard Elise Kaiser is excited to be under a past professional's wing.
"Nicole has so much knowledge for the game of basketball," she said. "It's really cool to be able to learn from such a great player and role model who really cares about us as players and individuals."
Ohlde-Johnson was an assistant coach at Clay Center High School for the girls basketball program for four years. She also coached at Bethel College alongside her husband, Drew Johnson, now co-head coach of the Lady Jets, as the assistant coach for four years.
The Lady Jets open their season at home on November 13th against Wayne State College.
PHOTO: Courtesy Photo, University Relations