By: Austin Schwartz, Staff Writer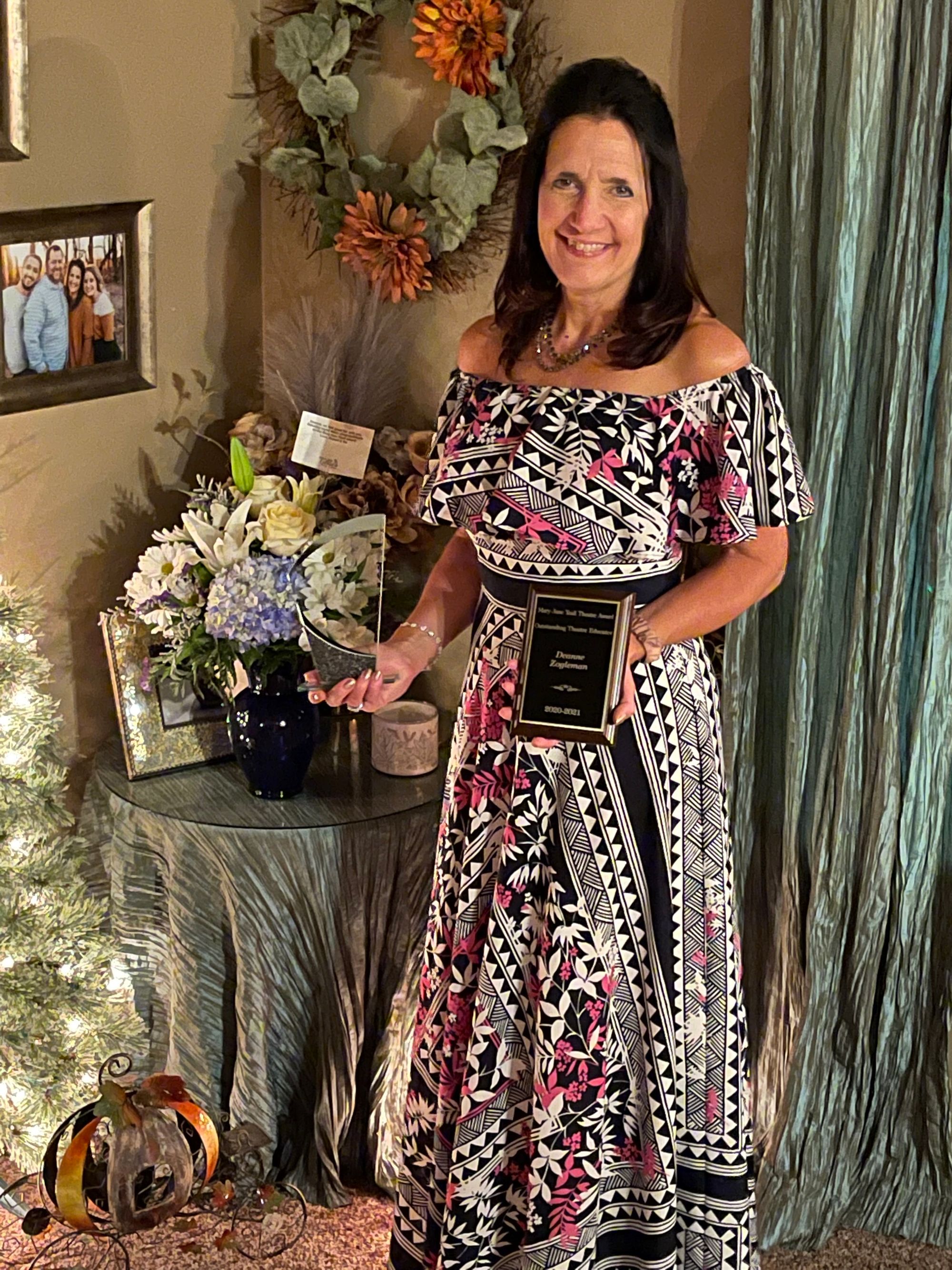 Three Newman faculty and staff members were nominated this year for the Mary Jane Teall Awards — an annual awards ceremony that celebrates theatre in Wichita — and two of those nominees won in their categories.
Newman's Director of Music Deanne Zogleman won in the category of best supporting female in a drama for her role as Edith Frank in "Diary of Anne Frank," which was staged by Wichita Community Theatre. Zogleman also was named Theatre Educator of the Year.
Christy Railsback, the costumer for Newman's theatre and music productions and an adjunct professor for the theatre department, won for her costume design in "The Importance of Being Earnest," which was staged at Kechi Playhouse.
"It let me know that I'm appreciated and acknowledged for what I do," said Railsback, who said she doesn't get paid for the majority of the projects she works on. "Winning this award reminds me that I'm good at what I do."
Emily Larkin, Newman alumni and admissions counselor for first-time students, also was nominated in Zogleman's category for her role as Miep in "Diary of Anne Frank." The show won 15 of the 17 awards for which it was nominated.
Zogleman and cast worked hard to honor the legacy left by the Frank family in their performance, which was based on the true story of Anne Frank.
"It was such an emotional drain because you are playing an actual person that lived and died in such a horrific way and so you want to work hard to do it justice. I know a lot of us did a lot of research on the characters, and everybody knows Anne Frank. This script was written so you could explore the other characters as well," Zogleman said.
She said it was also a treat to be able to perform with one of her former students. Zogleman taught Larkin in Chorale and Troubadours when she was a student at Newman.
"In this small town, I get the blessing of doing theatre with former students or current students, and that's an absolute joy because it's not in the classroom setting. It's creating art with other students like Emily and that was really fun," Zogleman said.
"The Diary of Anne Frank" also won trophies for the Ensemble and Sound Design by Mark Schuster.
Zogleman was not only recognized for her acting at the awards but she was also given the Educator of the Year Award.
"Anyone who knows me knows I love what I do when it comes to students," Zogleman said during her acceptance speech. "It's about making those students know they have someone who cares and to make them be the best performer they can be."
Zogleman just finished performing in "Disaster" at Roxy's and is now rehearsing for her role as the leading lady Anne in "The Father," which will be staged Nov. 4-7.
She said she is also looking forward to working with Newman students when she choreographs and directs Newman's spring musical production of "Big Fish," which will be staged in the first week of February.


PHOTO: Austin Schwartz, Staff Writer