By: Austin Schwartz, Staff Writer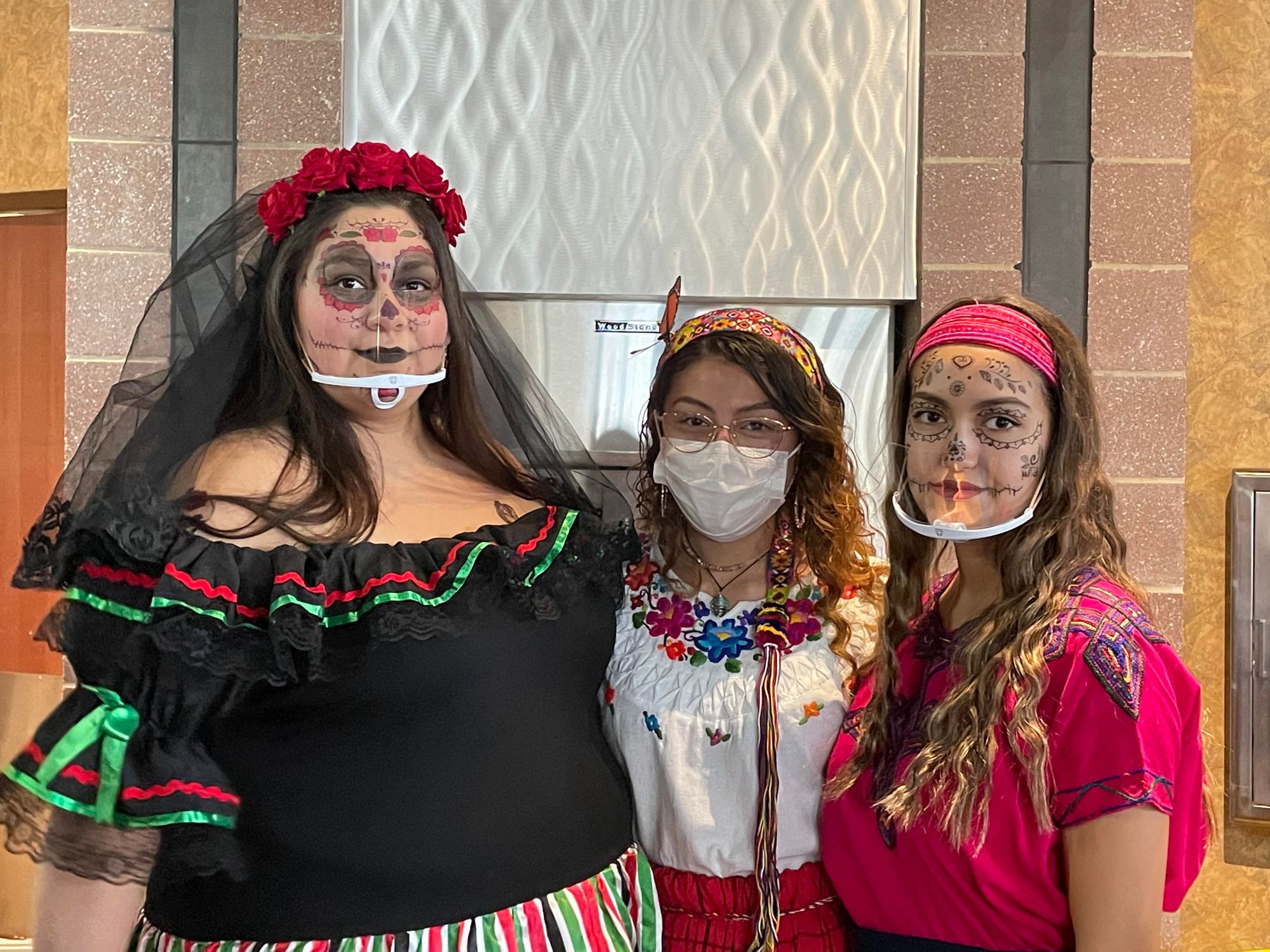 Members of Newman's Hispanic-American Leadership Organization on Monday invited the Newman community to celebrate Dia de los Muertos in the Dugan Library organized by HALO president Andres Garcia.
HALO advisor Sonja Bontrager said she had praise for how well Garcia put together the event.
"The credit goes to Andreas who had an extraordinary imagination and vision who put in weeks of planning to give this healing experience to the community." said club faculty advisor Sonja Bontrager.
Dia de los Muertos, which translates to "Day of the Dead," is a Mexican holiday where families and individuals welcome back the souls of their loved ones. The holiday is celebrated from Oct. 31 through Nov. 2.
Those who come into the library's front entrance will see "la ofrenda," an altar made to honor the dead. This altar will remain in the library over the next few weeks, organizers said, and all are invited to pay their respects.
"The ofrenda that we made is beautiful, and to be able to walk by it for the next few weeks and see beloved family members means the world to me." said junior Talia Powers.
Dyana Baca, assistant librarian, expressed her appreciation for Newman recognizing Hispanic culture and allowing the community to embrace and share it.
"The event showed my culture and my people. This shows we are accepted at Newman. To see what I grew up with at personal celebrations at a place like Newman was amazing," she said, "To have the academic community I am a big part of share in my culture and traditions in respecting and remembering our deceased was heartbreaking, in a good way."
HALO offered a wide selection of food, entertainment, and activities on Monday, including face painting, a photo booth, and pinatas. The event was designed to be respectful of the holiday's traditions while welcoming and educating all community members.
"It was really nice to see the Mexican tradition of celebrating Dia De Los Muertos on campus at Newman, and seeing people participate in the culture. It was great to see people enjoy themselves, while learning more about the traditions." Powers said.
A live Mariachi band also performed on Monday, and a folk dance was put on by a dance troupe.
"I had a few performers tell me that they loved seeing this and that they respect Newman so much more for it," Baca said. "One even said this made them like Newman."

PHOTO: Austin Schwartz, Staff Writer