By: Alexis Stallard, Staff Writer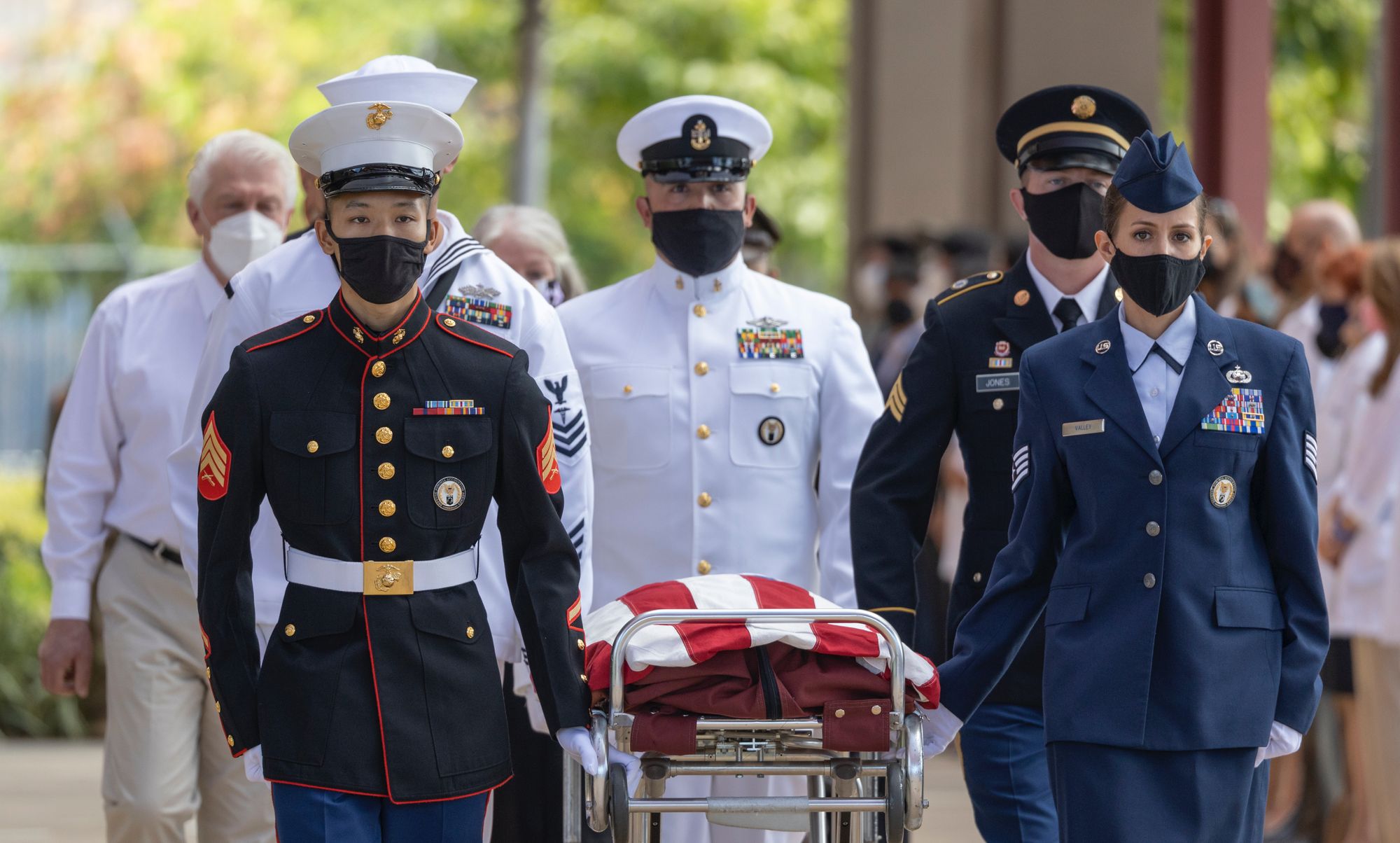 The Newman community will have the opportunity tonight to view a documentary about a local war hero and a candidate for sainthood who has ties to Newman.
"Once Was Lost: The 70-Year Search For Chaplain Emil Kapaun" will be shown at 7 p.m. in the Performance Hall. The documentary was produced by The Wichita Eagle's Travis Heying and Roy Wenzl, who also filmed "The Miracle of Father Kapaun," which was released in 2009.
While their first film focused on Kapaun's life in the POW camp in Korea, where he was imprisoned with fellow soldiers for six months during the Korean War, the second documentary will center around the journey of bringing Fr. Kapaun's remains home. Many historians and Catholics believed that the chaplain's remains would never be found, so many were shocked when it was confirmed that his body had been identified in March.
Among the shocked was Heying, who said that he never expected the story to evolve this way. He expected that it would have been more likely for Kapaun's canonization to come first before the discovery of his body. The Vatican is still considering Kapaun's canonization.
"In POW Camp Five, where Father Kapaun was, there were about 3,000 men there… and by a year from then, about half of them were dead," Heying said.
One of those dead was Kapaun. Heying said that since it was so cold in the winter, prisoners had to simply stack the bodies of the dead because the ground was too hard to bury them. It was expected that the same had happened to Kapaun and that because North Korea would not allow anyone to dig up the mass graves, Kapaun would remain lost forever.
Kapaun died in 1951 due to pneumonia and other health issues in the North Korean camp, and many of the POWs who served with him later said that he was key to their own survival.
Heying said that Phillip O'Brien, a former historian for the Department of Defense, believed it was possible that Kapaun had been recovered after the war and was buried in Hawaii. However, few others held the same belief so the theory was mostly ignored, Heying said.
After hearing the news that Kapaun's remains had been found, it was Wenzl, a writer for the Eagle, who proposed that Heying film the documentary. The two traveled to Hawaii in September to document Kapaun's remains returning home, Houston to interview more POWs, and Delaware to speak with the specialists who identified the unidentified soldier as Father Kapaun.
"Standing on the spot...where he had laid for 60 years, and to be there with his nephew, Ray Kapaun, was super moving," Heying said.
Heying said the entire experience was filled with moving moments, but the biggest was the day before Father Kapaun's funeral. Wenzl and Heying were invited by Ray Kapaun to visit and touch the bones of Father Kapaun.
"It was the most incredibly moving moment of my professional life, for sure," Heying said.
Heying said he felt drawn to Father Kapaun's story because the chaplain seemed like the ideal example of a person living their faith. In Heying's opinion, Kapaun led more by example and less with his words. Kapaun became the biggest symbol of hope to the POWs in Camp Five, regardless of their faith.
"It didn't matter to him what team you were on— you were on his team," Heying said.
Heying said he feels that the conclusion to this story goes to show that nothing is ever lost, no matter how impossible it may seem to find again.
Emily Simon, who works for Campus Ministry, says that the decision to show the documentary was two-fold. First, Kapaun's funeral just happened in September so the university felt it would be fresh in students' minds. The second reason is because today is Veteran's Day.
"So it's a really good combination to show a documentary about how his remains were discovered and his coming home, on Veteran's Day," Simon said.
Simon said that Newman felt honored to host the showing on such a large platform and that the event is open to the entire Wichita community. Father Kapaun was ordained in Newman's chapel, so Newman felt it even more fitting to show the documentary.
Simon, a graduate from the west-side Catholic high school Bishop Carroll, said that she was stunned to hear about the discovery of Father Kapaun's remains.
"He just seems like almost this mythical hero since we've heard his stories growing up… His remains being discovered kind of brings home again that he is from Kansas, he was a regular person," Simon said.
Ray Kapaun, nephew to Father Kapaun, will be in attendance at the event. Admission is free.

PHOTO: Courtesy Photo, Travis Heying