By: Austin Schwartz, Staff Writer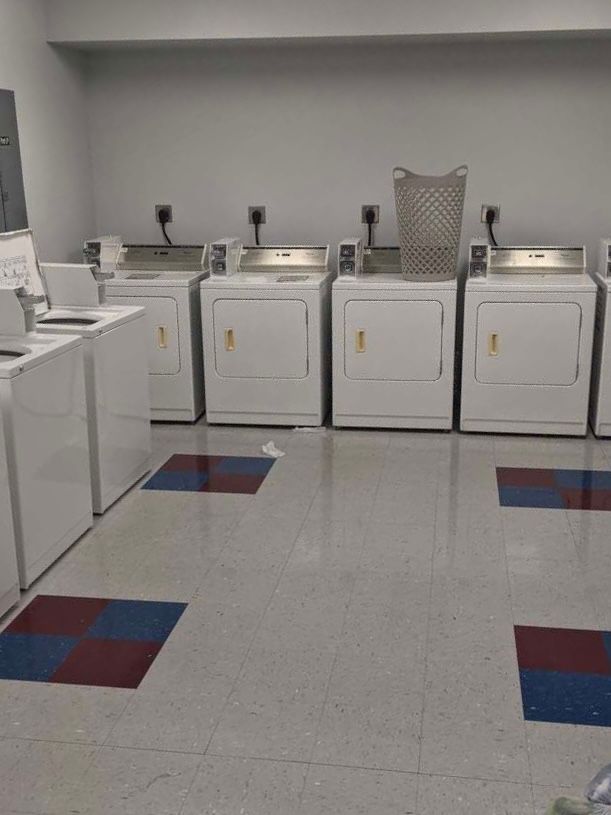 Laundry has been a perennial issue at Newman University, where students living on campus frequently encounter old machines that don't do their jobs or that gobble quarters.
But some relief may be on the way, said Director of Residence Life, Turner Middendorf.
Middendorf said he is looking for options to make laundry services for residents more convenient.
"I am working on replacing some of the machines currently," he said. "I am gathering quotes from a few different companies," he said.
Each of the three dorms at Newman; Fugate, Carrocci, and Beata, has a laundry room accessible for residents to clean their clothes on campus. Each dorm has five washers and five dryers except Beata which has four of each.
And although most students continue to use the provided washers and dryers out of convenience, some say they don't want to risk clothes not getting done and losing money to the machines.
"It seems crazy to pay for housing and still have to pay to do an essential task like laundry," said freshman and Carrocci Hall resident Emily Pachta, who does her laundry at her brother's house instead. "My brother is 15 minutes away, so it isn't super convenient, but at least it's free." It costs $1.25 for students to run a load in a campus washing machine and $1 dollar to use the dryer. Detergent and dryer sheets are not provided and students must supply their own.
Many students over the years have complained that they have to run loads in the dryer two or three times before their clothes are actually dry.
"My first time I did laundry here, two of the dryers were completely out of order and I ended up wasting $2 on the dryer," said freshman Isabel Porres, who lives in Carrocci Hall. "So I went to a laundromat… I would wash them at Newman and then dry them elsewhere that was cheaper and actually dried clothes… The dryers simply don't work."
Director of Residence Life Turner Middendorf said he recognizes that laundry is an issue for residents but said he didn't have the same experience in 2019 when he resided in the dorms as a Residence Life Coordinator.
"I also lived in Fugate for a full year and used the Fugate laundry facility for all of my laundry. I never had any major problems with the dryers, but I understand that some residents will stuff their clothes in the laundry machines beyond capacity in an attempt to get the most bang for their buck.  But oftentimes this will only inhibit the machines from being able to do their jobs," Middendorf said.
Residence Life has also made it easier for residents to communicate with RAs about which machines are down. The machines are now labeled "D1" or "W3." The letter corresponds with the machine type being washer or dryer. And the number to identify which machine is in the room. This way students can communicate what type of machine and which ones are down at their residence hall.
Porres said she wished Newman would consider including laundry expenses in the cost of living in the dorms.
"A laundry fee could be added onto the room and board fees. If we had free laundry or at least didn't have to pay for each use, it's likely that people would do multiple loads a week rather than cram their clothes into one a week. And then machines might not break all the time."

PHOTO: Courtesy Photo, Justin Durnil