By Courtney Klaus, Editor-In-Chief
The futures of the Newman Athletics logo and school mascot Johnny Jet are uncertain, and Athletic Director Joanna Pryor said discussions are underway about the possibility of replacing both with something more marketable.

Though nothing has been decided, a proposal for both a new mascot and logo has been submitted to the cabinet, Pryor said, and now is a good time to think about a change, especially with Newman's move to its new athletic conference.

But if it happens, she said, the process will be slow, and it's just getting started.

Pryor said that concerns have been raised that Johnny Jet, Newman's longtime mascot, resembles Buzz Lightyear too much and that the Newman Athletics logo, which consists of the word "Jets" in red over a blue circle, looks a lot like the old New York Jets logo.

Pryor said Admissions Digital Market Manager Geoff Louvar put together a preliminary concept for what a new logo for Newman Athletics could look like, and he also proposed a new mascot, the "Jetbird."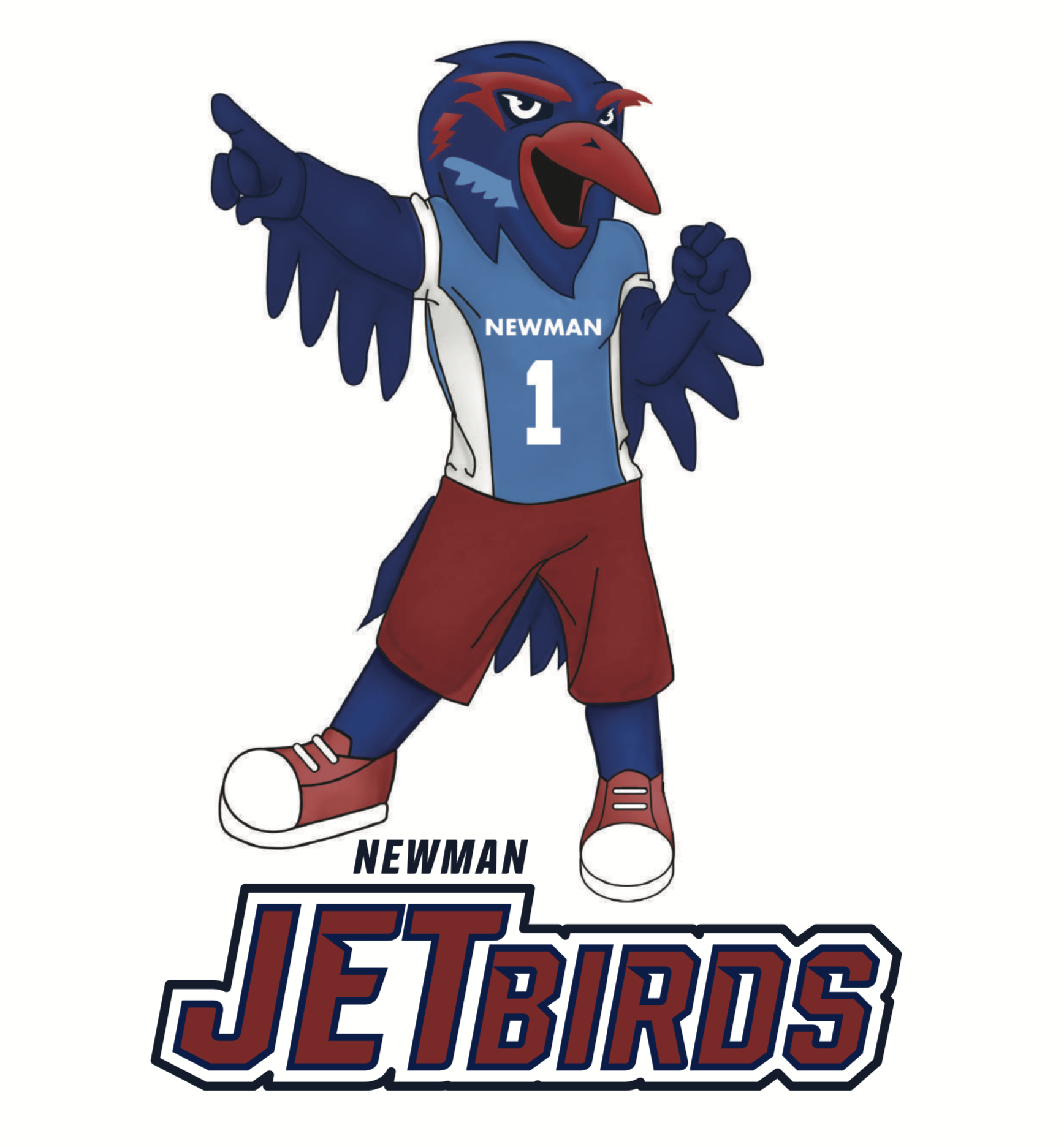 "The admissions team is excited to possibly have this in our marketing materials, but I haven't heard anything since the presentation," Louvar said.

Louvar's preliminary logo proposal is a combination of the old Jet's logo of a bird, and the newer logo. It depicts a jet with a bird's head, with lightning bolts and the ASC heart incorporated into the details of the design. The word "Jets" is replaced by "Jetbirds."

The proposed Jetbird mascot, which would replace Johnny Jet, is a large blue bird modeled after the logo concept.

"The work that he has done is tremendous, and he has spent a lot of time in the archives," Pryor said.

Many students say they would be open to a mascot change.

Senior Cramer Brown, a member of the cheer and dance team and former Johnny Jet, said he thinks the current mascot is not well received.

"I don't like it. He's kind of creepy, and in my experience, when I've had to dress up like him, a lot of the kids don't even know what he is," Brown said. "They just think he's like Buzz Lightyear or a football player, or something - or he scares them."

Brown said he thinks a bird would make a better mascot, as long as it's not an overused bird like an eagle, falcon or cardinal.

Junior bowler Caleb Limes also said he thinks Johnny Jet is a confusing mascot and would like to see the mascot change. Limes said he does not mind the current Newman Athletics logo, but would not be against seeing it change either.

But Limes said he is not so sure he likes the idea of changing the "Newman Jets" to the "Newman Jetbirds" in the logo.  

"I'd rather honestly just stay the Jets," Limes said. "Jetbirds is kind of pushing it and I feel it would be a weird change for all of Newman alumni and all of the current students."

PHOTO: Courtesy Photo. Geoff Louvar