By Elizabeth Raehpour, Guest Writer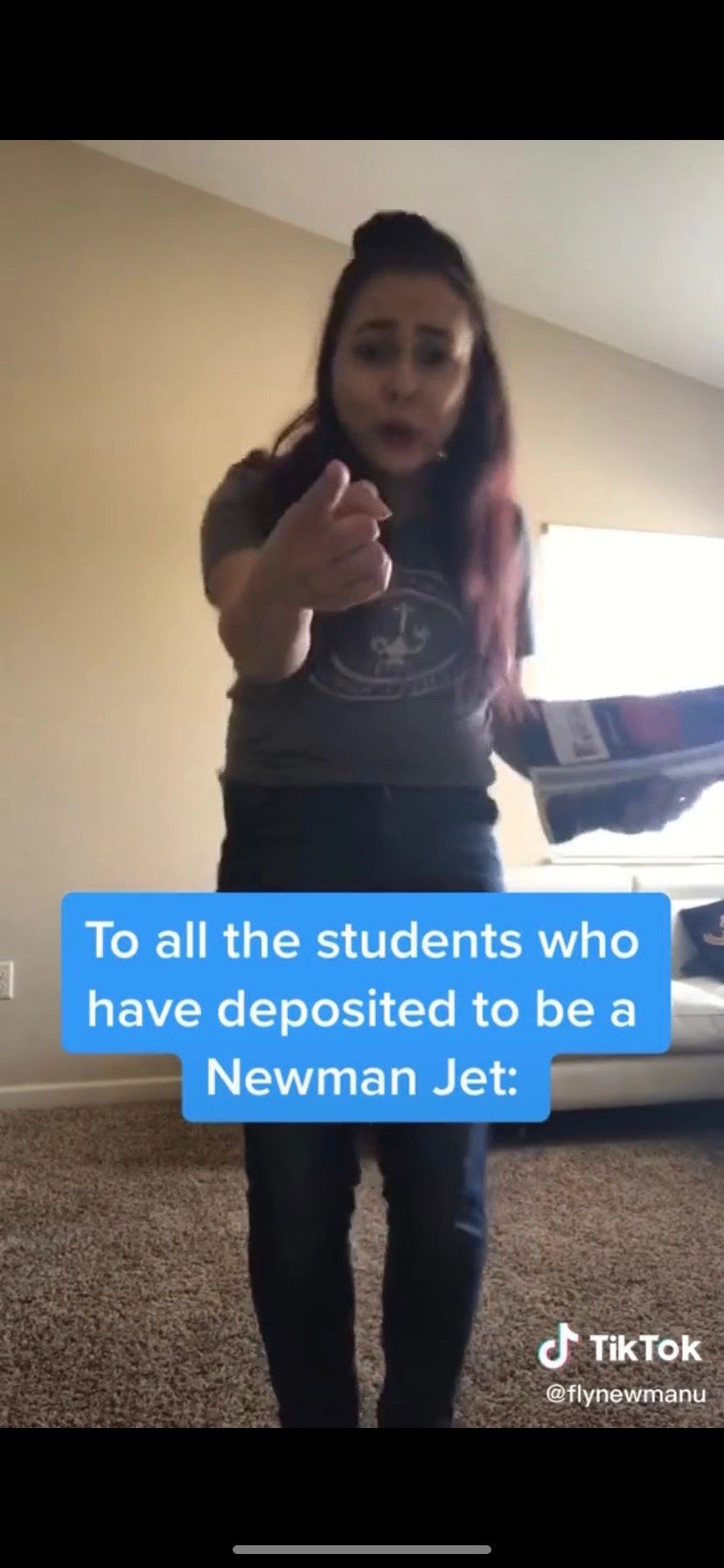 Newman affiliated Instagram, Twitter and Facebook accounts are nothing new.
But Newman Admissions is trying out a new platform to reach students: TikTok.
Newly hired admissions counselors Martina Viale and Emily Larkin were the ones to suggest really utilizing TikTok to get the department's message across.
"The admissions TikTok was created but not widely used before Martina and I joined the team," Larkin said. "When we joined, we realized that if we personally were using TikTok hours a day, many prospective students probably did, too. This led to a variety of fun admissions-themed trends," Larkin said.
The account posted its first video on April 7, and although its videos have yet to go viral, the department has gotten upwards of 1,800 views on some videos.
Viale says that their analytics reveal that those views are primarily coming from the United States, Canada, Italy and the Netherlands.
"Since we first started being active on TikTok, we got questions in our DMs," Viale said. "We had students and prospective students engage with our videos. Several prospective students even told us that they already followed us prior to their visit."
The staff has mostly posted recruiting videos and videos showcasing events on campus.
"All of the feedback we've gotten has been positive, mainly just requests for more content," Larkin said.
Larkin said that they welcome help from current Newman students in promoting their account.
"We are trying to build our following and viewership, so please, please tell your friends. If you have an idea for a video or want to be involved, let us know. We would love it," Larkin said.
Viale added that admissions has handled the transition to being online this year well.
"We had a virtual [campus] visit up and running the week after we started working from home," she said. "Now because of that, we are able to visit high schools in every state of the U.S.A. virtually. Some schools I met with didn't realize that Newman existed and because of these virtual visits through Zoom, counselors now think that our university could be a great fit for some of their students."
The account can be found on TikTok under the username @flynewmanu.
PHOTO: Courtesy Photo, @flynewmanu TikTok Account