By Hadassah Umbarger, Staff Writer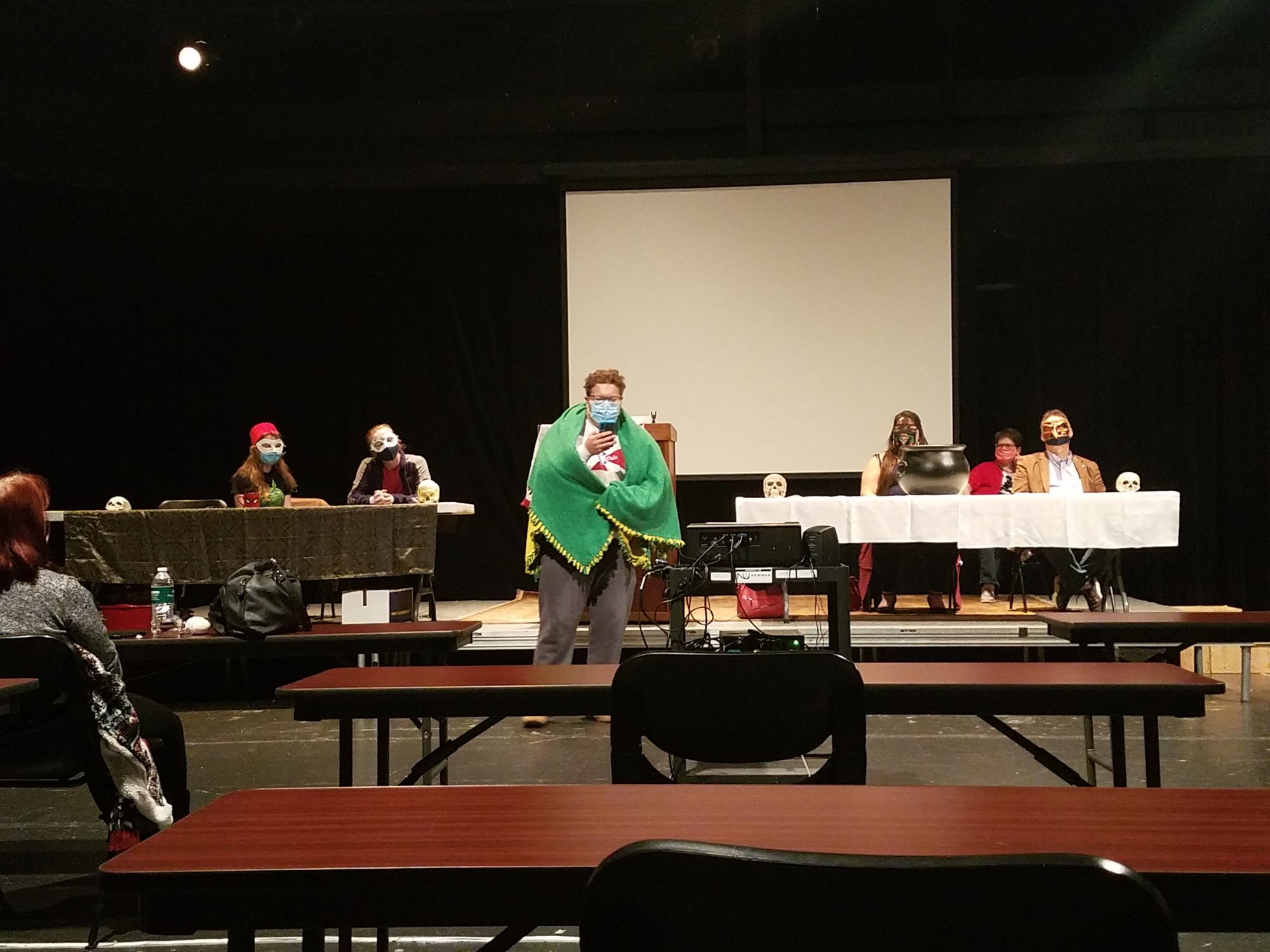 Open Mic has been a regular occurrence on Newman's campus for some years now, but visitors who went last week were greeted by an especially spooky edition, which organizers called an "Open Masquerade".
Because they couldn't gather in the Grind's small and cozy atmosphere, emcees Murphy Obershaw and Matthew Clark, along with Associate Professor of English Susan Crane-Laracuente, decided to use the Jabara Flexible Theatre. Spectators sat socially distanced at individual tables in front of the stage, which was decorated with skulls and a particularly scary panel of judges. Judges are usually intimidating anyway, but these were wearing costume masks along with their face-masks.
For those who don't know what Open Mic is, Clark describes it as "an event where everyone can come and share a piece, whether that piece of art is a song, a poem, a short story, anything of that nature. Open mic is a simple celebration of the arts."
Crane, who helps organize the event, said that Open Mic started as an informal gathering of a few students who would meet occasionally to swap literary pieces.
"We built up the advertising and gradually more students, faculty and staff started floating in to the events," Crane said in an email, "until most events had a flow of about 30-40 visitors/audience and about 8-10 readers/singers/musicians performing."
Crane also said that former student Amy Emerson originally helped coordinate and organize the event before passing the torch to Obershaw and Clark around two years ago.
This is the second Open Mic event this semester, and there have been challenges in trying to stay true to Open Mic's essence while presenting it in a COVID-safe way, the organizers said.
"The main thing has just been social distancing," Clark said. "And at our open mics, we pride ourselves in the snacks provided by Dr. Crane… But it's just important to make sure everything is safe and clean and individually packaged."
Clark also said that figuring out how to have students present with masks or face shields has also been a struggle this semester.
Obershaw said the atmosphere of Open Mic has been different without the Grind. "Open Mic kind of needs the cozy coffee house vibe," Obershaw said. "We tried the alumni lounge, and now we're in Jabara because it's just kind of wherever we can accommodate the most people."
Outside guests who weren't students, staff or faculty, were required to fill out a form agreeing to socially distance and wear a mask, as well as acknowledging the risk of visiting.
Several students presented pieces at the Open Mic Masquerade, and prizes were awarded to three of them. Two of the prizes were awarded to Madeline Alvarez and Juan Rios for their original poems. The third was awarded to Aidan Mannette for an original piano piece. There was also a prize for the best costume or decorated mask, which went to Madeline Alvarez for her costume of Vanellope Von Schweetz from the "Wreck-It Ralph" movie.
Crane said that Open Mic is hoping to do a collaboration with the 2020 edition of Coelacanth in November, when it's released. Coelacanth is Newman's annual literary publication that showcases students' poems, short stories, plays and art.
PHOTO: Courtesy Photo, Bri Southworth