By Tejay Cleland, Sports Editor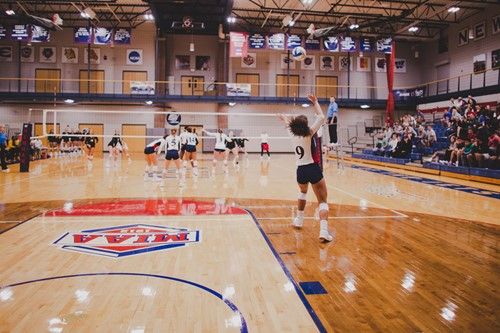 Newman athletics were put on hold after a COVID-19 scare last Wednesday, but most teams were practicing again as of Monday, said Joanna Pryor, Newman's athletic director.
The abrupt halt of sports activities came about, Pryor said, after a dramatic uptick in positive cases on campus, many of them among athletes.The goal, she said, was to rein things in and reset.
"Unfortunately, it was all of a sudden overwhelming," Pryor said. "[It was] just to kind of help and get everything under control. It can be overwhelming. We're trying to keep track of everyone that is either quarantined because of exposure or because they have symptoms and need to be tested or because they're positive."
Not all sports are back in action, though, Pryor said. Both the men's and women's basketball teams have many current positive cases and the majority of athletes on each team are in quarantine.
They aren't practicing, and under CDC guidelines, team members would be in quarantine until Nov. 17. Both the men's and women's teams were scheduled to start games on Nov. 19 against Pittsburg State, but the game has now been rescheduled to Nov. 24.
Other teams, like women's soccer and volleyball, are now back in the swing of training.
"Some teams have gone back to doing activities and weights because they don't have the numbers in quarantine or positive cases," Pryor said.
Coaches were told on Wednesday of last week that there was to be no athletically related activities or gatherings until further notice. Twelve new positive cases were reported on Newman's campus on Wednesday alone, and 32 positive cases were reported for the week.
Pryor said it was expected that positive cases would increase on campus because testing had been accelerated. Men's and women's basketball teams are both required to test all players and team personnel for COVID-19 every week.
Newman athletics has been and will handle COVID-19 guidelines as recommended, Pryor said.
"We're following the bylaws of the NCAA, we're following the CDC and the Kansas Health Department guidelines and maybe going a little above that and beyond," she said. "We are just trying to try to keep the control that we have had. We've kept a pretty good handle on it considering the circumstances."
Another precaution taken during the shutdown of team activities was the closing of the weight room. Pryor said that deep cleaning took place last week.
"We shut down the weight room so that we could [disinfect it] with this machine that we have," Pryor said. "It had to sit for three days. We also performed this procedure on the locker rooms."
Pryor said if an outbreak was to happen in the future it would be treated the same way.
PHOTO: Courtesy Photo, Newman Athletics