By Denise Neil, Guest Writer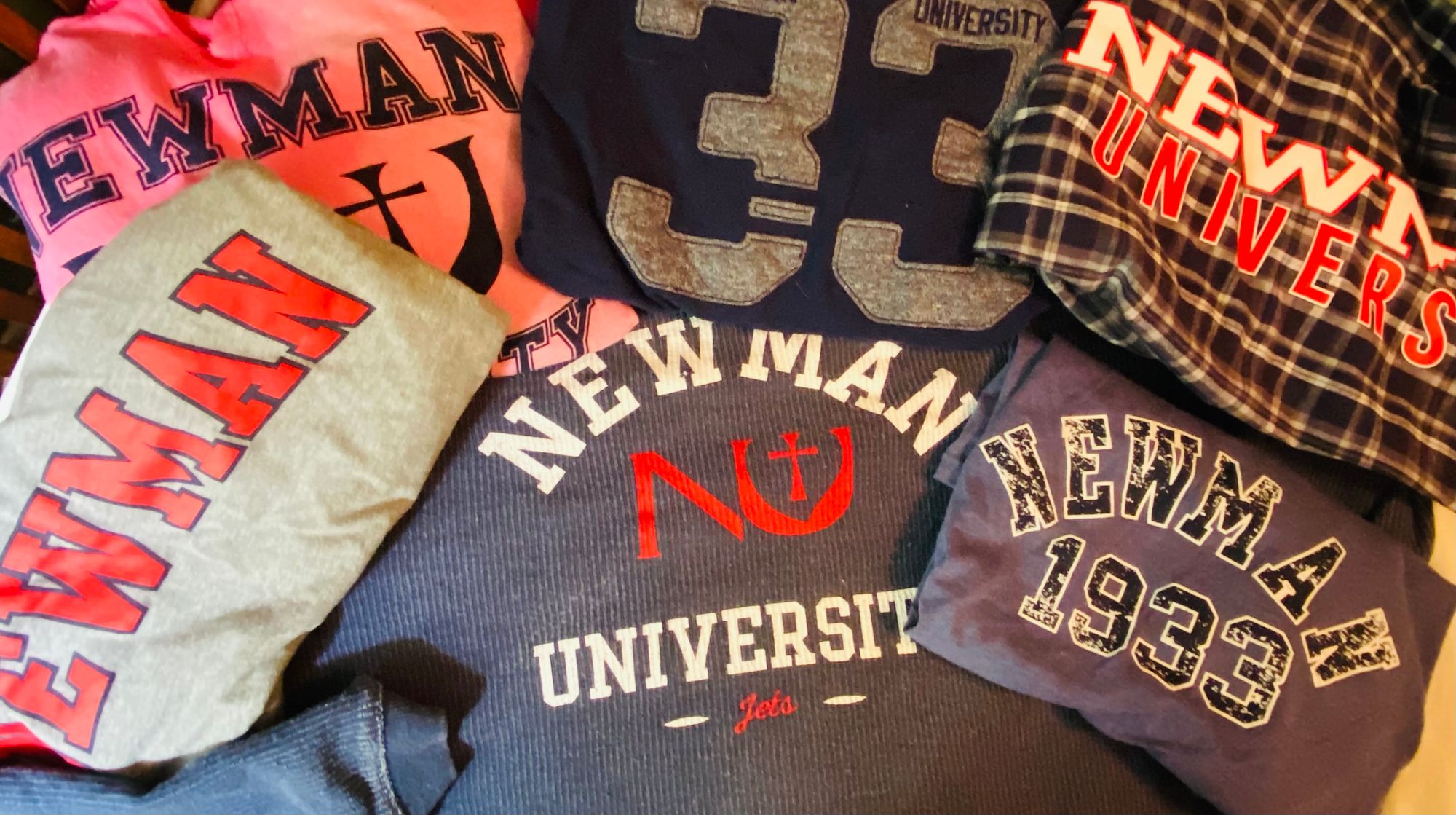 My name is Denise Neil. I'm an adjunct journalism professor at Newman University, and I have a problem.
I'm addicted to the Newman bookstore's clearance sale.
It's been four weeks since one of my students alerted me to the fact that the bookstore had launched a major sale of its remaining Newman gear at numarketplace.com. Everything was 75 percent off, he said.
Yes, I'm a journalist, but even I know that's a lot of percent off.
I'm sad that the book store is liquidating all its merchandise. I've always been a sucker for a college bookstore, and when I had time between classes at Newman, I would always stop in and peruse the gear, allowing myself to purchase only an occasional T-shirt, and only if it was on sale.
So this sale news blew my mind, and before class was even over, I'd punched up my first order. Two long-sleeved T-shirts. Two sweatshirts. Pajama pants. Travel mug. It all cost me just a little less than $50.
I could have had my order shipped, I learned, or I could opt to pop into the bookstore and pick it up for free. That's what I did, and I finally got to meet Larry Williams, who The Vantage has written about for years. It was his second-to-last day at the bookstore before leaving Newman (boo!!) but he reinforced my purchase, agreeing that I had gotten quite a deal on all that Newman stuff (yay!)
I got home and was so delighted with my new stuff that I told my husband he just had to check out the sale. My teenage daughter, too.
So we punched up another order. Long-sleeved T-shirts for both of them. Shorts for her. And why not? Some pajama pants for my mom. She'll love the pockets. Throw in a pair for my daughter, too. It cost me another $45, but come on. Without the sale, my bill would have been $180. It would be a crime NOT to shop at that price.
I may have placed another order that week. Maybe two. After that first order, though, I opted to pay to have the stuff shipped to my house. I could not face those book store clerks again (and again and again) lest they recognize the depth of my problem.
Then came news that nearly knocked me to my knees. While debuting yet another piece of my new all-Newman-all-the-time wardrobe in my 8 a.m. Intro to Journalism class, a student informed me that the sale had just gotten sweeter. Everything in the bookstore was now 80 percent off.
People, that's practically free. If this keeps up, soon the bookstore will be paying us to take their items away.
I tried to resist, but alas, I logged onto numarketplace.com yet again that day. I put a few items in my cart, but I told myself, "This is crazy. No human could, no human SHOULD, wear this many pieces of clothing with Newman's logo."
I mean, sure, those red plastic NU sunglasses are now only 90 cents, but I already have lots of sunglasses. And although I could nab some royal blue logo scrub pants for nursing or sonography for just $2.80, I'm neither a nurse nor a sonographer, nor do I know any.
Step away from the marketplace. STEP. AWAY. FROM. THE. MARKETPLACE.
I talked myself off that last ledge, and it stuck for about a week. Then, I told the Vantage staff I'd write this column. I had to go back to the website, just to make sure things were still 80 percent off. It was research.
Two pairs of women's "vega" pants (both royal and gray), a ceramic coffee mug and an MV Lucas Loop Fleece should be arriving on my doorstep early next week.
Total price: $16.18.
PHOTO: Courtesy Photo, Denise Neil