By Cole Schnieders, Copy Editor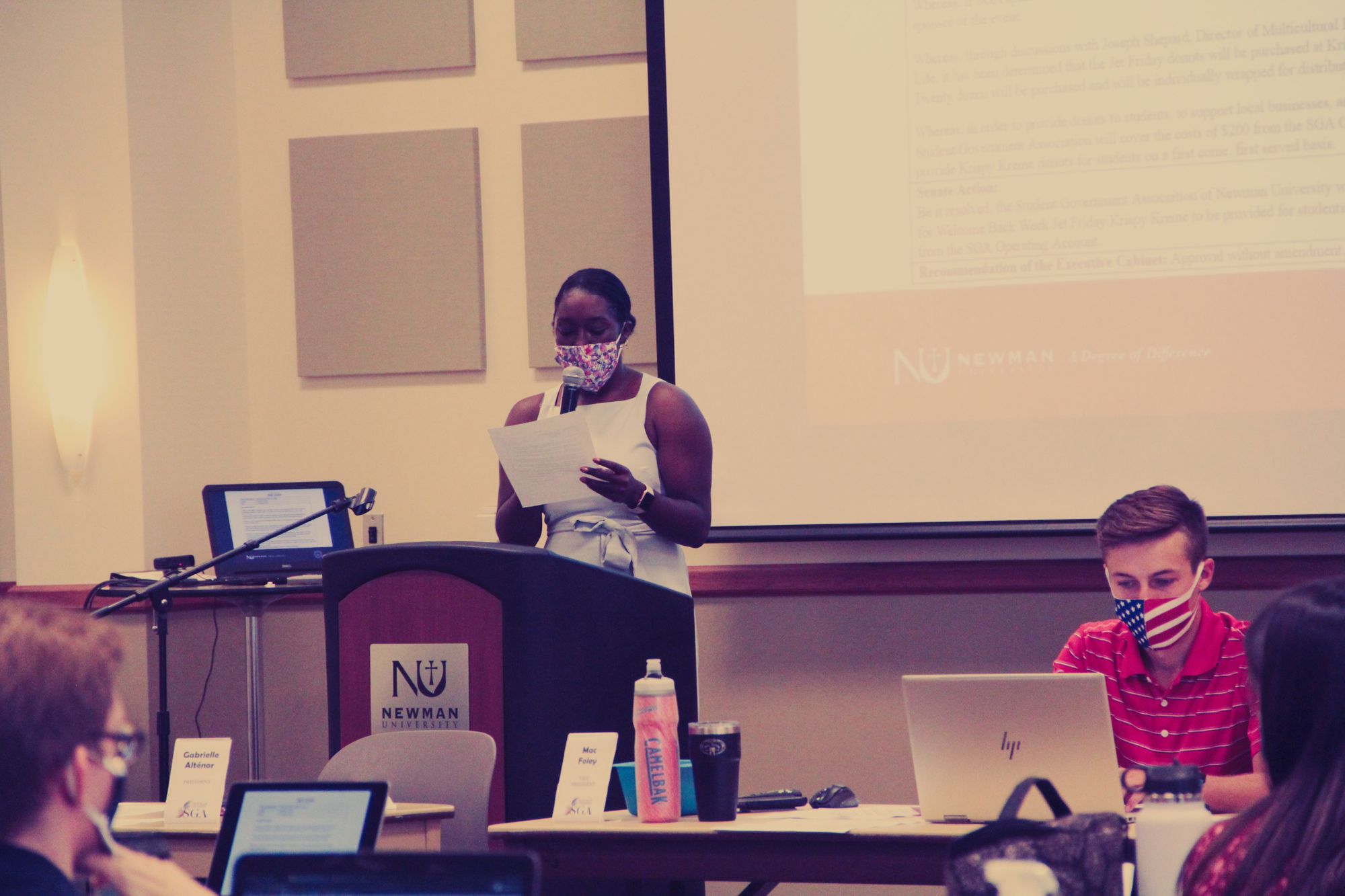 SGA members met for their first senate meeting of spring 2021 on Wednesday. The reconvened senate has plans for improvements to the campus, collaborating with Newman President Kathleen Jagger on a mental health task force and new student activities.
The first bill of the semester, introduced by senator Junior Kimfuema and passed by the senate, will pay for a new foosball table in the student center.
In an interview this week, SGA vice president Mac Foley said he'd like to partner with Steven Nguyen, president of the disc golf club, to bring a disc golf course to campus.
Foley said that the Security and Grounds Committee, which he heads, wants to build a safer sidewalk crossing from the Fugate and Carrocci dorms to Mabee Dining Center, install better resolution security cameras in key areas and bring blue light emergency phones across campus. The emergency phones, Foley said, would make contacting campus security much easier.
"We'd rather buy a whole array of them so that we can really cover the campus," Foley said. "I think that's something that should already be here...However, these things cost money."
Foley said he is eager to collaborate with Jagger on furthering mental health initiatives started by senators last semester.
"I'm hoping that we'll have more effective services available for students," Foley said.
SGA Secretary Shanice Gitungo said in an email that she was planning to collaborate with MCLO and HER (Health Equity Resources) to establish permanent bathroom baskets in all campus bathrooms. These bathroom baskets would be filled with hygiene products for those who need them.
SGA will also be sponsoring themed months for the rest of the school year, SGA President Gabrielle Altenor said, starting with Black History month in February and ending with a focus on Earth Day in May. Each month will have a component of student service to Newman or the Wichita community and activities for students, such as spiritual mindfulness as part of March's theme of mind, body, and spirit.
As part of the process for SGA elections for 2021-2022, Altenor said she'll be hosting sessions for individuals interested in becoming a senator or joining the executive board so that they can learn what the job is all about and ask questions.
Altenor said she is excited for the work she hopes to accomplish in her last term as president and at Newman.
"I want us to do everything that we can do for the students," she said. "I'm graduating. I want to get as much done as I can for our Newman students as time allows."
PHOTO: Courtesy Photo, University Relations