By Madeline Alvarez, Editor-In-Chief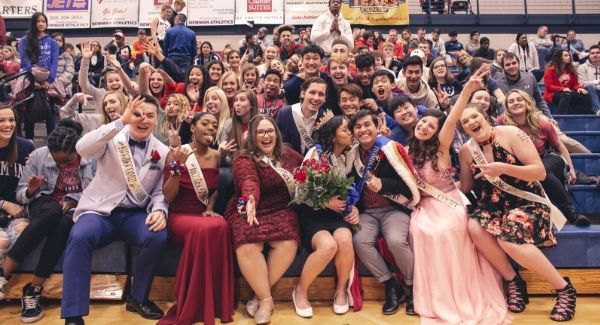 The Homecoming nominations have been narrowed down and a Court has been chosen. Here is a look at several of the nominees who have accepted their places on the Homecoming Court.
Gabrielle Altenoris majoring in biology with minors in pre-law and Spanish. She hopes to attend law school and become a practicing attorney after graduation. She's interested in all types of law, but her current favorite is criminal law.
Throughout her time at Newman, Altenor has been involved in the Honors program, Black Student Union, Future Legal Professionals of NU and the Student Government Association. She has served as the Student Body President since 2020. She is also a Resident Assistant.
In an email, Altenor said that she didn't expect to be nominated for Homecoming Court, especially since she will be graduating a year early.
"I really hadn't considered the possibility since I'm graduating with a 'different class,' but I'm grateful and appreciative of all the students who have blessed me with this opportunity," she said.
Altenor said winning the title of Homecoming Queen would be an honor, but that it would also make her "very emotional."
"I love Newman and the community I've been a part of here, and I would love to stay another year if I could. It would really serve as a reassuring display of love and support from my peers that I've fully made my mark here; that God has worked through me as a Newman Jet and is giving me the grace to continue on my path, wherever He will take me," she said.
Chase Bowman is a biology major with a concentration in pre-medicine and minors in sports medicine and chemistry. He will also be graduating from the honors program.
After graduation, he plans to continue on to medical school.
He plays on the Newman's men's soccer team, is president of the chemistry club and participates in the Asian Student Association and Disc Golf Club.
Bowman said he did not expect to be nominated for Homecoming court.
"It was a great surprise to see my peers think so highly of me," he said.
Mitchell Austin is an international student from Sydney, Australia. He is majoring in biology with a pre-physical therapy concentration and minoring in sports medicine and psychology.
After graduation, Austin will be returning home to Australia to complete his degree, and he aims to play in the professional baseball league while doing so, he said in an email.
He's been a member of the Newman baseball team since 2018. He's also worked in the weight room, at other teams games and as a janitor/summer custodian in 2018.
Austin said that he has always tried to attend as many Newman games as he can.
"...I love the atmosphere it creates for the competition," he said.
Austin said he was shocked when he learned he'd been nominated for Homecoming King.
"Growing up seeing this kind of thing in movies and now actually being a part of it is crazy to me," he said.
Josh Woods, graduate assistant for Student Activities, said more information about voting for Homecoming King and Queen candidates will be sent out in an email this week.
The winners of the Homecoming King and Queen titles will be crowned during the basketball game on Thursday night.
PHOTO: Courtesy Photo, University Advancement