By Tyler Push, Staff Writer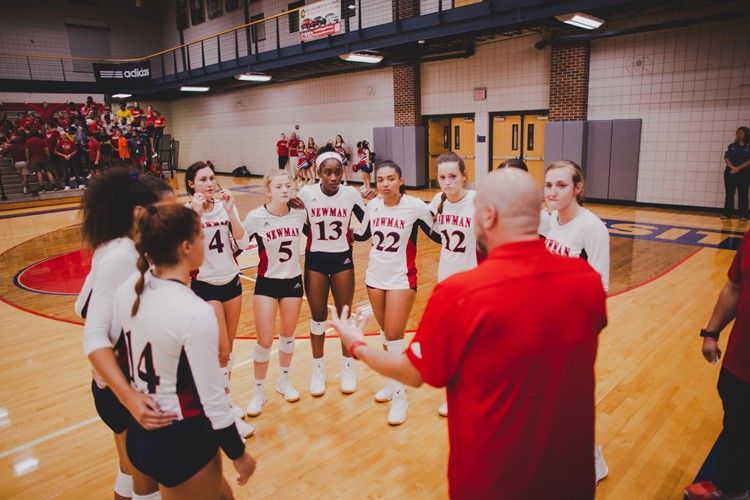 The Newman Jets Volleyball team is about to open its season and will try to use its increased roster size to win more games at the net, said head coach Jose Lugo.
The team, whose fall season was postponed because of COVID-19, is coming off a 2019 finish in which it won only one matchup the entire season. That win came against the Fort Hays State Tigers, who the Jets will see in their season opener on Sunday in Hays.
Head Coach Jose Lugo said that the team's later start has allowed the Jets to get in some intense, quality practice during the fall.
The Jets had a good recruiting year, bringing the team total to 15 players, doubling the team's size from last season.
"The focus in practice is always the same: Get better today than we were yesterday. With the large roster size, players can work on something and not have to immediately go again. It gives them time to ask questions or see other teammates doing similar things," he said. Lugo said the team is strongest when everyone can contribute, which is what makes the practices so intense.
The pandemic has altered the season's schedule but Lugo says the team's process is still its priority.
"If we can play well enough to win, that's great. You can't have things change and then try to do everything in a totally different way. You have to have the same goals in mind: Get better every time we step on the court. Hopefully we can get some good matchups at the net and score more points than the other guys," he said.
The Jets return five seniors in Reagen Roth, Sophia Helsing, Sydney Mossman, Imani Jones, and Beth Schulte. Juniors Jada Key, Trinity Conley, and sophomore Rebecca Hageman also are returning. A new wave of eight teammates, seven of which are freshmen, has seen the team double in size over last year.
Dealing with COVID-19 stipulations has been challenging for the team but it has not changed its overall preparation. Lugo said the team needs to keep doing the things that they do well, which will allow them to put it all to the teston the court.
"In this unique season, our toughest challenge will be in the mirror. It's easy to say that things are hard, and that our season is different. It's easy to say that we aren't ready to play but it's about courage. We need to look at ourselves and decide that we belong, and get after it when we have the opportunity. There's a lot of talent and skill on the roster. We just need to give it all we've got every point we play," he said.
When they travel to Hays on Sunday, the Jets will be part of a triangular between the Nebraska Kearney Lopers and the Fort Hays State Tigers.
PHOTO: Courtesy Photo, Newman Athletics