By Cole Schnieders, Copy Editor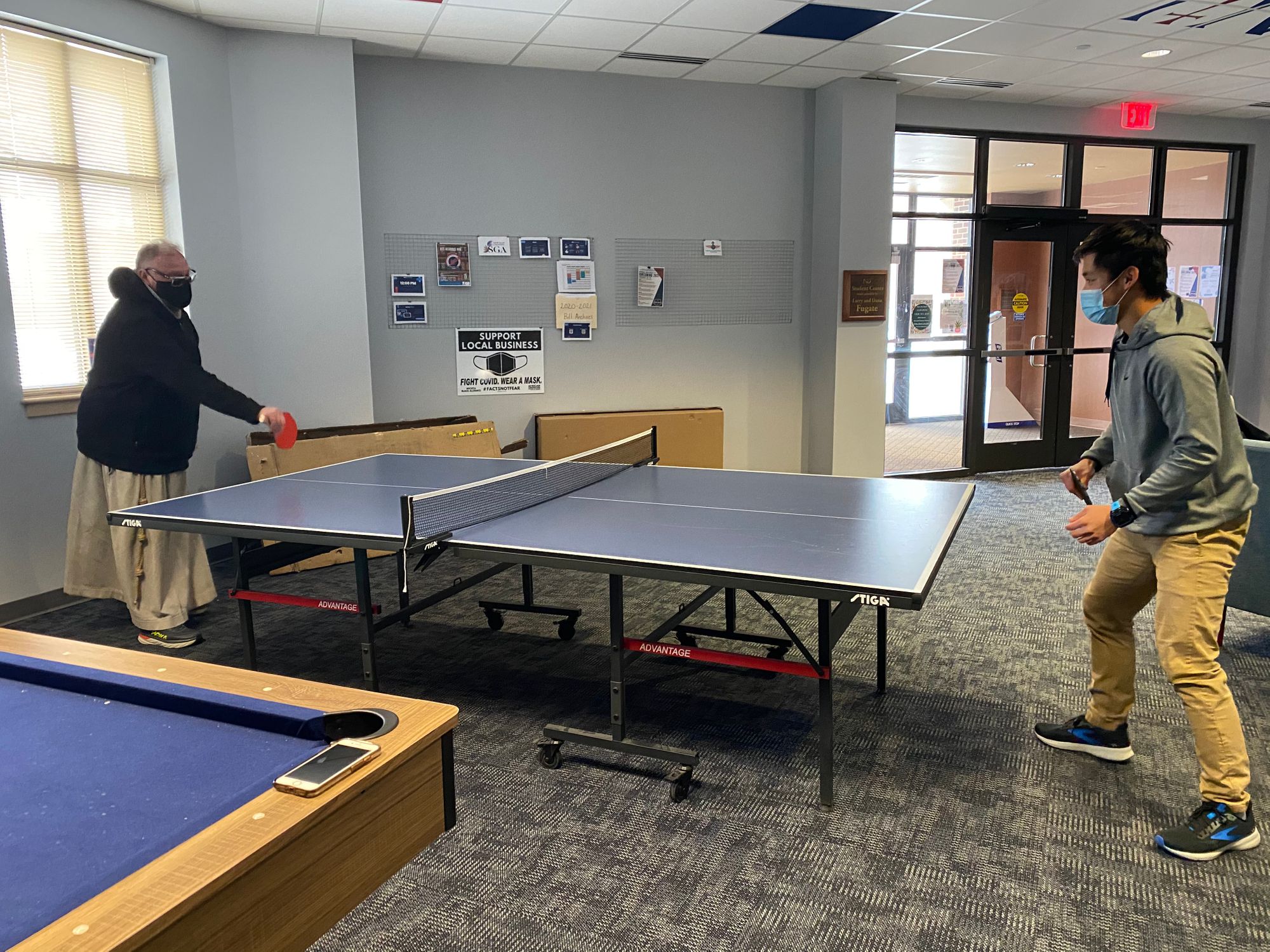 Those who braved the cold weather and came to Newman on Friday may have seen an odd sight: a friar on campus.
While Newman University was founded by and is sponsored by the ASC sisters, the Diocese of Wichita has no male religious orders, making Father Jaun Diego Sutherland's visit all the more unusual.
Sutherland was in Wichita to lead Campus Ministry's Lenten retreat on Saturday, but he wanted to visit campus and meet students on Friday.
He is a Franciscan Friar of the Renewal, a mendicant, or begging, order that formed in 1987 in South Bronx. Their mission is to spread the Gospel by living life as Jesus did: impoverished and in service to the poor.
Sutherland, originally from Ontario, Canada, is now living and working in Albuquerque, New Mexico, with five other friars, where they run a soup kitchen and lead spiritual retreats. He's also been stationed in Nicaragua as a prison chaplain and lived at the main friary in New York City while he studied to become a priest.
Sutherland said he felt drawn to priesthood from a young age but changed course after high school and college when he became a bartender.
"I was working at this bar, and we had live Irish music twice a week," Sutherland said. "I met this young gal who played in a family band…They had recorded an album and went Gold and Canada Platinum, Double Platinum…"
The call to do something radically different, Sutherland said, happened while he was on tour with his then-girlfriend and her family.
"I'm looking around at one point thinking to myself, like, 'Man, I'm living a beer commercial,'" he said. "I just thought to myself, 'This can't be it. It's gotta be something more.'"
After breaking up with his girlfriend, Sutherland said he paid off his debts, sold everything he had, and tried to plan his next steps. He said he considered the normal route to priesthood, where he'd serve a parish, but he knew he'd flourish if he had people around him to encourage him. He learned about the friars through a friend and decided to visit.
Sutherland said he thought life in the city of Toronto would prepare him for New York City, but it was culture shock from the moment he arrived.
"When I moved there, [it] was like the crack cocaine hub of the world," he said. "And I meet the friars, they open the door and greet me, and I just felt like this incredible sense of homecoming."
After being with the friars for five years, he made his perpetual vows of poverty, chastity and obedience in August 2002 and took on the name of Juan Diego, which was given to him by his superior. Five years of study later, Sutherland was ordained to the priesthood.
Sutherland said his advice to young people, especially young people searching for their purpose in life, is to live in the present moment.
"The past, of course, it's filled with beautiful memories, but it was also painful memories, and all of that is past and there's nothing we can do about that. But if we look forward...thinking about what's going to happen in this world...can fill us with anxiety because it's the unknown," he said. "The only way to really find true peace and happiness in any vocation in life is to live here in this present moment, which God has given us."
Ultimately, Sutherland said, fulfillment in life is found with God and in daily searching for him, no matter how often one fails or turns away.
"That's the journey of conversion we all face for the rest of our lives," he said. "We do our lousy best every day."
PHOTO: Murphy Obershaw, A&E Editor