By Marie O'Neal, Staff Writer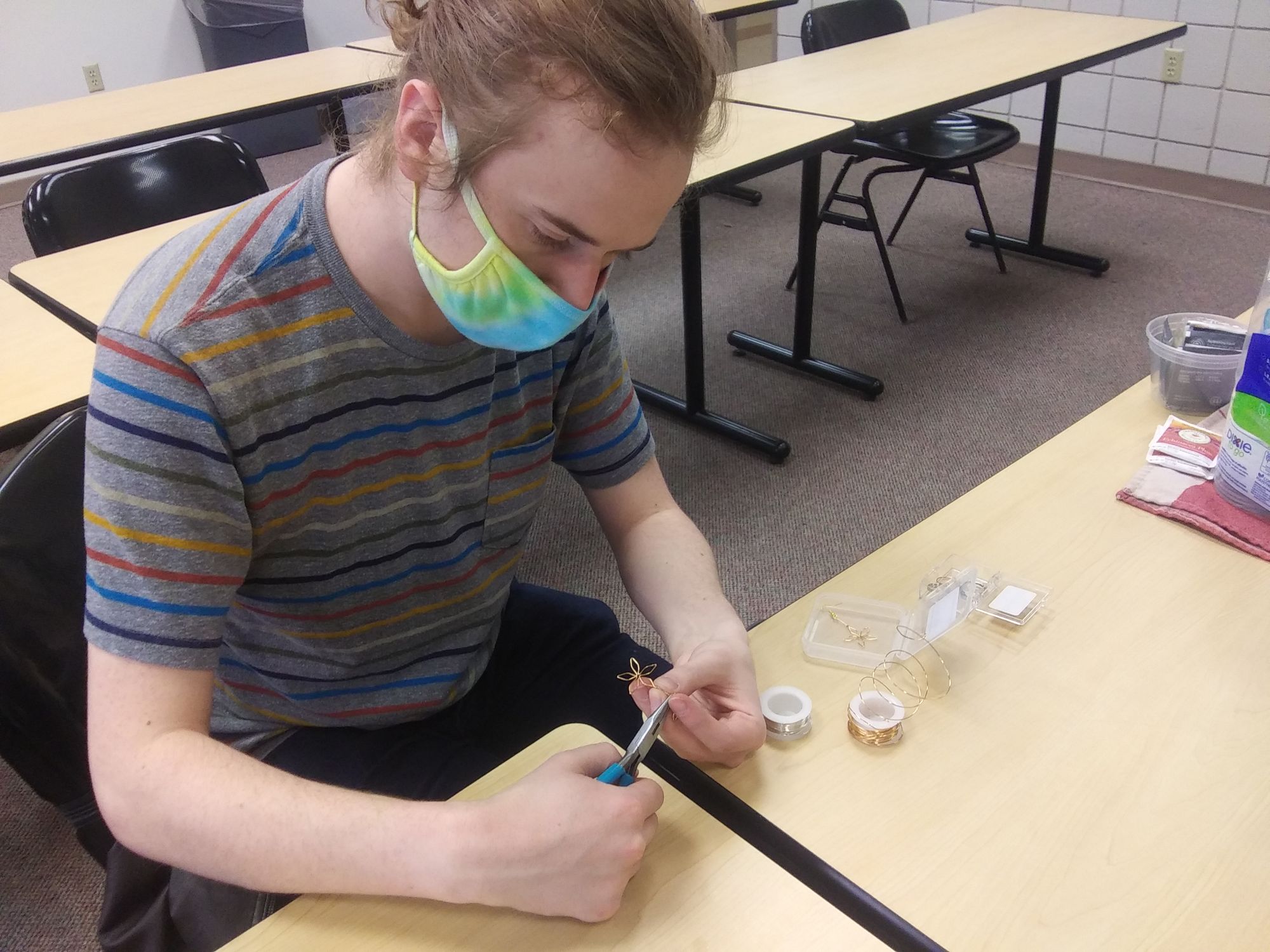 Do you ever wonder what types of side-hustles Newman students have started amidst this pandemic?
Junior Matthew Clark doesn't exactly remember how he started making jewelry, but he knows he is drawn towards what is beautiful, and his creations reflect what that means to him.
"I'm a linguistic artist by trade, and I've wanted to do something physical or visual for a long time. So this is my form of physical art," he said.
He began experimenting with coin rings, he said, but grew frustrated with his attempts.
Clark is a self-learner.
"I'm an autodactite. I have not had a mentor, and I'm not an apprentice. But the main thing is that I didn't give up," he said.
After the initial coin rings, Clark saw an advertisement for wire-wrapped rings and decided to try his hand at that.
"I just kind of started making some different designs and sizes. From there I went into making some earrings, too," he said.
Clark said he didn't begin creating these pieces with the intention of selling them.
"Originally, I was just in awe of the art itself. About the time I started playing with the wire and making my own rings, I realized a lot of the artists I follow were selling and making profit out of their art. I thought that would be a beautiful way to get some of my art to others, and that I could profiitize off this," he said.
Clark takes custom orders and sells his own creations as a way to reach as many people as possible.
"I want to market to a very universal audience. That's why I'm taking custom orders and teaching myself how to do what people want," he said.
Clark hopes to eventually be able to cut his own bands and make his own prong settings to set actual gemstones. But he is sticking with wire wrapping for the present moment.
Clark is dabbling in a genre he likes to call "found jewelry."
"I take items that wouldn't naturally be considered jewelry and implement them into interesting pieces for someone to wear," he said. Recently, Clark has experimented with wire-wrapped wine cork earrings.
Typically, earrings are $10-$15, wire-wrapped rings are around $5-$10 per piece, or $10-$20 for multiple rings. Custom crystal wraps are around $15 and Clark's hand-woven bezels are $25-$30.
Clark is looking into setting up an Etsy shop, but for now if you are interested in purchasing his creations, he always posts his pieces on social media. Clark posts his pieces first on his Twitter account, and you can drop a follow there by searching @existentialbard.
If you choose to follow Clark via Snapchat, please let him know you would like to be added to his jewelry story after adding him as a friend. Clark's Snapchat is @matt3w_cl4rk.
PHOTO: Madeline Alvarez, Editor-In-Chief