By Madeline Alvarez, Editor-In-Chief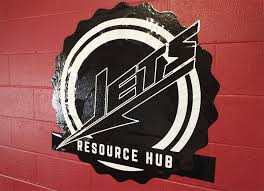 You may have heard of the Jets Resource Hub, Newman's food pantry that was opened by SGA in the fall of 2020. The Hub's resources, which include food items and some hygiene products, are available to all Newman students. Now, one group is focusing on the Hub for its senior capstone project and is looking to expand some of the resources it offers.
Senior social work major Rylee Drouillard said that the social work seniors are trying to raise $1,000 in either monetary or material forms of donations for the Hub. She said that they don't have a set deadline but that they are hoping to wrap up the project around the 13th week of the semester.
Drouillard is the team coordinator and is responsible for supervising the team's four dyads — which are groups made up of two people.
The first dyad is responsible for keeping track of donations and submitting weekly progress progress reports. The second is looking for non-perishable food items.
The third dyad is looking for personal care items such as pads, tampons, and shampoo. The fourth is looking for school supplies, which include binders, paper and more.
"We're going through and we're trying to identify some donors who would be willing to donate, whether that's cash, check, or even just material items, and just making sure that we are communicating with those donors and arranging pickup times or places where we can meet to pick them up," Drouillard said.
The class was recently told that the Hub is already well-stocked, she said, so the focus now has shifted more to collecting items for international and out-of-state students who may not have certain items for their dorms, such as laundry items.
"Even though we have our separate dyads, we're really just taking whatever donations people are offering," she said.
"Right now, we're kind of in that stage where we're still trying to identify our donors," Drouillard said. "When it comes to donations, we've talked about a few of the students going to their jobs or their practicums and kind of spreading the word and seeing if they can get any monetary donations or any material donations like that."
Drouillard said that apart from seeking donations, her group also wanted its capstone project to be an example of how to organize a fundraiser during a pandemic and how to do it in a safe way.
Anyone interested in donating to the project can contact Drouillard via email at drouillard473701@newmanu.edu.
SGA Senator Jonathan Liu oversees the Jets Resource Hub. In an email, Liu said that he is grateful for the social work students' help.
"I am proud to have the social work department collaborate with our initiative," he said. "They are currently working on the sustainability of the JRH by seeking financial donations and support."
Liu said he is working to expand the Resource Hub's hours of operation, but that it is currently open between 11 a.m. and 1 p.m. on Mondays and Fridays. It is located in McNeill Hall in room 123.
PHOTO: Courtesy Photo, University Advancement