By Tyler Push, Staff Writer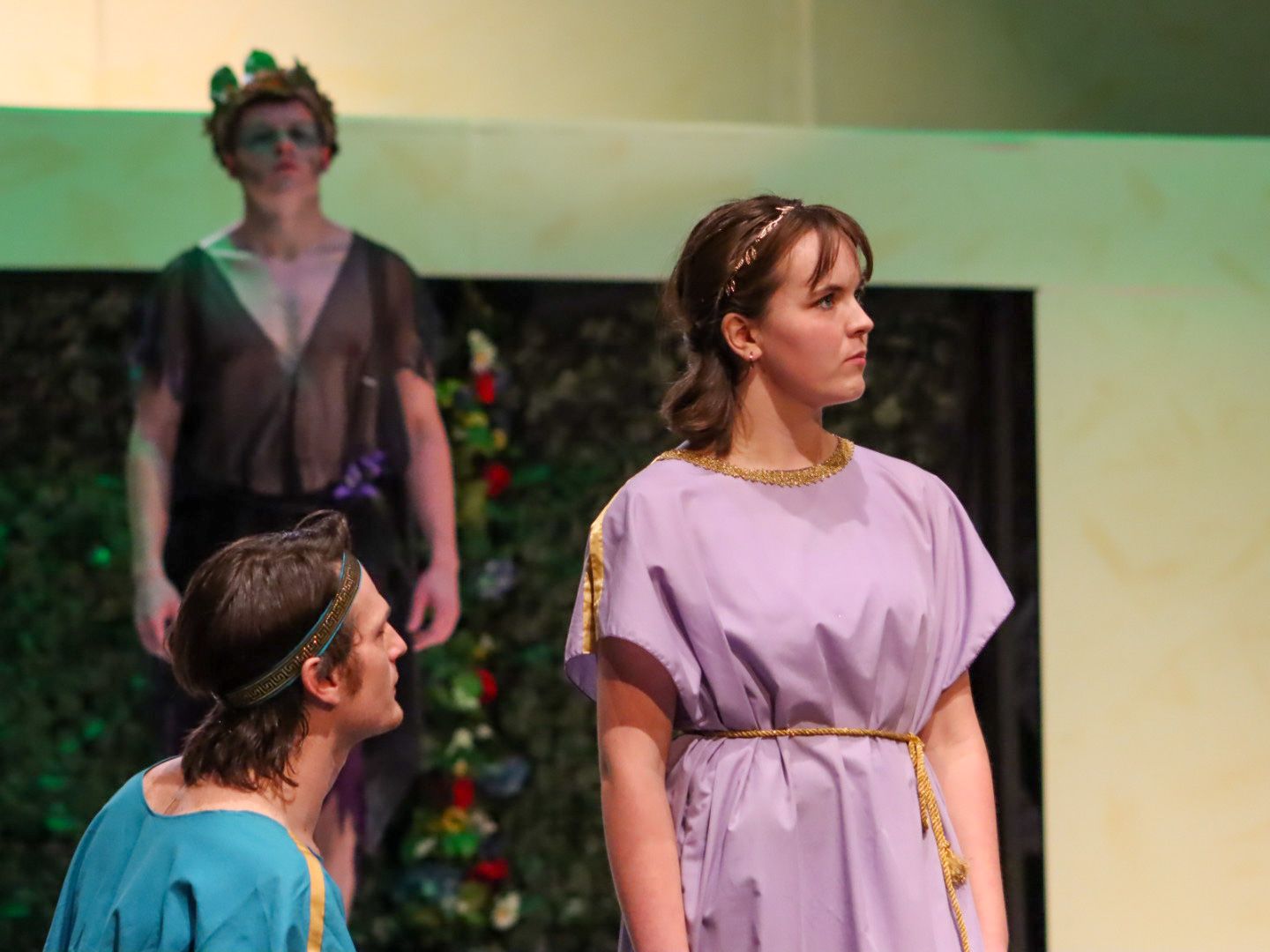 Newman University has a strict mask policy to help stop the spread of COVID-19 on campus, but those who attend the theatre department's play "A Midsummer Night's Dream," which opens on Thursday and runs through Sunday, will notice that the actors on stage are mask-free.
Theatre director Mark Mannette said he was able to get permission to have his 18 cast members go mask-free while on stage as long as they followed safety precautions, including being tested for COVID-19. It's a move that he said was necessary to protect the integrity of the play.
"The advantage to watching a story and being able to see the full face of each character is immense," he said. "Think of any movie you have ever seen. Watching a play is similar to watching a movie. A mask chops each face in half, which makes it difficult to tell a clear story."
Mannette said that he will ensure the environment is safe by not seating audience members in the first two rows. The audience will also be required to wear masks and distance themselves from each other.
Cast members will be maskless only while on stage during the live performances to minimize the risk of spreading the virus, Mannette said. During practices and all but two final rehearsals, masks were still required.
The decision made some cast members uncomfortable, including senior Murphy Obershaw, who said she was surprised by the decision. She said she spoke with Mannette about her concerns but ultimately decided she felt content with the plan.
Mannette said he got clearance through the school by presenting a case in which he cited protocols observed by local theatre companies and other collegiate theatre programs.
"I also pointed out that the NU sports teams play without masks," Mannette said. "They can do that by being tested regularly for COVID. In my plan I agreed to test each cast member as well."
Freshman Catherine Madison, who plays a fairy named Moth in the show, said that she feels safe not wearing a mask for the performances since cast members were all tested for COVID-19.
"I'm okay with the mask policy because we were all tested and we all tested negative," she said.
Performances will happen at 8 p.m. Thursday through Saturday and at 2 p.m. Sunday in the Performance Hall located inside De Mattias Fine Arts Center. Tickets can be purchased at the door or reservations can be made by calling 316-942-4291, ext 2483.

PHOTO: Michael Alvarez, Staff Photographer