By Marie O'Neal, Staff Writer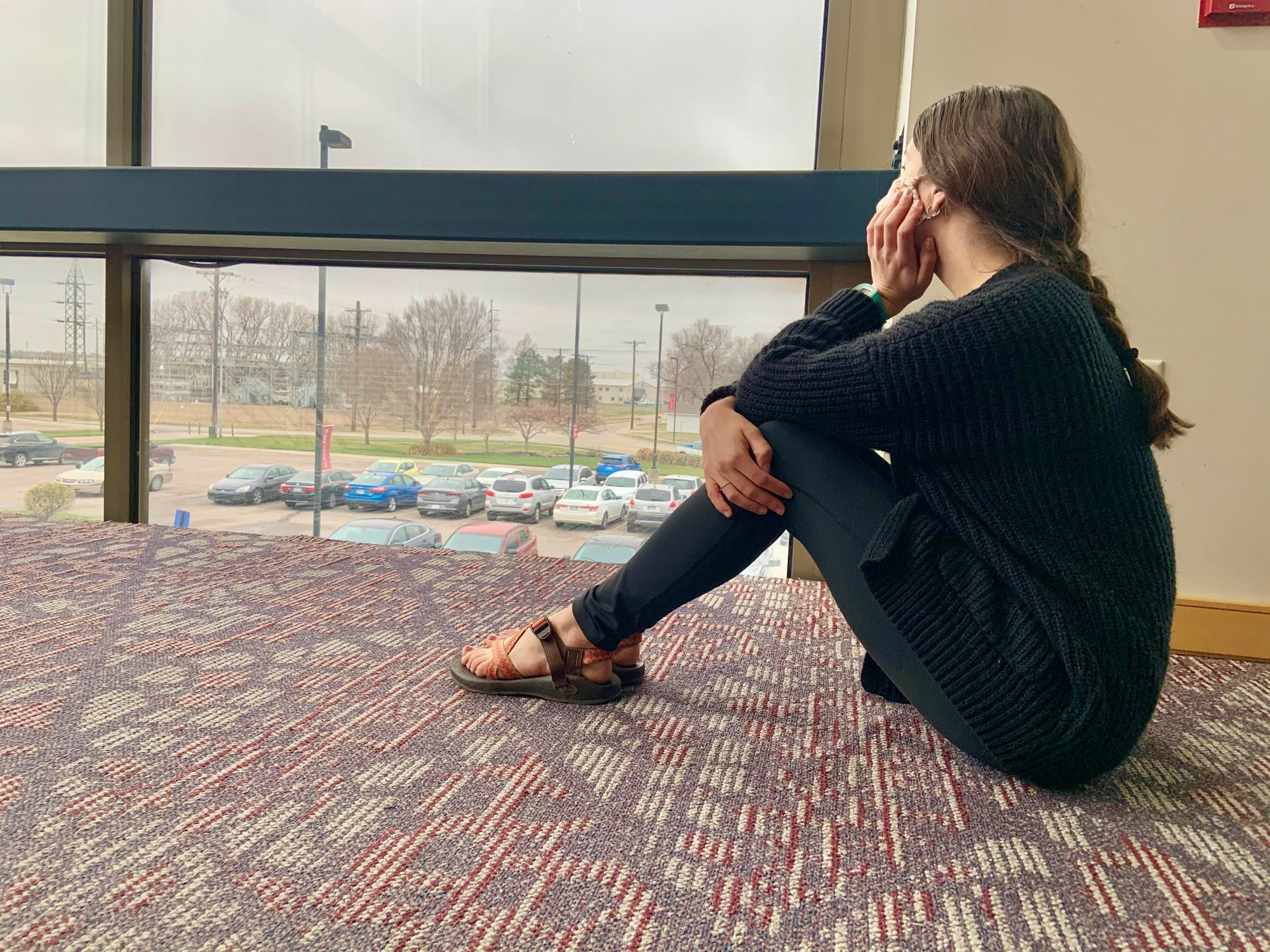 Spring is upon us, which means it is finally possible to study outside, again.
This is probably not a shock to anyone, but I am a lover of clouds. And being outside. And watching the clouds go by as I'm studying. To be frank, I think 99% of my problems would seem more manageable if I could solve them while appreciating clouds under a crisp, blue sky.
So today. I'm here to share with you the top five places to watch the clouds on campus.
This is in no particular order, and I can't really rank the spots either; it kind of fluctuates depending on my mood and I'm not good at choosing favorites. So to make it fair, I want to rank all of the spots 12.5/10.
Picnic Tables Outside of Sacred Heart: Whether you choose to sit at picnic tables or lay a blanket on the grass, the area outside of Sacred Heart Hall is one of my go-to spots.
The tables offer a prime area for taking in some sun and provide a prime studying surface. The grass is level and soft enough that laying on the ground is also very possible. There is an exquisite amount of trees that offer shade and make studying in your hammock the perfect springtime activity.
In Front of the John Henry Newman Statue: One of the most underrated areas on campus is also outside of Sacred Heart Hall. Just take a 25 degree turn from the tables, and you'll find the statue of our dear friend, Saint Cardinal John Henry Newman. The stones make a great make-shift chair.
This spot is considerably more sunny than the picnic tables, so it's perfect if you're hoping to soak up some UV rays. It also gives a great view of the entire campus, so you get to watch people and clouds go by at the same time.
And besides, when I study out there I think a level of osmosis may take place and some of his genius brain will be passed onto me.
Docks Around the ASC Pond: Another couple of hidden gems that are incredibly peaceful are the docks that surround the ASC convent's pond. Each dock gives a different view of the pond, so if you rotate spots, it's almost like you're in a completely different place.
In these spots you get to see the clouds rolling over the water, and I think there's something really productive about studying when you can hear the sound of water.
With the awnings on the docks, this spot also offers a lot of shade if you forgot your sunscreen.
The biggest pro of this spot is that you're almost guaranteed to be alone, which is sometimes hard to do on campus.
Children's Section of the Library: If you're looking for an inside option for cloud watching, the corner room of the library that contains the education and children's literature offers a beautiful bay window. This is a great option when the Kansas spring makes studying outside slightly less possible.
The Wi-Fi connection is also stronger in buildings, so if you're studying on a day when the university's Wi-Fi is acting moody, this is a great option.
The chairs are comfy, and there's a big table where you can spread all of your books and study materials out.
I think the sky always looks particularly blue from this window, so the vibes you get when studying in this room are, in fact, immaculate.
West Wing of DeMatt: My final recommendation for watching the clouds on campus is to set up your study space at the top of the stairs on the west end of DeMattias. It's not a room. Technically it's just the hallway. But I study there anyway.
The wall offers a good place to sit upright. Or you can spread your stuff on the floor and lay down. Honestly, I'm sure no one would be too angry if you carried a bean bag up the stairs to maximize your levels of comfort and productivity.
The main benefit of this space is the way the sun shines through the window and warms the sitting area. It's like an afternoon sunroom, so you feel rejuvenated after letting the sunshine on your face.
With all of the stress we've had this year, I think one of the most important things we can do this spring is to get outside, look up at the sky, and breathe some good air. Really. Just get outside. Studying is optional.
PHOTO: Leanne Vastbinder, Opinion and Online Editor