By Spencer Jacobson, Staff Writer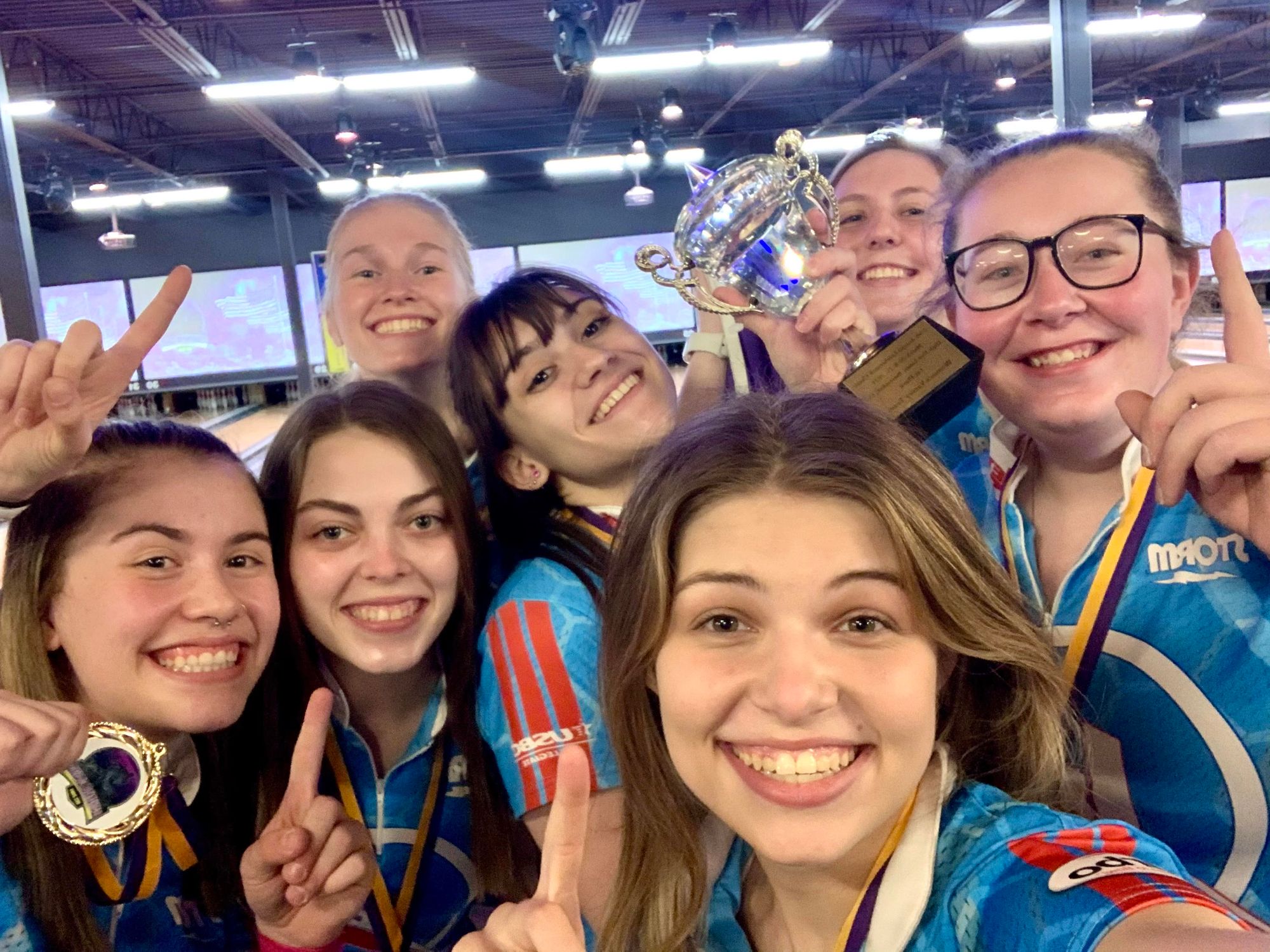 The men's and women's bowling teams are both in the midst of successful seasons.
At last weekend's tournament in Moline, Illinois, the women's team won the tournament and were led in scoring by Senior Leanne Vastbinder, who won the tournament individually, was selected MVP of the all-tournament team, and had a career best performance bowling an average of 227.5.
Vastbinder said she felt confident throughout the entirety of the weekend but took the tournament one step at a time.
"I was not really thinking about achieving anything individually because it is team qualifying so I was just taking it one shot at a time. Finding out I did that well was pretty cool," she said.
At the same tournament, the men's team tied for third place overall and were led in scoring by Junior Tyler Synovec, who bowled an average of 193.
Billy Murphy, head bowling coach, said both the men's and women's teams have bowled well this year, and despite the strange season it has been, they have remained dedicated.
"Big picture in our COVID world, they have handled the adversity pretty well," Murphy said. "For the most part, they have treated it like a regular year even though it's just not, and I think that is why they are having such success."
Murphy said that one strength the team has been relying on this season is its chemistry.
"I think our teams genuinely like each other from top to bottom," he said. "The guys root for the girls, the girls root for the guys…Our group has done a very good job of coming together and supporting each other through this strange time in their lives."
Murphy said he attributes the Jets' recent success to depth they have on both teams.
"It does not have to be one person all the time," Murphy said. "I think that makes them a little more comfortable, that they know they have teammates who are going to have their back if they are struggling."
Like Murphy, Vastbinder credits the team's recent success to team comradery and the relationships they have built, something she thinks other teams may lack.
"We genuinely love to be around each other," Vastbinder said. "We love bowling with each other. We know how to encourage one another. So it is really easy to want to bowl good and to be able to bowl good when you have people behind you who are supporting you, who have your back, who you know are never going to give up on you."
Vastbinder said heading into the rest of the season, the Jets will continue to "trust the process," something, Vastbinder said, their coach talks about often.
"Our success is a testament to the work we have done but I think a lot of it is just continuing to trust that what we are working on is succeeding," she said. "We just need to keep doing that and keep moving forward."
Murphy said the team is steadfast in its goal to get to the national tournament and that they have a chance to win.
"Our group is on the same page," he said. "They have an expectation of where we should get to, and I think we have a really good chance to do so this year."
The Jets compete again Saturday and Sunday in Shawnee, Oklahoma, in their last regular season events.
PHOTO: Leanne Vastbinder, Opinion and Online Editor