By Cole Schnieders, Copy Editor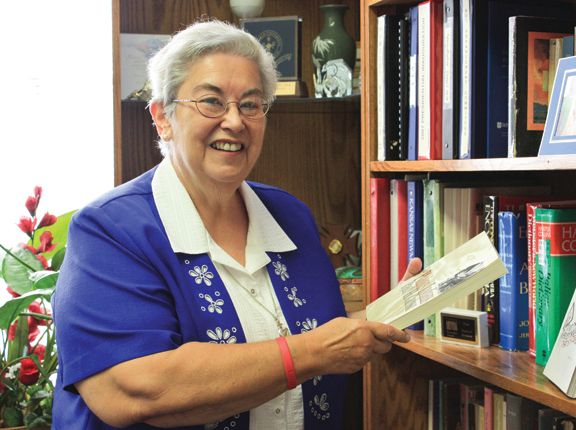 The Newman community is mourning the loss of Sister Charlotte Rohrbach, ASC, who died on Sunday at age 80, and many are saying they'll remember her for her 20 plus years as a history teacher and for her many years of administrative service to the university.
Sister Charlotte passed away almost 60 years after making her vows with the ASC sisters. Newman community members are invited to a visitation from 2:30 to 4:30 p.m. today in the ASC chapel.
Joshua Chilson, a 2003 Newman graduate, said he'll never forget how warmly Sister Charlotte greeted him when they first met, nor her personality.
"She was also one of those very charismatic people…She will walk into a room and she'd brighten the room," he said. "But she was a strong-willed individual, [able] to do what's right and to build something great."
Sister Charlotte, after graduating from Newman with a degree in education in 1962, taught in K-12 schools in rural Kansas and Oklahoma until she returned to Newman to teach history in 1974.
Professor of Ancient History Cheryl Golden said that history and storytelling were always Sister Charlotte's strengths. She helped establish the university archives, and for the 75th anniversary of Newman University, she organized the historical timeline that now hangs in the hall between the Dugan Library and the Dugan-Gorges Conference Center.
"She brought in just a host of people to try to tell the story of Newman, alongside the story of the sisters," Golden said.
Sister Charlotte started taking on more administrative work, eventually setting aside teaching to serve as a delegate to the General Assembly in Rome. But even in Rome, Golden said, Sister Charlotte was thinking of Newman University students.
When she returned from Italy in 2001, she became director of the Service Learning Program. As director, she brought students to live and study alongside the sisters in Italy. Sister Charlotte also helped continue the alternative spring break program in Guaymas, Mexico.
Chilson said Sister Charlotte transformed the trip by having students take over the planning and organizing. His experience planning the trip to Guaymas as the student coordinator turned him into a lifelong servant leader.
"That was Sister Charlotte, saying, 'Can we not make it a little better by giving students the skills and have them plan this so that they will become servants for life?'" Chilson said.
Sister Charlotte served Newman University in a number of positions, from Academic Dean to Alumni Relations to her final job, Director of Mission Effectiveness.
Golden said Sister Charlotte, more than anyone else, kept the mission of the university at the forefront and demonstrated how the mission of Newman and the ASC Sisters worked together.
"She humbled herself for the sake of the university," Golden said. "She made sure that Newman University is known for its service through its mission, not only here in Kansas, but throughout the United States and Mexico and Italy and beyond."
The Newman we know today, from De Mattias Fine Arts Center and Dugan Library to its many alumni, is thanks in part to the work of Sister Charlotte and the other sisters.
"I know that sense of community is continuing. That's what Sister Charlotte and others, their greatest legacy is, and those students that are out there in the world making a difference," Chilson said.
Sister Charlotte, in her acceptance speech for an Honorary Doctor of Humane Letters at the 2019 commencement ceremony, reminded Newman students of the importance of valuing the communities they're a part of, especially their family at Newman University.
"You have your communities, your relationships. Always treasure them," she said.
While the funeral and burial services will be limited to family members due to COVID-19, Newman is planning to host a Celebration of Life at 2 p.m. on April 18.
PHOTO: Courtesy Photo, Newman University Magazine