By Spencer Jacobson, Staff Writer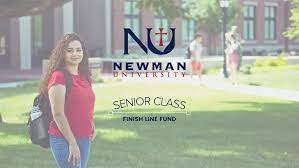 Newman seniors have an opportunity to pay their education forward in Newman's first-ever senior gift drive.
This drive is being put on by eight seniors: Gabrielle Altenor, Mitchell Austin, Karen Do, Mac Foley, Haley Albers, Cole Schnieders, Katherine Sullivan, and Zach Myers.
Altenor said that by donating to the Finish Line Fund, seniors have the chance to financially assist current and future Newman students.
"We want to create a fund that specifically supports students in their retention and financially assisting them so that they can stay at Newman University," Altenor said. "It's really to help them with the tuition and make sure that they can stay here and that money isn't the reason they can't finish out their time here at Newman."
To reach its goal of raising $20,000 for student scholarships, organizers of the drive are asking seniors to contribute either $20.21 a year for the next five years or $40.42 a year for the next five years.
Those who pledge $20.21 for the next five years will be designated as Red and Blue Angels, and those who pledge $40.42 for the next five years will be designated as Mavericks.
Altenor said that in an effort to recognize seniors who have made contributions to the Finish Line Fund, students may receive a certificate at graduation.
In addition, Altenor said, SGA has received approval from the Commencement Committee and is considering purchasing some type of additional graduation regalia to distinguish students who made contributions.
"We're looking for ways to recognize all the efforts that students are putting forth to pay it forward and to pay their education forward," she said.
Altenor said that going forward, members of the class of 2021 who pledge a five-year donation will be notified each year by University Advancement when it is time to make the next payment or can even have the money automatically taken out of their accounts each year.
The Financial Aid office, Altenor said, will handle the distribution of the Finish Line Fund and will provide scholarships to students after an application and approval process.
Altenor said that organizers of the senior gift drive hope that the class of 2021's efforts inspire future classes.
"We hope it will continue indefinitely," she said. "We just don't know how the students themselves will want it to look," she said. "So that's the beauty of it. The tradition will hopefully stand, but students will be the determinant of how it will look each year."
Seniors who wish to donate can do so either through check or cash delivered to Sacred Heart 330 or through the Newman website https://give.newmanu.edu/pages/senior-finish-line.
PHOTO: Courtesy Photo, Newman Advancement