By Madeline Alvarez, Editor-In-Chief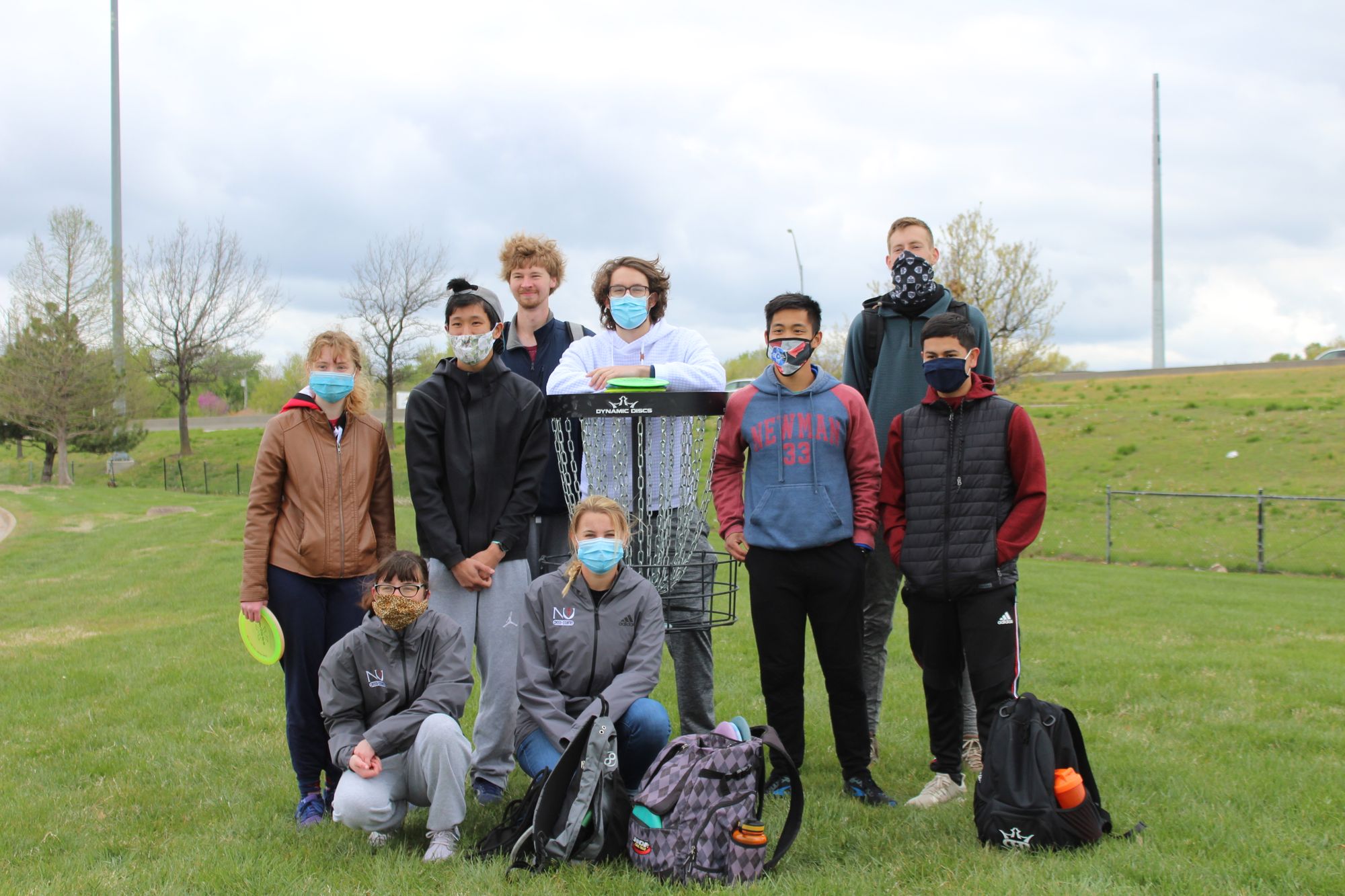 Newman doesn't always see a big turnout to its events, but on Saturday, the NU Disc Golf Club welcomed around 90 people to its trial disc golf course on campus.
The course extended from the pond on the north side of McCormick to the fence along the entrance to the ASC sisters' property.
Junior Steven Nguyen, president of the club, said he is hoping that Newman will eventually allow the course to be installed permanently.
Nguyen said he was surprised by the number of participants who came to the event.
"The amount of people that came was beyond what I thought would happen," Nguyen said. "I was guessing probably maybe 30 people would come at the most. But we more like tripled that amount, which is amazing. It really shows how unified the disc golf community is, especially here in Wichita, and how everyone's eager to see the sport grow."
Nguyen had help designing and setting up the course by Chris "Duck" Dendurent, the owner of a disc golf retail store in Riverside called Duck's Flying Discs.
Nine baskets were set up on Saturday instead of the standard 18 because of the space, Nguyen said. Players had the option to putt through the nine baskets and then putt back the other way when they had reached the end, he said.
"Sometimes I'll go and play only four holes, because that's all I can manage to fit in," he said. "So it's just however many you want to play."
Junior and NU Disc Golf Club member Daniel Knolla also said he was surprised by how many people came to the event.
"I thought it was a lot of fun," he said. "It made me excited to see what goes on for the rest of the year with disc golf."
Knolla said he would rank the course at medium difficulty.
"On a scale from one to 10 in difficulty, I'd say it was around a four to a six for the first half of the course," he said.
The second half was a little harder because it stretched across the pond, he said.
"It had a good range," he said.
The baskets were only set up on Saturday and then taken down, since the course was just a trial. But, Nguyen said, he hopes the course will become a permanent part of Newman in the near future.
"I've put a lot of time and energy into this club, and I wanted to see it just flourish," he said. "I think having a course on campus would get people out of the dorms."
Nguyen said Newman doesn't have many options for outdoor sports that are open to everyone.
"The only things are a sand volleyball pit that needs renovating and a basketball court that's hidden behind Merlini," he said.
Nguyen said colleges like Emporia State University and Bethel College have disc golf courses but that Wichita colleges like Friends University and Wichita State University don't.
"I wanted to beat Friends University and WSU to adding a course," he said. "I don't like copying other people, so I wanted to kind of be the trailblazer for that within Wichita in the collegiate level."
Knolla said he thinks Newman will have missed an opportunity if it doesn't install the course permanently on campus. He thinks having the course will invite people to stay on campus.
"Not a lot of universities have disc golf courses on the campus," he said. "I think if Newman wants to continue making itself a unique university, they should definitely look into this."
PHOTO: Courtesy Photo, Makayla Ehmke